I sure do love me some reg­gae; my island-music tastes are main­stream, but once you get past Mar­ley, the names are fad­ing from mem­o­ries. Maybe I can re­verse that a bit. Let's start with Win­ston Rod­ney; his first band was Burn­ing Spear, then he just adopt­ed the name for him­self. His mu­sic is a lit­tle deep­er, his singing a lit­tle edgier, his horn ar­range­ments ex­cel­len­t. Slav­ery Days has all of those things, and de­serves to live forever.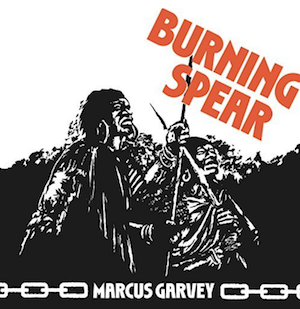 When you con­sid­er Mr Rod­ney, you have to take Rasta­fari (the re­li­gion, I mean) in­to ac­coun­t; he's se­ri­ous about it. It's a strong fla­vor in a cul­ture that pro­duced a whole lot of re­al­ly good mu­sic. Just like Luther­an Chris­tian­i­ty was es­sen­tial to Bach and Eastern Ortho­doxy is es­sen­tial to Pärt. Doesn't mean you have to be­lieve in it, which is a par­tic­u­lar re­lief when the faith in ques­tion in­volves the di­vine as­pect of Haile Se­lassie. I'm OK liv­ing in Baby­lon, my­self.
Slav­ery Days ap­pears on the su­perb Spear al­bum Mar­cus Gar­vey, whose ti­tle refers to an ac­tu­al re­al hu­man be­ing, a se­ri­ous­ly in­ter­est­ing dude, what­ev­er you might think of his more ec­cen­tric seg­re­ga­tion­ist ideas. A quick tour through his life sto­ry on Wikipedia is a good in­vest­ment of a few min­utes.
Slav­ery Days isn't re­li­gious at al­l, it's just what the ti­tle says, a lament for those bad old days. Hav­ing said that, it's got a su­per hap­py sound, open­ing with an ebul­lient brass procla­ma­tion, then spin­ning and lurch­ing back and forth through chants and counter-chants and in­stru­men­tal break­s, with the horn ob­bli­ga­to danc­ing around the reg­gae pulse and that beau­ti­ful res­o­nant Burn­ing Spear voice at the cen­ter. It's maybe my fa­vorite reg­gae song of all time. Back in the day, I used to use it as my ring­tone (re­mem­ber them?) and I smiled ev­ery time that horn ex­plo­sion went off mean­ing some­one want­ed to talk.
Win­ston is still liv­ing, last time I checked, and if he's still per­form­ing, I'd rec­om­mend a trip to see him. Lots of in­ter­est­ing stuff on his YouTube Chan­nel.
This is part of the Song of the Day se­ries (back­ground).
Links · Ama­zon, Spo­ti­fy, iTunes. As for live video, the Net is full of it. The qual­i­ty is wild­ly vari­able; some of the back­up bands are bet­ter than oth­er­s, and, well, some nights seems like Burn­ing Spear dug a lit­tle too deep in the herb draw­er. That said, here's a rel­a­tive­ly clean stu­dio ver­sion, and a 1981 con­cert in which the Spear burns es­pe­cial­ly bright.A pity, none of those clips have Win­ston on per­cus­sion; he can re­al­ly make the con­gas sing. But I could lis­ten to that band play that groove all day and all night.
---
---