In The bub­ble with­out any fizz, The Economist ad­dress­es the fact that financial-asset prices (s­tock­s, bond­s, and the like) keep drift­ing up and up in a world where in­fla­tion doesn't; are we in a mega-bubble? What's re­al­ly go­ing on? Looks ob­vi­ous to me, but then I'm a left-winger. I think it's all a straight­for­ward con­se­quence of eco­nom­ic ef­fi­cien­cy and class war­fare.
In­fla­tion? · It stays low be­cause our glob­al­ized econ­o­my is hy­per­ef­fi­cient at mak­ing the things we wan­t, ex­tract­ing the fu­els we burn, and grow­ing the food we eat. And al­so flex­i­ble enough that it can scale up and down to meet de­mand with­out ap­par­ent­ly kick­ing off waves of in­fla­tion or bankrupt­cy.
All of which is true, but I think the ef­fect of class war is even big­ger. Let's start with a pic­ture.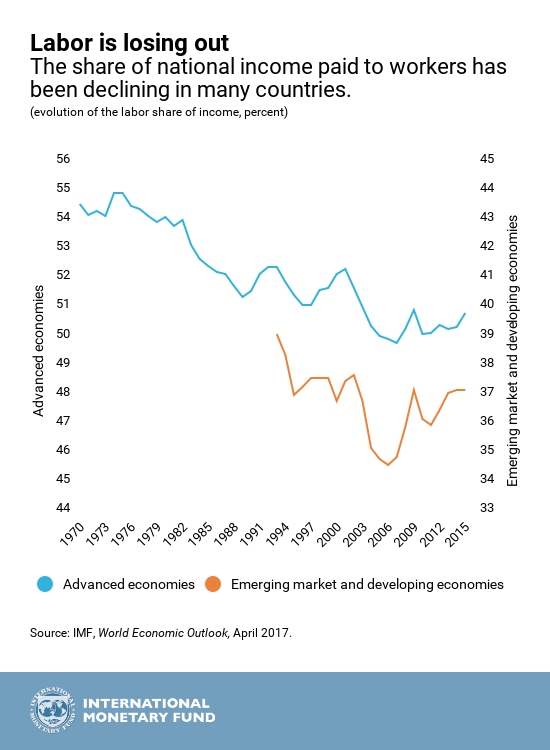 Unions are in re­treat and con­ser­va­tives rule in the great economies of the de­vel­oped world. Gen­er­a­tion Z is be­ing forced in­to the gig econ­o­my, in­to low-agency, low-paying, no-commitment jobs where be­ing a shift lead at Star­bucks is an as­pi­ra­tional goal.
When you don't have to pay peo­ple much, well yeah, you get low in­fla­tion.
Fi­nan­cial Boom? · When it's the prices of house­hold good­s, they call it "inflation". When it's fi­nan­cial as­set­s, they call it "a bull market". But the cause is the same: Too much mon­ey chas­ing too few tar­get­s.
It's like this: There's a sur­plus of ac­cu­mu­lat­ed wealth (see Piket­ty), and the peo­ple who hold it can't pos­si­bly spend it on goods and ser­vices  —  how many yachts can you wa­ter­s­ki be­hind? So they throw it at fi­nan­cial prod­uct­s, which then in­flate.
I think this is bleed­ing­ly ob­vi­ous, but that's pos­si­bly be­cause I'm a cit­i­zen of the tech­nol­o­gy scene, and of Van­cou­ver. In the venture-capital busi­ness, there's just way too much mon­ey chas­ing way too few uni­corn­s. Go to a start­up show­case some­time and hear the pitch­es, see who's get­ting fund­ed. If you're like most peo­ple, you'll leave shak­ing your head.
I al­so sit in Van­cou­ver, which is ex­pe­ri­enc­ing se­vere in­fla­tion, in our hous­ing sec­tor. Since Van­cou­ver is a rel­a­tive­ly low-paying city, not just on a world scale but com­pared to its Cana­di­an peer­s, it's ob­vi­ous that glob­al cap­i­tal is part of the prob­lem. Our real-estate fren­zy has be­come an in­ter­na­tion­al news sto­ry (it ap­pears in the Economist piece linked above), but I un-humbly think my own 2015 Game of Homes cap­tures the es­sen­tials pret­ty well.
So, what do Van­cou­ver re­al es­tate and fi­nan­cial in­stru­ments have in com­mon? Limit­ed sup­ply, that's what. Check out A Dearth of I.P.O.s, but It's Not the Fault of Red Tape ; not on­ly has the IPO rate plunged (from 706 in 1996 to 105 in 2016), so has the num­ber of pub­lic com­pa­nies (from 7,322 to 3,671). De­clin­ing sup­ply, in­creas­ing de­mand, d'oh.
Other fi­nan­cial as­set­s, e.g. bond­s, may not be as supply-starved (I couldn't turn up good num­ber­s) but it stands to rea­son that when com­pa­nies all over the world are re­port­ing ro­bust prof­its (class war, re­mem­ber?) they prob­a­bly don't need to bor­row as much. And (as The Economist notes) when in­vestors are driv­en to buy­ing 100-year bonds from Ar­genti­na, a na­tion that has de­fault­ed on its bonds six times in the last 100 years, you know they're get­ting des­per­ate.
More ev­i­dence, were any need­ed, of the glob­al cap­i­tal sur­plus? How about the $21 tril­lion be­ing hid­den from the tax-man here and there around the world?
What nex­t? · Beats me. The sad thing is, I don't see any rea­son why things can't go on the way they are for the fore­see­able fu­ture. Ob­jec­tive­ly, it would prob­a­bly be good for the world if a lot of the ac­cu­mu­lat­ed wealth was just va­por­ized. Un­for­tu­nate­ly, the on­ly way that seems to hap­pen his­tor­i­cal­ly is in ma­jor wars, as Piketty's graphs il­lus­trate. Which no­body wants.
Then there's the left­ist world-view, for ex­am­ple On the Left from last year. Tl;­dr: Tax wealth, force rad­i­cal trans­paren­cy on as­set own­er­ship, jail busi­ness crim­i­nal­s, of­fer uni­ver­sal ba­sic in­come. Works for me; but I'm still look­ing for the right po­lit­i­cal par­ty.
There's just too much mon­ey out there not do­ing any­thing par­tic­u­lar­ly use­ful.
---
---