In The bubble without any fizz, The Economist addresses the fact that financial-asset prices (stocks, bonds, and the like) keep drifting up and up in a world where inflation doesn't; are we in a mega-bubble? What's really going on? Looks obvious to me, but then I'm a left-winger. I think it's all a straightforward consequence of economic efficiency and class warfare.
Inflation? · It stays low because our globalized economy is hyperefficient at making the things we want, extracting the fuels we burn, and growing the food we eat. And also flexible enough that it can scale up and down to meet demand without apparently kicking off waves of inflation or bankruptcy.
All of which is true, but I think the effect of class war is even bigger. Let's start with a picture.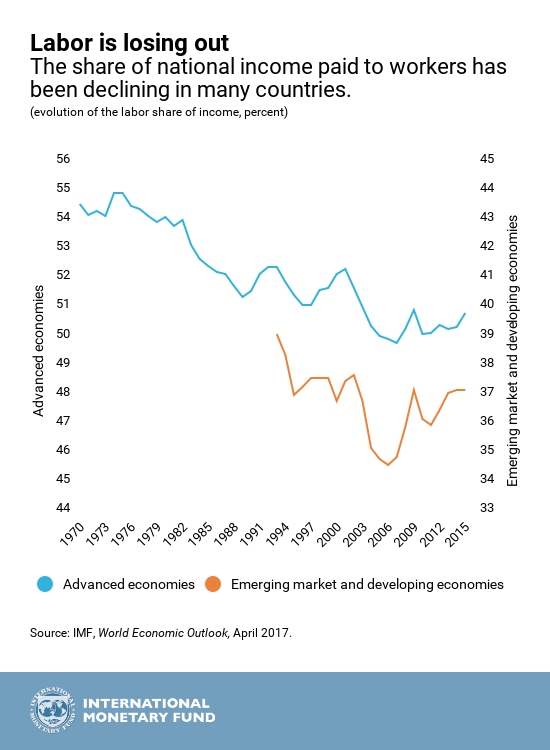 Unions are in retreat and conservatives rule in the great economies of the developed world. Generation Z is being forced into the gig economy, into low-agency, low-paying, no-commitment jobs where being a shift lead at Starbucks is an aspirational goal.
When you don't have to pay people much, well yeah, you get low inflation.
Financial Boom? · When it's the prices of household goods, they call it "inflation". When it's financial assets, they call it "a bull market". But the cause is the same: Too much money chasing too few targets.
It's like this: There's a surplus of accumulated wealth (see Piketty), and the people who hold it can't possibly spend it on goods and services — how many yachts can you waterski behind? So they throw it at financial products, which then inflate.
I think this is bleedingly obvious, but that's possibly because I'm a citizen of the technology scene, and of Vancouver. In the venture-capital business, there's just way too much money chasing way too few unicorns. Go to a startup showcase sometime and hear the pitches, see who's getting funded. If you're like most people, you'll leave shaking your head.
I also sit in Vancouver, which is experiencing severe inflation, in our housing sector. Since Vancouver is a relatively low-paying city, not just on a world scale but compared to its Canadian peers, it's obvious that global capital is part of the problem. Our real-estate frenzy has become an international news story (it appears in the Economist piece linked above), but I un-humbly think my own 2015 Game of Homes captures the essentials pretty well.
So, what do Vancouver real estate and financial instruments have in common? Limited supply, that's what. Check out A Dearth of I.P.O.s, but It's Not the Fault of Red Tape ; not only has the IPO rate plunged (from 706 in 1996 to 105 in 2016), so has the number of public companies (from 7,322 to 3,671). Declining supply, increasing demand, d'oh.
Other financial assets, e.g. bonds, may not be as supply-starved (I couldn't turn up good numbers) but it stands to reason that when companies all over the world are reporting robust profits (class war, remember?) they probably don't need to borrow as much. And (as The Economist notes) when investors are driven to buying 100-year bonds from Argentina, a nation that has defaulted on its bonds six times in the last 100 years, you know they're getting desperate.
More evidence, were any needed, of the global capital surplus? How about the $21 trillion being hidden from the tax-man here and there around the world?
What next? · Beats me. The sad thing is, I don't see any reason why things can't go on the way they are for the foreseeable future. Objectively, it would probably be good for the world if a lot of the accumulated wealth was just vaporized. Unfortunately, the only way that seems to happen historically is in major wars, as Piketty's graphs illustrate. Which nobody wants.
Then there's the leftist world-view, for example On the Left from last year. Tl;dr: Tax wealth, force radical transparency on asset ownership, jail business criminals, offer universal basic income. Works for me; but I'm still looking for the right political party.
There's just too much money out there not doing anything particularly useful.
---
---