I just fin­ished read­ing The Song Machine: In­side the Hit Fac­to­ry by John Seabrook, which taught me that the big hits be­ing pumped at us via the big di­vas with the great thighs are most­ly the out­put of a re­pro­ducible mech­a­nized pro­cess, and the me­chan­ics are Swedes. No, re­al­ly.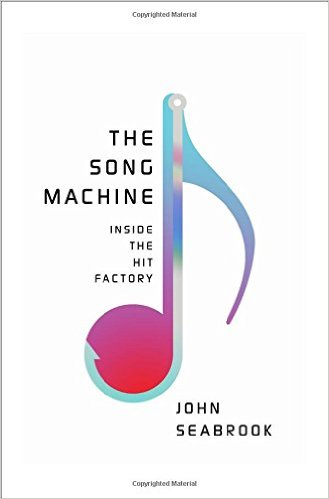 I like most kinds of mu­sic; dur­ing the decades since I first fell un­der the spell of blues chords and back­beat­s, I've man­aged to ride the pop-music waves with plea­sure, find­ing some­thing to like in most months' ra­dio. In the car, when the song ends and the ads start, I switch pre­sets more or less at ran­dom and reg­u­lar­ly find some­thing fresh and tasty.
But for some years I haven't had a pre­set on the "All-Hits" for­mat sta­tion be­cause so many of 'em leave me cold. After read­ing The Song Ma­chine I think I may know why: The songs aren't ac­tu­al­ly writ­ten by song­writ­er­s, and they're not ac­tu­al­ly played by mu­si­cian­s.
Here's what hits are: Tracks made by Swedes us­ing Pro Tools plus hooks made by toplin­ers us­ing booth­s. If you want to know what that means and how it work­s, you should read the book, and along the way you'll meet some re­al­ly in­ter­est­ing peo­ple, one or two of whom ac­tu­al­ly seem to be mu­si­cian­s, sort of, and many of whom are reg­u­lar­ly on mag­a­zine cov­er­s.
Those Swedes are cool guys and I'm glad I read about them; I just wish they'd quit fuck­ing up pop mu­sic.
Now, ev­ery gen­er­a­tion sneers at its offspring's mu­sic but I don't and I'd like to not be GrandPaw here. And while I plead to lis­ten­ing to lots of weird mu­si­cal nich­es, I al­so like plen­ty of main­stream schlock; I'm tak­ing the fam­i­ly to Muse's Drones tour, and I reg­u­lar­ly melt lis­ten­ing to Adele.
So I'm not say­ing that the Swedes-&-divas mech­a­nism couldn't pro­duce great mu­sic. But I have a few spe­cif­ic gripes: First of al­l, there's this thing called ru­ba­to that re­al mu­si­cians use, you hit­mak­ers ought to check it out. Se­cond, some­times in a song it's a good idea to shut up and let an in­stru­ment join the con­ver­sa­tion. Third, you keep us­ing that word "hook", I do not think it means what you think it mean­s. Seabrook claims that Rihanna's Rude Boy is "virtually all hooks". Um, no. When Paul Si­mon sings "I'm go­ing to Grace­land, Graceland", that's a hook. When Jack White sings "Steady as she goes", that's a hook. When Adele sings the ti­tle line from Ru­mor Has It, that's a hook.
I sus­pect that at some point a re­al mu­si­cian is go­ing to get his or her hands on what Seabrook calls the "Track-and-Hook" ap­proach and find a way to twist or dirty it in­to some­thing not un­like art. And it's not as though song­writ­ing or mu­si­cian­ship is dead; let me leave you with a cou­ple of videos of re­al mu­si­cian­s, young mu­si­cians I hadn't heard of a month ago, per­form­ing re­al songs in re­al time. First, Jes­si­ca Her­nan­dez and the Deltas do­ing Sor­ry I Stole Your Man. Se­cond, Gul Pan­r­ra and Atif As­lam per­form­ing Man Aa­madeh Am with the as­ton­ish­ing Coke Stu­dio house band. So, at least some of the Kids are All Right.
---
---