I have the good fortune to live near a good record store, where I shop often. One of my best scores this year was Highlife on the Move: "Selected Nigerian & Ghanaian Recordings from London & Lagos — 1954-66".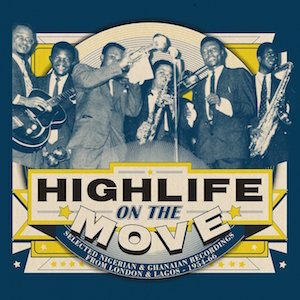 On Record Stores · So, there are two things you find in record stores. The first, what with vinyl's resurgence, are lots of foot-square packages advertising the music they contain, often with eye-grabbing visuals. The second, almost every time, is some pretty fucking cool music on the sound system. Record stores, they're a good thing, and let's hope we have 'em with us for a while.
The Music · I now know a lot about West-African pop music of the mid-Twentieth century, just from reading the voluminous liner notes. Lauren raised her eyebrows when I brought it home: "Huh?" I said "African music, I like it because it's light", and I'll stand by that. There's a lot more that could be said about rhythmic depth and good singing and all that stuff, but it's the essential lightness of touch in Afri-pop that's uniquely charmed me.
This is good stuff; 38 tracks by a bunch of people I never heard of, and three by the very young Fela Kuti. There's nothing terribly shocking or soul-charging here, but if you can listen to this stuff without smiling, you need treatment.
Media · Been buying a lot of vinyl these days; my reasons are here. Every new LP I've bought recently has included a download code so you can get decent-quality MP3s too. These are appropriate for travel and as housecleaning beats.
Well, they would be if it weren't for shambling undead drooling inflicters of pain otherwise known as Apple's elite iTunes product management unit.
It's like this: I have a whole lot of music. I regularly think "I feel like listening to X while I do dishes." So I sit down in front of iTunes, type in X (for example "Highlife on the Move") and hit Play. Right? <Insert hollow cynical laughter here.> Wrong. Well, sometimes it works; just to get my hopes up.
I'm not giving a detailed route map through this particular trail of tears; suffice it to say that the single most common operation a music manager ought to support is now crippled in iTunes, as a matter of policy.
How do I know it's even possible? Because over at our cabin, we keep an ancient Blackbook running OS X 10.8, hasn't been connected to the Net in years and listen to the tunes off a USB disk. That version of iTunes can search for a fucking album and play the fucking tunes on it.
There has to be an alternative.
---
---