I just finished reading Unspeakable Things: Sex, Lies and Revolution by Laurie Penny. And while it makes me nervous as hell to write about gender issues, silence seems less acceptable every day.
Meta meta meta · I hadn't read much by Ms Penny but can also recommend Why I Write, a terrific piece of writing on writing with a little sidetrip into writing about writing on writing, even. If it looks a little long, there's a crystalline excerpt at laurie-penny.com; but do read the whole thing if you think of yourself as a writer.
Nervous, you say? · Well, yeah. When it comes to gender and feminism and power relationships and so on, there is no shortage of opinions from hyper-entitled white men (want an example?) and one of the problems is that women have trouble being heard. So I maybe I should just shut up and leave space for them. Like Ms Penny though, I'm one of those can't-not-write people; maybe I can do it without getting in the way.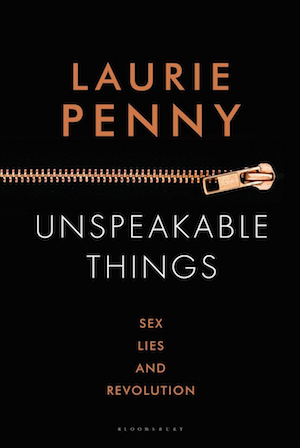 Is it a good book? · Yes, and if you'd like to live in a saner environment with less gender misery, you should read it. I have disagreements, but the intensity of narrated experience is just not to be argued with. Also, her cheerfully ruthless takedown of what she calls "Love™" and "Sex™" is wonderful.
For the ongoing audience, there's Chapter 4, Cybersexism, from which I excerpt:
One of the most popular terms for all this is "NSFW", or "not safe for work" … It's rather appropriate, really, since if two decades of faux-feminist "empowerment" culture have had a project, it has been to make women "safe for work", rather than making work safe for women.
Despite that, Ms Penny is on balance optimistic about the direction the Net and its cultures are pushing society in general and gender culture in particular. Which is damn refreshing in a period where such optimism is thinner and thinner on the ground.
Also, she writes really, really well.
What I find special is that, while Unspeakable Things offers plenty of well-written but conventional feminist rage, she steps outside those bounds a lot, and speaks directly to men, pointing out that most of them are also getting a shitty bargain from the prevailing social structure, whether or not you label it "patriarchy". Hint: Most men aren't patriarchs.
But let's go back to that narration-of-life thing. Here's the problem:
Men are violent, oppressive, and abusive… · Oops, did I just lose most of my mostly-male audience? OK, then, let's assume that you, dear reader, are not. In fact, most men aren't.
But very high proportion of women experience this shit, and it's like what they say about that American political party: "Republicans aren't necessarily racist, but racists sure do seem to be Republican." Men aren't necessarily abusive or oppressive, but the humans who inflect oppression and abuse on women seem to have Y chromosomes.
So if you have one, it's OK to say "not me", but that doesn't mean there isn't a problem, or that women aren't suffering from it, or that you aren't, at some level, part of it.
…particularly on the Internet · Here's where it gets close to home. Your own online cultures, at work and away, may be warm-hearted, inclusive, and troll-free. Good on ya, but that's not how the Net is, mostly. If you happen to be female who raises her voice online, you're going to get a truckload of shit dumped on you, in the scary form of violent, racist, abusive, menacing trolling. The stories that we hear over and over are consistent and horrifying. It happened to Laurie Penny. It happened to Anita Sarkeesian. It happened to Kathy Sierra. I could go on with the examples, but the evidence is voluminous and consistent: The Internet we've built is not a safe place for women to speak up on. That sucks, and we should fix it.
And by the way, Twitter should especially fix it. From every single person who's come under this sort of attack we hear the same story: Twitter has no useful tools for shutting off the threateners and abusers. It's actually pretty easy for shitheads to drive uppity women off Twitter, and that feels like a problem to me.
Complications · Are all these women (and people like me) mad at you, because you're sexist and abusive and violent? No, because the vast majority of you aren't. But the anger isn't going away, because the negative experiences don't seem to be going away. This is hard to fix because of the Petrie Multiplier; it turns out that in an environment that's 80% male, then if only 20% of humans (regardless of gender) are prone to abusive sexist bullshit, then virtually all the women, and virtually none of the men, will be the target of abusive sexist bullshit. You can check the math, it's boring undergrad combinatorics.
The take-away is that if we're ever gonna get our profession on a more even gender keel, then as long as women are so heavily outnumbered we can't afford to have even 20% of men doing this sort of crap, or we'll have the same empirically-hostile environment we have today.
Which means that there is something helpful that the majority of non-abusively-sexist men can do. Which is to be That Guy. The humorless dweeb who snarls whenever someone makes a cheap-ass sexist crack or posts a hilarious outtake from /b/. The no-fun guy.
Will it work? No guarantees, but it's worth trying. And these days, if you see something like that go by, you're actually making a statement by not speaking up; and not a good one.
Breeding problems · There's another reason all this is hard: Men have been bred for sexual aggressiveness. Historically — I mean on an evolutionary timescale — there's been a strong correlation between the number of times a man makes a sexual approach and the number of times he engages in sex. And prior to ubiquitous birth control, there's been a strong correlation between the number of times he has sex and his success at filling up the gene pool.
Birth control may have removed one of those correlations, but let's not pretend that male sexual aggression is easily to legislate or acculturate away. And we're hearing — repeatedly, loudly, and clearly — that male sexual aggression is a big problem, especially (remember that Petrie multiplier) in gender-imbalanced communities. Like, for example, OSCON.
And so on · I'm maybe unfair to Ms Penny in focusing in on the abusive-environment dimension, because Unspeakable Things explores lots of other gender-centric issues: body image, various flavors of elitism, the systemic wrongness of what's called "sex education", and so on. But I think that for anyone who reads this book, it's the intensity of the first-person experience that's going to dominate whatever you think about it, as it has for me.
Still, let me quote from one of those arguments, from the Love and Lies chapter: "There is a princess in all our heads; she must be destroyed." Did I mention this was well-written?
Gripes · First of all, the title: Unspeakable Things: Sex, Lies and Revolution; it omits the Oxford Comma after "Lies". Really, Ms Penny. Harrumph.
More substantive: She's a little out of touch with the business world. I quote: "We can expect to be questioned, at any job interview, about whether we plan to have kids…" Uh, no; I have been specifically told by senior HR people that you DO NOT go there or you're setting yourself up for litigation. Sexism at work may be systemic, but it's not officially so, any more. Which, we can hope, will have an effect in the long term.
Finally, she asserts repeatedly that women are told that sex is a nasty, evil thing that they shouldn't want. Really? In a world where Dan Savage is ubiquitous? Maybe this is a West-Coast-vs-UK thing? Or once again, maybe I'm just another hyper-entitled white guy out of touch with the other gender's experience of life.
Anyhow · It's a good book, a pleasure to read except in the places where it'll shock and anger you and, on the evidence, those are good things too.
---
---