For years, whenever I linked to a book, I included my wife's Amazon Associates code; she'd started in on that first, and it made sense to pool the family rewards. But I've started using my own because it's our family book-buying pool. This has some surprising side-effects.
The way the Amazon program works (I'm guessing, but probably right) is by setting a short-lived cookie; as long as it stays alive, anything you buy while poking around Amazon sends rewards to whoever sent you over there. So when someone follows a link from here, I might get a commission from things other than the book I was discussing.
I knew this in principle and last night went to have a look at my first very own Amazon report. Sure enough, my recent rave review of Among Others had yielded enough payback to buy the next couple of books for the family. There's a "View full report" link, and... ZOMG.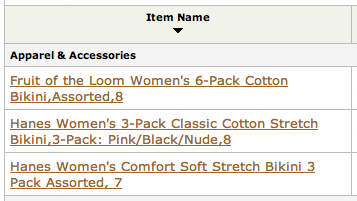 It would be more entertaining to include the results of clicking on one of those, but I generally don't run photos of barely-covered genitals.
I also helped sell 37 copies of Among Others, 2 of Doorways in the Sand, 3 of The Dispossessed, and then a bunch of random others, including a diet cookbook, a Dirk Gently, recordings featuring Stravinsky and several others I've never heard of, and a bunch of geek books including Automata and Computability (Undergraduate Texts in Computer Science) (gotta love that).
Also a DVD, a Cuisinart pan, and some "Wild Republic" animal toys.
But from the money-grubber's point of view, the biggest payoff came from the sales of Among Others, a Seagate Barracuda 3TB hard drive, and an "Innotek Anti-Bark Spray Collar, Citronella" which is a link I'm totally not gonna follow.
Conflict of Interest? · I've already updated the disclosures section, for what that's worth. But seriously, it's like this: If I publish book reviews, and lots of people follow those links, my family gets free books. There's a positive-feedback loop at work there.
"Positive" in more than one way: I'm incented to write good reviews, because there's no payoff for bad ones. Well, I think so. I actually have another review cooking but it's mostly bad; it'll be interesting to see the results of running that.
A little corner of the Internet business I didn't know about.
---
---