I had a couple of fine Rock & roll experiences in the last couple of days. Herewith a pointer to a good radio show by Little Steven and recording by Jimmie Vaughan; plus an attempt to formalize this backbeat thang.
What happened was, there's been a couple of evenings invested in putting away books recently, and this obviously calls for background music. I asked the kid what I should put on, and he said "Rock and roll, Daddy" (we're bringing this kid up right) (actually he said "wock and woll," awfully cute).
So I played Jimmie Vaughan and after putting the kid to bed, shifted to the radio, which is normally hardwired to the CBC, but they were playing some aimless twaddle by Debussy so I scanned for music and ran across Little Steven's Underground Garage.
Little Steven · He has a perfectly good last name but prefers not to use it; he's best known as second guitarist in the E Street Band, but for my money his musical triumph is Sun City, one of the all-time great funk rave-ups. Granted, we don't really need anti-apartheid anthems any more, and the central lyric "I — I — I — I — ain't gonna play Sun City!" is probably opaque to anyone under 35, but it's outstanding music.
Back to that Underground Garage, which is an excellent radio show and now I plan to listen to it whenever I get a chance. Little Steven has a vintage rock growl for a voice, and he's witty and funny and erudite and sprinkles the commentary and music with really amusing and well-placed clips of movie and TV dialogue.
"Garage" as in Garage Rock, but Little Steven's garage is a commodious kind of place and includes lots of stuff that's garage in spirit even it isn't four kids and no keyboards. For some reason this show was dedicated to Frank Sinatra who isn't garage at all, but I think mostly just so he could pull in some stuff by Nancy Sinatra for whom LS obviously has a major jones and I can see why, you don't have to be a fetishist to get a shiver up your spine over These Boots Are Made For Walking.
Anyhow, the show included Jane Birkin, Iggy Pop (new stuff), Dave Clark, the Henchmen, and lots and lots and lots more; plus a live Bruce/E-Street track, Cone of Silence from a limited-edition capture of a 1999 set, and a fine tune it is too.
I learned that a has-been/never-were seventies outfit called the Dictators (I actually saw them once) set a record by going twenty-three years between recordings, and that at the corner of Bowery and 2nd in Manhattan there is now a Joey Ramone Place. Now that's radio news you can use.
The downside was that I stayed up past 1AM when I had a 6:30AM flight to Philly the next day, but all the books got put away and hey, Rock & Roll is supposed to cost you sleep.
Jimmie Vaughan · The poor fellow will probably go to his grave still known as Steve Ray's brother, which is kind of unfair because his music is quite a bit different and not obviously worse. Side-note: I saw Stevie Ray, on a double bill with Jeff Beck one time. After decades of serious alcohol and drug problems, SR had cleaned himself up, and he made a really touching speech about how you gotta take care of yourself so you'll be there for the people you love when they need you. Three weeks later, he died in a plane crash.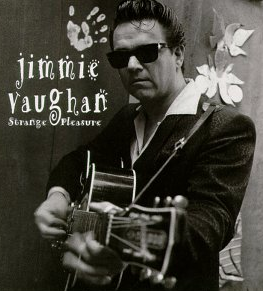 Anyhow, the record the kid and I listened to was Strange Pleasure. If you have a single Rock & Roll bone in your body, you'll really like this one. It doesn't have any teen anthems or million-sellers on it, but it's very nearly a perfect album of its kind; a reminder of how deep and sweet the Rock & Roll well is, and how lucky we all are to be living in the historical period of its invention and perfection. It's got great songs and good singing and playing and fabulous sound and a lot of different flavors and there's just nothing at all wrong with it. In fact, I was listening and thinking "This is exactly what Rock & Roll should be." And since I spend far too much time reading Internet Standards and I'm the worst kind of pedant, I found Normative Language drifting through my head.
Rock & Roll, Specified · Songs MUST be melodically intense and built around a back-beat. Harmonies MUST be informed by blues tonalities. Vocals MUST be mixed at the center and be excellent. Guitar SHOULD be excellent; bass and drums MAY be good too. Piano and Hammond B-3 MAY be used to augment the sound; synthesizers MUST NOT be used. Lyrical content SHOULD include material concerning love and betrayal; in such content, women MUST be addressed as "Baby." They MUST NOT be addressed as "Girl," "Woman," or "Lady."
And so on...
---