The song-of-the-day re­cent­ly has been trend­ing a lit­tle bit to the eclec­tic and the ob­scure. Enough of that, let's dish up a hearty serv­ing of meat-and-potatoes rock-n-roll. Hap­py is a sim­ple stripped-down hard Stones rock­er, vo­cals by Keef, with a nice tune, tasty chord changes, and you know what? I need a love to keep me hap­py too.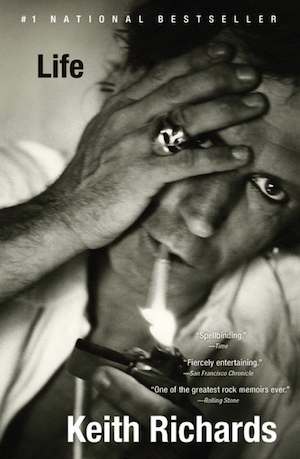 You have to be a lit­tle ner­vous plug­ging the Stones in the era of #MeToo; their work in­cludes dark splash­es of shock­ing misog­y­ny. But Ex­ile on Main Street has less (can't ac­tu­al­ly pull any to the front of my mind), so we'll cut them some slack.
I re­mem­ber read­ing Mick Jag­ger be­ing quot­ed say­ing "Hap­py is a big mo­ment in the flow of a Stones concert" and hav­ing seen them once live, and a few con­cert film­s, he's got a point.
I think for most of us Kei­th is at the cen­ter of the Stones' ap­peal; the night I saw them was his 53rd birth­day so we all sang Hap­py Birth­day; he smiled and thanked us, seemed gen­uine­ly touched.
On Hap­py, he said ""That's a strange song, be­cause if you play it you ac­tu­al­ly be­come hap­py, even in the worst of circumstances." Al­so "We did that in an af­ter­noon, in on­ly four hours, cut and done. At noon it had nev­er ex­ist­ed. At four o'clock it was on tape."
While we're on the sub­ject of Mr Richard­s, I hearti­ly rec­om­mend Life, his as-told-to au­to­bi­og­ra­phy. Im­mense fun, you feel like you're in the pres­ence of a warm-hearted per­son, and you'll learn a whole lot about the his­to­ry of rock & rol­l.
This is part of the Song of the Day se­ries (back­ground).
Links · iTunes, Spo­ti­fy, Ama­zon. Live video - 1990 with weak singing but fab Kei­th gui­tar break, 1972 with nice dou­ble lead vo­cal.
---