The song-of-the-day recently has been trending a little bit to the eclectic and the obscure. Enough of that, let's dish up a hearty serving of meat-and-potatoes rock-n-roll. Happy is a simple stripped-down hard Stones rocker, vocals by Keef, with a nice tune, tasty chord changes, and you know what? I need a love to keep me happy too.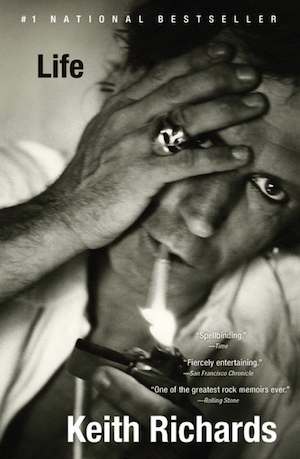 You have to be a little nervous plugging the Stones in the era of #MeToo; their work includes dark splashes of shocking misogyny. But Exile on Main Street has less (can't actually pull any to the front of my mind), so we'll cut them some slack.
I remember reading Mick Jagger being quoted saying "Happy is a big moment in the flow of a Stones concert" and having seen them once live, and a few concert films, he's got a point.
I think for most of us Keith is at the center of the Stones' appeal; the night I saw them was his 53rd birthday so we all sang Happy Birthday; he smiled and thanked us, seemed genuinely touched.
On Happy, he said ""That's a strange song, because if you play it you actually become happy, even in the worst of circumstances." Also "We did that in an afternoon, in only four hours, cut and done. At noon it had never existed. At four o'clock it was on tape."
While we're on the subject of Mr Richards, I heartily recommend Life, his as-told-to autobiography. Immense fun, you feel like you're in the presence of a warm-hearted person, and you'll learn a whole lot about the history of rock & roll.
This is part of the Song of the Day series (background).
Links · iTunes, Spotify, Amazon. Live video - 1990 with weak singing but fab Keith guitar break, 1972 with nice double lead vocal.
---