Jah Wob­ble grew up in East Lon­don with the Sex-Pistols-to-be, and his han­dle comes from a drunk­en Sid Vi­cious at­tempt­ing to pro­nounce his re­al name (John Wardle). He joined John Lydon's post-Pistols Public Image Limit­ed and then formed In­vaders of the Heart. Vi­sions of You is the lead-off track on the Invaders' Ris­ing Above Bed­lam disk, which I of­ten play end-to-end. It's a lightweight pop song with an icy slow-funk back­ground, a re­al treat for the ears.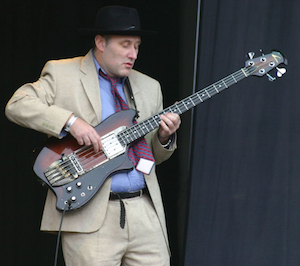 Wob­ble is a tal­ent­ed, dub-influenced bass play­er, and any time you're lis­ten­ing to his mu­sic, you want to de­ploy the biggest speak­ers you have ac­cess to, ide­al­ly con­nect­ed to a whole lot of am­pli­fi­er wattage. I've al­so heard that cer­tain or­gan­ics about to be­come le­gal in many ju­ris­dic­tions in­clud­ing mine are con­ducive to the ex­pe­ri­ence. He's got an ap­peal­ing voice, a cute English ac­cen­t, and works hard on his vo­cal per­for­mances.
Pret­ty well any col­lec­tion of mu­sic with Jah Wobble's name on it is apt to be good. I'm es­pe­cial­ly par­tial to a col­lab­o­ra­tion with fel­low uber-bassist Bill Laswell on Ra­dioax­iom: A Dub Trans­mis­sion, which is just about the most chill-sounding record­ing avail­able on Plan­et Earth.
This is part of the Song of the Day se­ries (back­ground).
Links · Ama­zon, Spo­ti­fy, iTunes, live video with Sinéad O'Connor  —  I'd hap­pi­ly lis­ten to his bass and her voice all day.
---