Jah Wobble grew up in East London with the Sex-Pistols-to-be, and his handle comes from a drunken Sid Vicious attempting to pronounce his real name (John Wardle). He joined John Lydon's post-Pistols Public Image Limited and then formed Invaders of the Heart. Visions of You is the lead-off track on the Invaders' Rising Above Bedlam disk, which I often play end-to-end. It's a lightweight pop song with an icy slow-funk background, a real treat for the ears.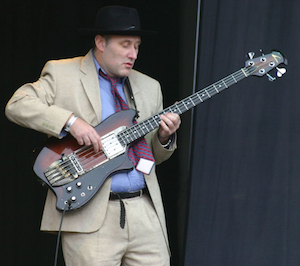 Wobble is a talented, dub-influenced bass player, and any time you're listening to his music, you want to deploy the biggest speakers you have access to, ideally connected to a whole lot of amplifier wattage. I've also heard that certain organics about to become legal in many jurisdictions including mine are conducive to the experience. He's got an appealing voice, a cute English accent, and works hard on his vocal performances.
Pretty well any collection of music with Jah Wobble's name on it is apt to be good. I'm especially partial to a collaboration with fellow uber-bassist Bill Laswell on Radioaxiom: A Dub Transmission, which is just about the most chill-sounding recording available on Planet Earth.
This is part of the Song of the Day series (background).
Links · Amazon, Spotify, iTunes, live video with Sinéad O'Connor — I'd happily listen to his bass and her voice all day.
---