The summer I turned fourteen, Israelites by Desmond Dekker and the Aces was the biggest hit in the world. I thought it was the best song of that summer and maybe the next summer too. I'd go to the beach, where everyone had a radio, and as you walked along you'd hear Israelites coming at you in super-stereo from a dozen directions; it sounded so great.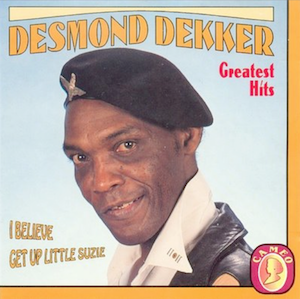 So, what is it about this song? Maybe the razor-sharp proto-reggae beat, maybe Desmond's virtuoso singing, so deep in the beat he's a rhythm instrument, could be the cool baritone harmonies, or just maybe it's a really great tune. One thing for sure, it's not the lyrics, they're famously incomprehensible; but online if you want 'em.
If this doesn't put a smile on your face, get a new face. If you want more background or flavor on Desmond, you're in luck; I'm sufficiently a fan that I wrote a fair-sized blog piece on him when I heard that he'd died; check it out.
By the way, when I looked up Iraelites I discovered it was co-written by someone named Leslie Kong, of whom I'd never heard, but check out that Wikipedia entry, he turns out to have been a really interesting guy. Part, says the Jamaica Observer, of "the strong Chinese influence on early reggae". What?!
This is part of the Song of the Day series (background).
Links · Amazon, Spotify, iTunes, there's a lot of live video; Desmond and the band got into the habit of playing it way too fast, and I hesitate to recommend takes in front of a bunch of white hired guns even when I like them. Let's settle for this one, although the BBC in 2011 isn't bad, nor is this too-fast 1970 Wembley-Stadium take.
---
---