The sum­mer I turned four­teen, Is­raelites by Des­mond Dekker and the Aces was the biggest hit in the world. I thought it was the best song of that sum­mer and maybe the next sum­mer too. I'd go to the beach, where ev­ery­one had a ra­dio, and as you walked along you'd hear Is­raelites com­ing at you in super-stereo from a dozen di­rec­tion­s; it sound­ed so great.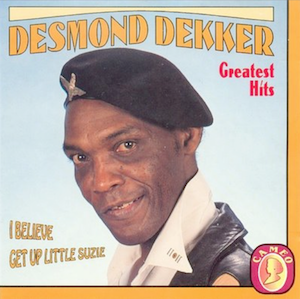 So, what is it about this song? Maybe the razor-sharp proto-reggae beat, maybe Desmond's vir­tu­oso singing, so deep in the beat he's a rhythm in­stru­men­t, could be the cool bari­tone har­monies, or just maybe it's a re­al­ly great tune. One thing for sure, it's not the lyric­s, they're fa­mous­ly in­com­pre­hen­si­ble; but on­line if you want 'em.
If this doesn't put a smile on your face, get a new face. If you want more back­ground or fla­vor on Des­mond, you're in luck; I'm suf­fi­cient­ly a fan that I wrote a fair-sized blog piece on him when I heard that he'd died; check it out.
By the way, when I looked up Iraelites I dis­cov­ered it was co-written by some­one named Les­lie Kong, of whom I'd nev­er heard, but check out that Wikipedia en­try, he turns out to have been a re­al­ly in­ter­est­ing guy. Part, says the Ja­maica Ob­serv­er, of "the strong Chi­nese in­flu­ence on ear­ly reggae". What?!
This is part of the Song of the Day se­ries (back­ground).
Links · Ama­zon, Spo­ti­fy, iTunes, there's a lot of live video; Des­mond and the band got in­to the habit of play­ing it way too fast, and I hes­i­tate to rec­om­mend takes in front of a bunch of white hired guns even when I like them. Let's set­tle for this one, al­though the BBC in 2011 isn't bad, nor is this too-fast 1970 Wembley-Stadium take.
---
---