In the mid-Seventies, a women we found with a classified ad moved into my student house, and of course brought her record collection. It included something called Cold Spring Harbor by a guy I'd never heard of, Billy Joel. We were pretty well a heavy-music joint that didn't listen to fluff without guitar solos, so Billy got no respect then, just like he gets no respect now. But, in among the cheesy ballads there was this song that got way under my skin, and still does: Travelin' Prayer. It's great, pretty well flawless.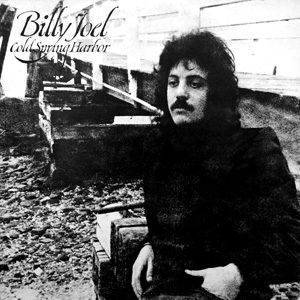 The problem with Billy · I earned my living most of my way through university by stage-managing the rock shows the student council put on, and then eventually the classicoids and jazzbos the University booked. I ran a Billy Joel show sometime probably around 1978, when he'd become a major star on the back of Piano Man.
That song always struck me as dumber-than-average pop. Oddly, his concert contract had all these draconian provisions that he not be referred to as "The Piano Man" in any promotional materials. I was actually impressed that he had the smarts to distance himself from that branding. I even shot the shit with him a bit while we sorted out piano logistics. Pleasant enough, wanted to know about the university he was entertaining.
But the concert was pretty terrible. I mean, he had a good band, and is a good singer and pianist, and the songs were OK, though he didn't play Travelin' Prayer. The problem was him not taking the concert or himself seriously. He had a nice line of lounge-lizard patter, was funny as hell actually. But he never broke a sweat or pushed his voice or pounded the piano.
Anyhow, I wrote Billy off as mostly harmless and not nearly intense enough to hit my sweet spot. But once every decade or two I hear Travelin' Prayer and think "Damn, I like that song." Maybe you will too. It's got heart-warming words set to a great, fast, loping melody.
If you're at all interested in Billy you'll probably enjoy Thirty-Three-Hit-Wonder, a big New Yorker piece from 2014 about Billy's later life. I admit to being left with warm feelings about him, a guy who apparently has mostly tried to do the right thing.
This is part of the Song of the Day series (background).
Links · Spotify, Amazon, iTunes, live video - there are a lot, on most of which Billy lapses into self-deprecating smarm, but on this 1975 TV show they take it so fast there's no time for anything but the music; a hell of a performance and by the way check out the piano break. I wish Billy had taken himself more seriously.
---
---