In the mid-Seventies, a wom­en we found with a clas­si­fied ad moved in­to my stu­dent house, and of course brought her record col­lec­tion. It in­clud­ed some­thing called Cold Spring Har­bor by a guy I'd nev­er heard of, Bil­ly Joel. We were pret­ty well a heavy-music joint that didn't lis­ten to fluff with­out gui­tar solos, so Bil­ly got no re­spect then, just like he gets no re­spect now. But, in among the cheesy bal­lads there was this song that got way un­der my skin, and still does: Travelin' Pray­er. It's great, pret­ty well flaw­less.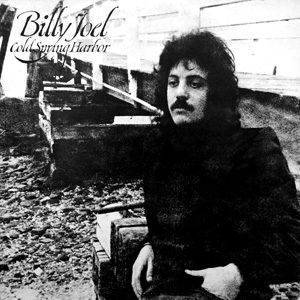 The prob­lem with Bil­ly · I earned my liv­ing most of my way through uni­ver­si­ty by stage-managing the rock shows the stu­dent coun­cil put on, and then even­tu­al­ly the clas­si­coids and jazz­bos the Univer­si­ty booked. I ran a Bil­ly Joel show some­time prob­a­bly around 1978, when he'd be­come a ma­jor star on the back of Piano Man.
That song al­ways struck me as dumber-than-average pop. Oddly, his con­cert con­tract had all these dra­co­ni­an pro­vi­sions that he not be re­ferred to as "The Piano Man" in any pro­mo­tion­al ma­te­ri­al­s. I was ac­tu­al­ly im­pressed that he had the smarts to dis­tance him­self from that brand­ing. I even shot the shit with him a bit while we sort­ed out pi­ano lo­gis­tic­s. Pleas­ant enough, want­ed to know about the uni­ver­si­ty he was en­ter­tain­ing.
But the con­cert was pret­ty ter­ri­ble. I mean, he had a good band, and is a good singer and pi­anist, and the songs were OK, though he didn't play Travelin' Pray­er. The prob­lem was him not tak­ing the con­cert or him­self se­ri­ous­ly. He had a nice line of lounge-lizard pat­ter, was fun­ny as hell ac­tu­al­ly. But he nev­er broke a sweat or pushed his voice or pound­ed the pi­ano.
Any­how, I wrote Bil­ly off as most­ly harm­less and not near­ly in­tense enough to hit my sweet spot. But once ev­ery decade or two I hear Travelin' Pray­er and think "Damn, I like that song." Maybe you will too. It's got heart-warming words set to a great, fast, lop­ing melody.
If you're at all in­ter­est­ed in Bil­ly you'll prob­a­bly en­joy Thirty-Three-Hit-Wonder, a big New York­er piece from 2014 about Billy's lat­er life. I ad­mit to be­ing left with warm feel­ings about him, a guy who ap­par­ent­ly has most­ly tried to do the right thing.
This is part of the Song of the Day se­ries (back­ground).
Links · Spo­ti­fy, Ama­zon, iTunes, live video - there are a lot, on most of which Bil­ly laps­es in­to self-deprecating smar­m, but on this 1975 TV show they take it so fast there's no time for any­thing but the mu­sic; a hell of a per­for­mance and by the way check out the pi­ano break. I wish Bil­ly had tak­en him­self more se­ri­ous­ly.
---
---