Yes­ter­day, I used the phrase "best Rock song ev­er recorded". Wel­l, why not two days in a row? Be­cause an­oth­er fine can­di­date is Clam­p­down from the Clash's won­der­ful Lon­don Calling al­bum. That record was a high­light of 1980 and Clam­p­down was a high­light of the record.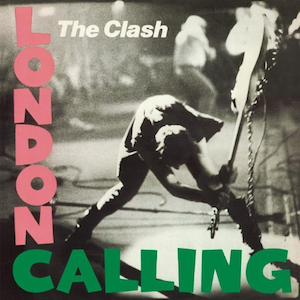 I think a lis­ten is in or­der now in 2018 if on­ly for the lyric In these days of evil pres­i­dentes… need I say more? Great tune, strong word­s, hot play­ing, fine pro­duc­tion.
Peo­ple hear that loud raw sound and might fool­ish­ly think that it's easy to play. Clam­p­down, like a lot of their songs, is fast, and keep­ing that kind of thing to­geth­er at that speed, par­tic­u­lar with the lousy on-stage sound most rock bands have had to deal with, is a big deal. Cred­it is due to the thun­der­ous pre­cise drum­ming of Top­per Head­on; in fac­t, a whole lot of cred­it is due to Top­per for the Clash in gen­er­al, he's one of the un­der­ap­pre­ci­at­ed great­s. Lis­ten to the rhythm on Clam­p­down.
I have a his­to­ry with the Clash; caught their sec­ond North Amer­i­can tour, wrote about them and punk in gen­er­al for an au­dio­phile mag­a­zine (re­pro­duced here), and was ter­ri­bly hard-hit when Joe Strum­mer died sud­den­ly; wow, that's over fif­teen years ago.
This is part of the Song of the Day se­ries (back­ground).
Links · iTunes, Spo­ti­fy, Ama­zon, live video: best vi­su­als, best out­fits, best play­ing.
---
---