Yesterday, I used the phrase "best Rock song ever recorded". Well, why not two days in a row? Because another fine candidate is Clampdown from the Clash's wonderful London Calling album. That record was a highlight of 1980 and Clampdown was a highlight of the record.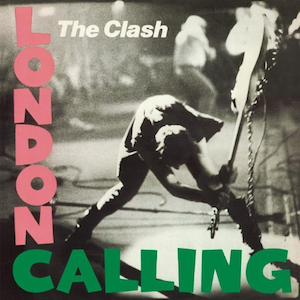 I think a listen is in order now in 2018 if only for the lyric In these days of evil presidentes… need I say more? Great tune, strong words, hot playing, fine production.
People hear that loud raw sound and might foolishly think that it's easy to play. Clampdown, like a lot of their songs, is fast, and keeping that kind of thing together at that speed, particular with the lousy on-stage sound most rock bands have had to deal with, is a big deal. Credit is due to the thunderous precise drumming of Topper Headon; in fact, a whole lot of credit is due to Topper for the Clash in general, he's one of the underappreciated greats. Listen to the rhythm on Clampdown.
I have a history with the Clash; caught their second North American tour, wrote about them and punk in general for an audiophile magazine (reproduced here), and was terribly hard-hit when Joe Strummer died suddenly; wow, that's over fifteen years ago.
This is part of the Song of the Day series (background).
Links · iTunes, Spotify, Amazon, live video: best visuals, best outfits, best playing.
---
---