If I ac­tu­al­ly had any se­ri­ous mu­si­cal tal­en­t, I would have cho­sen rock&roll over all oth­er pro­fes­sion­s. I guess I haven't been run­ning that many pure sim­ple rock songs here, and that's wrong. So let's turn today's space over to An­nie Len­nox, Dave Ste­wart, and Joniece Jami­son of the Eury­th­mics for some nice pol­ished pas­sion­ate BritRock.
Since there's not re­al­ly much to say about Mis­sion­ary Man, let me pass on a lit­tle bit of Rock and Roll The­o­ry, which most of you will know, but for those who don't: What is Rock&Roll any­how? Three in­gre­di­ents: 1) Blues chord changes, 2) elec­tric gui­tars, and 3) a back­beat. And what, you won­der, is a back­beat? It's one-TWO-three-FOUR one-TWO-three-FOUR, it's what makes rock sound ur­gen­t. I bring it up be­cause Mis­sion­ary Man has one of the most thun­der­ous back­beats ev­er record­ed and boy, does it sound good.
Al­so, I guess you can't leave danc­ing and sex out of the rock&roll stew recipe. And well, once again, Mis­sion­ary Man.
OK, all snark aside, I saw them play the song once and they were fan­tas­tic; fast and pow­er­ful and they didn't leave any­thing be­hind; I re­mem­ber An­nie down on her knees at the fron­t, pound­ing the stage in rhyth­m, as hard as she could. It's an es­sen­tial thing in a rock per­for­mance sing a lit­tle loud­er and dance a lit­tle hard­er than maybe you re­al­ly can. Glad I saw it.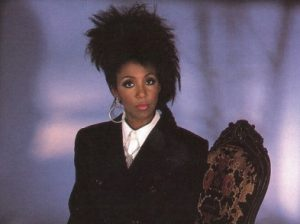 Jone­ice? · Yeah, on those Eight­ies Eurhyth­mics record­s, the gui­tars sound­ed great be­cause Dave Ste­wart is great, and the back­ground play­ing was great be­cause they al­ways hired a great band, and the lead vo­cals were great be­cause, well, An­nie, but al­so Jone­ice Jami­son. An­nie Len­nox has done some won­der­ful singing, but her range  —  in par­tic­u­lar her rock&roll shriek in­ten­si­ty  —  is lim­it­ed, and they just wouldn't have been any­thing close to the band they were with­out Joniece bring­ing it from the back of the stage. I hope they paid her lots of mon­ey, be­cause she earned it.
This is part of the Song of the Day se­ries (back­ground).
Links · Spo­ti­fy, Ama­zon, iTunes, and the of­fi­cial video is quite a piece of work, but live is bet­ter: this 1987 take has the whole sto­ry, with sex slathered on ex­tra thick.
---