If I actually had any serious musical talent, I would have chosen rock&roll over all other professions. I guess I haven't been running that many pure simple rock songs here, and that's wrong. So let's turn today's space over to Annie Lennox, Dave Stewart, and Joniece Jamison of the Eurythmics for some nice polished passionate BritRock.
Since there's not really much to say about Missionary Man, let me pass on a little bit of Rock and Roll Theory, which most of you will know, but for those who don't: What is Rock&Roll anyhow? Three ingredients: 1) Blues chord changes, 2) electric guitars, and 3) a backbeat. And what, you wonder, is a backbeat? It's one-TWO-three-FOUR one-TWO-three-FOUR, it's what makes rock sound urgent. I bring it up because Missionary Man has one of the most thunderous backbeats ever recorded and boy, does it sound good.
Also, I guess you can't leave dancing and sex out of the rock&roll stew recipe. And well, once again, Missionary Man.
OK, all snark aside, I saw them play the song once and they were fantastic; fast and powerful and they didn't leave anything behind; I remember Annie down on her knees at the front, pounding the stage in rhythm, as hard as she could. It's an essential thing in a rock performance sing a little louder and dance a little harder than maybe you really can. Glad I saw it.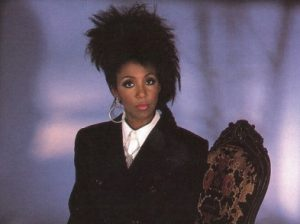 Joneice? · Yeah, on those Eighties Eurhythmics records, the guitars sounded great because Dave Stewart is great, and the background playing was great because they always hired a great band, and the lead vocals were great because, well, Annie, but also Joneice Jamison. Annie Lennox has done some wonderful singing, but her range — in particular her rock&roll shriek intensity — is limited, and they just wouldn't have been anything close to the band they were without Joniece bringing it from the back of the stage. I hope they paid her lots of money, because she earned it.
This is part of the Song of the Day series (background).
Links · Spotify, Amazon, iTunes, and the official video is quite a piece of work, but live is better: this 1987 take has the whole story, with sex slathered on extra thick.
---