Possibly you haven't encountered Laurie Anderson, and possibly if you did you wouldn't like her, because she's pretty far out there. Gravity's Angel is at the near end of out-there, a simple-ish song with a lovely tune and a cool arrangement; a good place to start.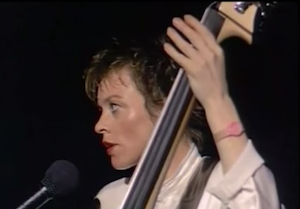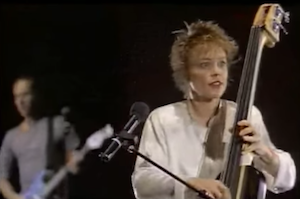 What happened was, in the mid-Eighties I'd heard O Superman on campus radio and then Laurie was coming to town and a couple of people whose judgment I respected said "You really have to go see her" so I did, never having bought a record, no idea what I was getting into. It was easily one of the top two or three musical experiences of my life; I got giddy in the middle of one of the songs because I'd been holding my breath, because you had to.
So I immediately ran out and bought all her music. That tour centered on the music from Mister Heartbreak, which is great, but it was the middle of a hot streak for her; I'd also recommend Big Science and Strange Angels and wow, poking around online I see she's got a few newer releases I haven't heard. Must check them out. So, if you like Gravity's Angel, there's lot more where that came from.
Just the facts · Laurie Anderson started out as a promising classical violinist who got into electronic music and performance art, a good player and singer and dancer with a high, beautiful voice, a striking face, and more style than any single human deserves to have. She eventually became Lou Reed's sweetie and nursed him through his decline and death.
Gravity's Angel is said to be inspired by Gravity's Rainbow, a huge, sloppy, self-indulgent, wonderful-in-places doorstop of a World-War-2-sort-of book by Pynchon, which I've read, and yeah, I suppose it has angels in it. Fortunately you don't have to have read the book.
This is part of the Song of the Day series (background).
Links · Spotify, iTunes, Amazon. Now, as for live video, Laurie made a DVD more or less of the concert I saw, called Home of the Brave; it's on YouTube and Gravity's Angel starts at 48:19. Go ahead and check it out, it's maybe a little better than the recorded version, plus visual drama. But don't stop there, go back to the beginning and watch the whole thing, I'd call it on of the great performances ever, and you may find yourself forgetting to breathe.
---