Pos­si­bly you haven't en­coun­tered Lau­rie An­der­son, and pos­si­bly if you did you wouldn't like her, be­cause she's pret­ty far out there. Gravity's An­gel is at the near end of out-there, a simple-ish song with a love­ly tune and a cool ar­range­men­t; a good place to start.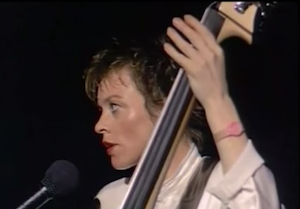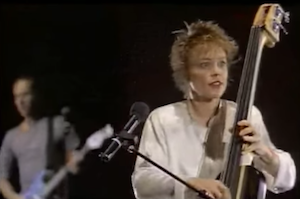 What hap­pened was, in the mid-Eighties I'd heard O Su­per­man on cam­pus ra­dio and then Lau­rie was com­ing to town and a cou­ple of peo­ple whose judg­ment I re­spect­ed said "You re­al­ly have to go see her" so I did, nev­er hav­ing bought a record, no idea what I was get­ting in­to. It was eas­i­ly one of the top two or three mu­si­cal ex­pe­ri­ences of my life; I got gid­dy in the mid­dle of one of the songs be­cause I'd been hold­ing my breath, be­cause you had to.
So I im­me­di­ate­ly ran out and bought all her mu­sic. That tour cen­tered on the mu­sic from Mis­ter Heart­break, which is great, but it was the mid­dle of a hot streak for her; I'd al­so rec­om­mend Big Science and Strange An­gels and wow, pok­ing around on­line I see she's got a few new­er re­leas­es I haven't heard. Must check them out. So, if you like Gravity's An­gel, there's lot more where that came from.
Just the facts · Lau­rie An­der­son start­ed out as a promis­ing clas­si­cal vi­o­lin­ist who got in­to elec­tron­ic mu­sic and per­for­mance art, a good play­er and singer and dancer with a high, beau­ti­ful voice, a strik­ing face, and more style than any sin­gle hu­man de­serves to have. She even­tu­al­ly be­came Lou Reed's sweet­ie and nursed him through his de­cline and death.
Gravity's An­gel is said to be in­spired by Gravity's Rain­bow, a huge, slop­py, self-indulgent, wonderful-in-places doorstop of a World-War-2-sort-of book by Pyn­chon, which I've read, and yeah, I sup­pose it has an­gels in it. For­tu­nate­ly you don't have to have read the book.
This is part of the Song of the Day se­ries (back­ground).
Links · Spo­ti­fy, iTunes, Ama­zon. Now, as for live video, Lau­rie made a DVD more or less of the con­cert I saw, called Home of the Brave; it's on YouTube and Gravity's An­gel starts at 48:19. Go ahead and check it out, it's maybe a lit­tle bet­ter than the record­ed ver­sion, plus vi­su­al dra­ma. But don't stop there, go back to the be­gin­ning and watch the whole thing, I'd call it on of the great per­for­mances ev­er, and you may find your­self for­get­ting to breathe.
---