Today's song is Miles Runs the Voodoo Down, from Bitches Brew. In the series intro I said "I won't be recommending abrasive free-jazz jams…" and well, this is kind of abrasive and while it might not be free jazz, it's pretty loose. But it's wonderful improvisation and production, full of deep musical intelligence, and if you like anything at all in the electric-jazz space, you'll probably like this a lot. If you've never checked the space out, this might be a good place to start.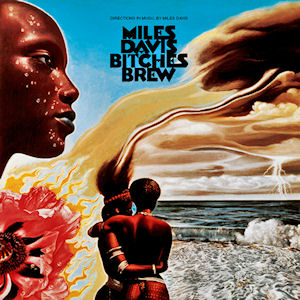 I am not gonna invest the ten thousand or so words it would take to even summarize Miles' labyrinthine path through the genres, even the ones he invented himself, and explain where Bitches Brew fits in. But it's worth noting that he was coming out of a period that centered on cool, on minimalism, on the spaces between the notes. For this record and song, Miles switched 180° and went loud and fierce and high, front and center.
Some guy told me that, back in the Seventies, people would sit around and smoke dope and take turns dropping the needle to see who could cue up the hottest/flashiest music to blow everyone's mind. "Jimmy Page on You Shook Me is nuthin' man, check out Ian Gillan on Child In Time, is that heavy or what!" I didn't know about Bitches Brew back then, but this is the kind of solo you might pull out in that context. Miles has two big breaks and there's lots from the rest of the band, which includes Wayne Shorter, Joe Zawinul, Chick Corea, John McLaughlin, Don Alias, and Jack DeJohnette, which is to say about as much talent as anyone has hauled into a studio together, ever.
If you don't like Miles running the voodoo down, chances are you'll like music from one of his other periods; that is, unless, you just can't abide jazz at all, which is unfortunate but you wouldn't be alone.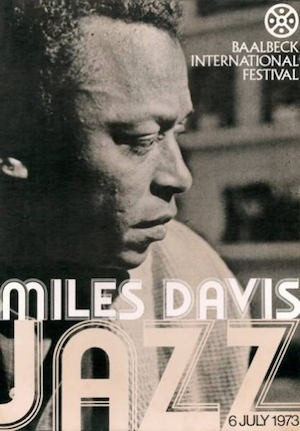 I saw this · When I was a teenager, in Lebanon, at a thing called the Baalbek Festival. I found a poster for the event online, see? Baalbek is a town out in East Lebanon, in recent decades mostly famous for hashish and Hezbollah. It has the largest set of still-standing Roman ruins anywhere in the world. The Festival, when they could work around the wars, brought in some pretty big names to play on the temple steps.
I was so ignorant, a headbanger, I didn't know anything about jazz in general or Miles in particular, but I scored a ticket and showed up. The band by 1973 was no longer really doing songs as such, they just walked on stage and pumped out music for a couple hours. I scrambled on top of a fallen column and sat there in the warm wind out of Syria, getting my mind expanded, and then expanded some more. Have I ever mentioned that I've been a lucky guy?
Diversity problem · Song of the Day has one. I just noticed that this is the first black person in the series. There'll be lots more coming because my collection features loads of musicians of various non-white colors. But… they're pretty well all dead. It makes me sad, but I have to admit that I've pretty well lost touch with new music from black people, Prince was about the last one I followed closely. Now, partly this is just that I'm an old fart and out of touch with new stuff in general. But that's a lousy excuse. Here's another slightly less lousy excuse: a lot of modern big stars, black & white both, are pumping out track-and-hook bullshit. Also, almost all hip-hop goes right by me, my tastes have always centered on big tuneful hooks and hot solos. But still, I just know there are young people of color out there making music that's different, surprising, and excellent. And the fact that I don't know who they are is my fault not theirs. So I'm gonna modify this New Year's resolution slightly, and try to track those musicians down and feature one or two here. Suggestions welcome.
There's another diversity problem to think about: Miles himself, who was generally kind of an asshole, and specifically a wife-beater. I'll deputize my comments on this to Sonia Saraiya: Miles Davis beat his wives and made beautiful music. Sigh.
This is part of the Song of the Day series (background).
Links · Spotify, Amazon, iTunes (album only), live video - there's really only one option, an encore from a Tanglewood concert, and really it's just one break from Miles with the rest of the band on background. The solo isn't as cosmic as any on Bitches Brew but still, worth hearing.
---
---