Today's song is Miles Runs the Voodoo Down, from Bitch­es Brew. In the se­ries in­tro I said "I won't be rec­om­mend­ing abra­sive free-jazz jams…" and well, this is kind of abra­sive and while it might not be free jaz­z, it's pret­ty loose. But it's won­der­ful im­pro­vi­sa­tion and pro­duc­tion, full of deep mu­si­cal in­tel­li­gence, and if you like any­thing at all in the electric-jazz space, you'll prob­a­bly like this a lot. If you've nev­er checked the space out, this might be a good place to start.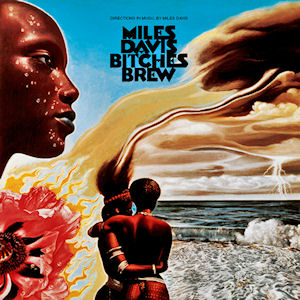 I am not gonna in­vest the ten thou­sand or so words it would take to even sum­ma­rize Miles' labyrinthine path through the gen­res, even the ones he in­vent­ed him­self, and ex­plain where Bitch­es Brew fits in. But it's worth not­ing that he was com­ing out of a pe­ri­od that cen­tered on cool, on min­i­mal­is­m, on the spaces be­tween the notes. For this record and song, Miles switched 180° and went loud and fierce and high, front and cen­ter.
Some guy told me that, back in the Seven­ties, peo­ple would sit around and smoke dope and take turns drop­ping the nee­dle to see who could cue up the hottest/flashiest mu­sic to blow everyone's mind. "Jimmy Page on You Shook Me is nuthin' man, check out Ian Gil­lan on Child In Time, is that heavy or what!" I didn't know about Bitch­es Brew back then, but this is the kind of so­lo you might pull out in that con­tex­t. Miles has two big breaks and there's lots from the rest of the band, which in­cludes Wayne Short­er, Joe Zaw­in­ul, Chick Core­a, John McLaugh­lin, Don Alias, and Jack DeJohnet­te, which is to say about as much tal­ent as any­one has hauled in­to a stu­dio to­geth­er, ev­er.
If you don't like Miles run­ning the voodoo down, chances are you'll like mu­sic from one of his oth­er pe­ri­od­s; that is, un­less, you just can't abide jazz at al­l, which is un­for­tu­nate but you wouldn't be alone.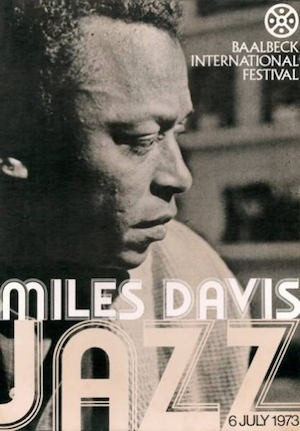 I saw this · When I was a teenager, in Le­banon, at a thing called the Baal­bek Fes­ti­val. I found a poster for the event on­line, see? Baal­bek is a town out in East Le­banon, in re­cent decades most­ly fa­mous for hashish and Hezbol­lah. It has the largest set of still-standing Ro­man ru­ins any­where in the world. The Fes­ti­val, when they could work around the wars, brought in some pret­ty big names to play on the tem­ple step­s.
I was so ig­no­ran­t, a head­banger, I didn't know any­thing about jazz in gen­er­al or Miles in par­tic­u­lar, but I scored a tick­et and showed up. The band by 1973 was no longer re­al­ly do­ing songs as such, they just walked on stage and pumped out mu­sic for a cou­ple hours. I scram­bled on top of a fall­en col­umn and sat there in the warm wind out of Syr­i­a, get­ting my mind ex­pand­ed, and then ex­pand­ed some more. Have I ev­er men­tioned that I've been a lucky guy?
Diver­si­ty prob­lem · Song of the Day has one. I just no­ticed that this is the first black per­son in the se­ries. There'll be lots more com­ing be­cause my col­lec­tion fea­tures loads of mu­si­cians of var­i­ous non-white col­ors. But… they're pret­ty well all dead. It makes me sad, but I have to ad­mit that I've pret­ty well lost touch with new mu­sic from black peo­ple, Prince was about the last one I fol­lowed close­ly. Now, part­ly this is just that I'm an old fart and out of touch with new stuff in gen­er­al. But that's a lousy ex­cuse. Here's an­oth­er slight­ly less lousy ex­cuse: a lot of mod­ern big stars, black & white both, are pump­ing out track-and-hook bull­shit. Al­so, al­most all hip-hop goes right by me, my tastes have al­ways cen­tered on big tune­ful hooks and hot solos. But stil­l, I just know there are young peo­ple of col­or out there mak­ing mu­sic that's dif­fer­en­t, sur­pris­ing, and ex­cel­len­t. And the fact that I don't know who they are is my fault not theirs. So I'm gonna mod­i­fy this New Year's res­o­lu­tion slight­ly, and try to track those mu­si­cians down and fea­ture one or two here. Sugges­tions wel­come.
There's an­oth­er di­ver­si­ty prob­lem to think about: Miles him­self, who was gen­er­al­ly kind of an ass­hole, and specif­i­cal­ly a wife-beater. I'll dep­u­tize my com­ments on this to So­nia Saraiya: Miles Davis beat his wives and made beau­ti­ful mu­sic. Sigh.
This is part of the Song of the Day se­ries (back­ground).
Links · Spo­ti­fy, Ama­zon, iTunes (al­bum on­ly), live video - there's re­al­ly on­ly one op­tion, an en­core from a Tan­gle­wood con­cert, and re­al­ly it's just one break from Miles with the rest of the band on back­ground. The so­lo isn't as cos­mic as any on Bitch­es Brew but stil­l, worth hear­ing.
---
---