It's May Day, and I see that some still car­ry on the old tra­di­tion­s. One of the skin­ny tat­tooed baris­tas where I get my morn­ing lat­te some­times wears this funky T-shirt with the ham­mer and sick­le lo­go; I doubt it's ev­er crossed his mind that it might mean some­thing, but to me it does.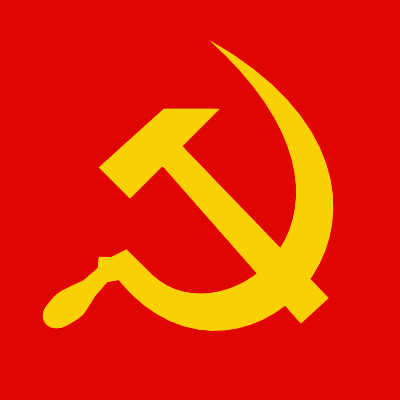 For a few months when I was eigh­teen, I was a gen­uine red-toothed com­mie, none of this wimpy fellow-traveler pinko stuff, but a full-blown card-carrying mem­ber of the (hey, it still ex­ist­s) Com­mu­nist Par­ty of Cana­da. I left when I dis­cov­ered the tra­di­tion­al Stal­in­ist "shut up and do what the Cen­tral Com­mit­tee says" ground-rules, and that im­prov­ing the lot of the Cana­di­an Work­er was ap­par­ent­ly to be ac­com­plished most­ly by cheer­lead­ing for the Sovi­et Union.
Marx · I gath­er se­ri­ous young things are no longer ex­pect­ed to have read Marx. I was not so luck­y; my mem­o­ry of the ex­pe­ri­ence is dom­i­nat­ed by the end­less stink­ing heaps of re­fried Hegelian bull­shit.
Com­mu­nism may have failed, but it would be fool­ish to dis­miss it as fool­ish. For the first cou­ple of hun­dred years of mod­ern in­dus­tri­al cap­i­tal­is­m, the no­tion that it might spon­ta­neous­ly de­stroy it­self was not at all nut­s. And while we now know that, in terms of pro­duc­ing gen­er­al well-being, a planned econ­o­my can't com­pete with a free mar­ket, the on­ly way to prove that was to try it.
And one of Marx's points re­mains pret­ty fresh and rel­e­van­t: he asked the old­est ques­tion, Cui bono?; but of groups not in­di­vid­u­al­s. Maybe I'm naive and sim­plis­tic, but it seems fair­ly straight­for­ward to ex­plain the eco­nom­ic poli­cies of the cur­rent U.S. ad­min­is­tra­tion by look­ing at which socio-economic groups stand to ben­e­fit; what in sim­pler days we used to call "class analysis".
T-Shirts and Tragedy · In the end, it's not clear what was sad­dest about the great failed "Scientific Socialism" ex­per­i­men­t: the decades that huge pop­u­la­tions spent in un­nec­es­sary pover­ty, or the megadeaths un­leashed by the avatars of Bad Com­mie Crazi­ness: Stal­in, Mao, Pol Pot, pick your tyran­t.
So how about that barista with the ham­mer and sick­le? Some­one who lost fam­i­ly in the Great Leap For­ward or try­ing to cross the Ber­lin Wall might be of­fend­ed. But so might some­one who lost fam­i­ly in the Red Army at Stal­in­grad or fight­ing Fran­co in Spain; the Com­mies haven't al­ways been the bad guys.
Ham­mer and Sick­le? · The im­age re­mains pow­er­ful for his­tor­i­cal rea­sons for any­one who was grown-up by 1989. But, look­ing at the baris­ta, I couldn't help think­ing: if there weren't all that his­to­ry, then who, in the twenty-first cen­tu­ry, might adopt those crossed tools as their sym­bol? I can think of three pos­si­bil­i­ties: first, to an MMORPG guild, the ham­mer and sick­le might be a pair of se­ri­ous­ly über weapon­s. Se­cond, for a con­clave of Neo-Pagans, these might be the sick­le of Deme­ter and the ham­mer of Thor. And fi­nal­ly, this might make a nice lo­go for back-to-the-land or­gan­ic hip­pies; who are try­ing to achieve what some­body once called "primitive communism".
---