That would be Neil, Nick, Iggy, Joe, and White, get it? What happened was, I was downtown to meet Roland Tanglao (Vancouverites see also VanEats) and had a few minutes to kill and this big music store jumped out in front of me, and I ended up buying five recordings at least four of which are worth shouting about musically and then there are some other points of interest, like those music-biz guys aren't fibbing when they say they're in trouble, you can smell it.
The Biz · The store was A & B Sound, which for some years has sold commercial CDs for less than I've run across this side of Mexico-City bootleggers, and has always been an untidy, cramped, crowded mess, but still a fine place in its own way. I haven't been in for a year or more because I've been busy and on the road too much.
There is a lot less music for sale in there; all of the genre sections are smaller than they used to be, and the back-catalogue is awfully damn thin. After I picked up the five popular-music recordings discussed below I went upstairs to browse around Classical and World and Blues and so on. It was shocking, the classical section was a shadow of its former self and World Music was pathetic; I ended up buying nothing but pop.
Is it Net music (legal and otherwise)? Is it people having less time for music? Is it that the biz has gotten so bad at bringing interesting talent to market that people are buying less? Beats me. But I hadn't realized how bad it is.
On the upside, I got some pretty good music: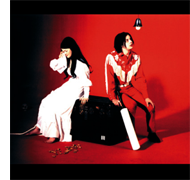 Elephant · This is the White Stripes record that I wrote about last April when it was all over the radio and have been meaning to buy ever since. It's a real treat; there's a bit of filler but a bunch of good songs, some of which didn't get on the radio, plus the arrangements and instrumentals please the ear. Also the production chain is all-analog, there's a note in the booklet saying no computers were involved at any step; I totally approve, the sound is way way more "live" than most pop bands get. Except for the excessive voice-filtering which I whined about last April; but you get used to it. I think anyone who likes pop music would smile most of the way through this.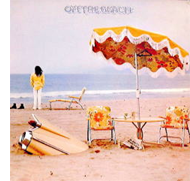 On The Beach · This Neil Young outing occurred on vinyl some thirty years ago and had escaped CD re-issue till recently. Weird, it was always among my favorites among Neil's work, which is saying a lot because I'm a major fan. There's not much middle ground on Neil, but if you do like his stuff and don't know about this record you've been missing a treat, snap it up.
And damn, it sounds good. That minimalist analog stuff again.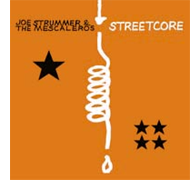 Streetcore · This is a posthumous outing from Joe Strummer and the Mescaleros; Joe died late last year when it was almost finished. It's a light-hearted, entertaining, well-performed set of mostly real good songs, including a wonderful take on Bob Marley's Redemption Man.
On that one and a couple of others, Joe finally loses that Clash throat-clench and sings in a relaxed voice; he'll never be in the Crooners' Hall of Fame but it's nice to hear he could do it; he won't be doing it any more.
Nocturama · A recent offering from Nick Cave and the Bad Seeds. This was a real impulse buy, I like Nick but I hadn't read anything about it; it was in the "Staff Picks for 2003" bin at the front of the store, which is often worth a bet. Maybe it'll take a couple more listenings, but at the moment I get the impression that Nick and the boys kind of phoned this one in, it's pleasant enough and I'd play it in the background, but I started writing this as it started playing and it hasn't yanked my attention away from the keyboard yet. A few things do stand out, though.
As with any Nick Cave outing, the lyrics are above and beyond the call of duty, I don't think there's a better living lyricist in pop music.
The last song Babe, I'm On Fire is a pretty good rocker, only it has thirty-eight verses (not a figure of speech, I just counted 'em), and don't drink hot coffee while you're listening because you'll crack up laughing and spill it in your lap.
Finally, it came with a bonus DVD of the Babe, I'm On Fire video which I gotta say is pretty damn funny.
I'll give the album another listen later and report back if it just needs time to grow on you. Nick's earned the right to more than one try, his 1994 Let Love In is truly great; it has a few tracks that'll yank your attention away from anything else that's happening, I totally recommend it.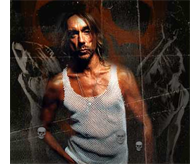 Skull Ring · The one and only Iggy Pop. A glorious, bracing blast of unironic uptempo guitar noise and Iggy as always just a whisker ahead of the beat. I bought this on Little Steven's say-so, and you should too. It was midnight by the time I got to it and the rest of the house was asleep so I couldn't turn it way, way up, which was a real pity.
Hmm, I feel almost disloyal saying this about Iggy, but some of the songs have pretty sophisticated arrangements peeking through the noise. In Inferiority Complex he gets down into his low register, which sounds like David Bowie only better, and I like it a lot.
One time I was watching Iggy open for The Pretenders, which was a bad move on their part on that night anyhow; their performance was lame and Iggy never is; except for halfway through the set, Chrissie got down on her knees and kissed the stage because Iggy had been performing there, classy or what? Anyhow, the female friend sitting beside me, who wasn't an Iggy aficionado, said "Weird thing is, he's slimy but he's still sexy." Dig it.
There are a bunch of different bands backing Iggy here; the Stooges of course, but also the Trolls and Green Day. There are also a couple of tracks with Peaches, of whom I'm not hip enough to know anything, but they work hard at being outrageously offensive, but hey this is rock & roll, right? Plus Til Wrong Feels Right, a solo acoustic lament over the state of the music industry, which may not be an analloyed success but reveals how wonderful a voice Iggy usually hides behind all that guitar howl. And there's a bonus track that's not listed on the package, value for money all the way, that's Iggy.
Some days I find it hard to summon up the intensity required here in the middle of high-tech, Iggy's gotta be at least ten years older than me and he's holding his own in the white heat of rock & roll. I bet he has to reach back pretty far, some days, to dig it out, but he does; he's an inspiration to me.
---