I just read this 2018 book by Juliet McKenna, which I discovered in Reading August/September, a blog post by Nicola Griffith, author of the excellent Hild (which I highly recommend here). I really enjoyed it and I bet a lot of you would too.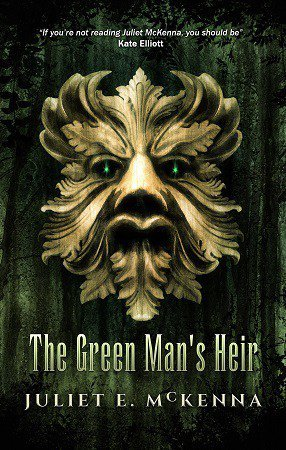 Green Man doesn't aim too high — a straightforward story of a fellow whose mother is a Dryad (tree spirit) living in the middle of England in the present day. His heritage means he can see, and interact with, woodland creatures out of myth (naiads, boggarts, and of course the Green Man); also that he is large, muscular, and has unusual (hetero-)sexual magnetism.
The story starts, like so many set in the middle of England, with the body of a murdered young woman, and involves interactions with cops, carpenters, interesting trees, and lots of those magic woodland creatures, some of whom are seriously lethal. There's even an apocalyptic boss-battle sort of thing to end the story with a bang.
It doesn't aim too high, and also doesn't have any significant flaws. Hard to put down, hard not to smile.
There's a very slightly odd flavor that may be the result of a woman writing a first-person male narrative (something I'm sure that many women are familiar with the mirror-image version of). I enjoyed this bit of gender dislocation, if that's what it is.
And I'm thinking I might want to go re-read Ms Griffith's blog post and try a couple more of the books she liked.
---
---