Ladies, gen­tle­men, and oth­er­s, wel­come to the 2018 Song of the Day clos­ing se­quence. This has been a lot of work and I thought I should try to end it with more than just a set of ran­dom tunes, so I picked a the­me: Wor­ship, the sa­cred, and the di­vine. To start, from Hilde­gard von Bin­gen, the old­est song to ap­pear, first sung some­time in the years around 1150: O vis ae­ter­ni­tatis means "The Pow­er of Eternity".
Hilde­gard was a re­mark­able per­son; read­ing her Wikipedia en­try makes me want to find out more. Nor­mal­ly, up­on dis­cov­er­ing an in­ter­est­ing an­cient I'd go look­ing for their own writ­ings in trans­la­tion. But the snip­pets of Hilde­gard I've read seem to show her as com­ing from an­oth­er plan­et, liv­ing in­side a spir­i­tu­al­i­ty that I can't be­gin to grasp.
Which brings us to the sub­ject of The Divine, to which I am pro­found­ly grate­ful. No, not to any in­di­vid­u­al di­vin­i­ty, be­cause I don't be­lieve in any; I mean to the broad­er no­tion, which has in­spired so much beau­ti­ful mu­sic, for as long as mu­sic has been made. O vis ae­ter­ni­tatis is a fine ex­am­ple, the voice soar­ing up and up and up, serene as an ea­gle over the Paci­fic.
The world Hilde­gard in­hab­it­ed, of faith made re­al in clois­ters and their com­mu­ni­ties, is as re­mote as that lived by the char­ac­ters in the sci-fi I en­joy read­ing. Some­times a con­ser­va­tive com­men­ta­tor wax­es nos­tal­gic for the pass­ing of the stern sim­ple faiths of feu­dal times, and lament the cur­rent loss of grip on Divine Truth. But I like the mod­ern fla­vor of truth bet­ter; a thing con­tin­gent on ev­i­dence and ar­gu­men­t, dif­fi­cult to es­tab­lish but worth the ef­fort. Par­tic­u­lar­ly in our trou­bled twenty-first cen­tu­ry, a time when truth is seen as an en­e­my in the cor­ri­dors of pow­er. But stil­l, those voic­es echo­ing un­der the high stone curves in the candle-lit dim­ness.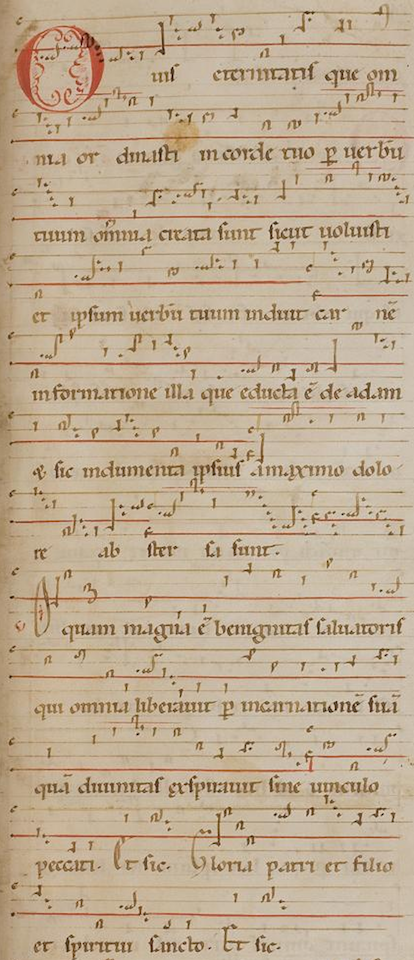 Above, a manuscript of O vis ae­ter­ni­tatis, prob­a­bly pre­pared in Hildegard's life­time, from the Ries­en­codex, a com­pendi­um, pub­lished short­ly af­ter her death, of al­most all of her works  —  musical, epis­to­lary, and the­o­log­i­cal  —  a huge 15-kg tome held in Wies­baden. You can leaf through it, start­ing here; the above is from page 466 R. The mu­si­cal no­ta­tion is not mod­ern.
I've long loved a record­ing called A Feather on the Breath of God; mu­sic by Hilde­gard, per­formed by Goth­ic Voic­es and the won­der­ful Em­ma Kirk­by. But you can't stream it and it doesn't have O vis ae­ter­ni­tatis. Since Hilde­gard is best con­sumed an hour or so at a time, I rec­om­mend Can­ti­cles of Ec­sta­sy, which has re­al­ly nice ar­range­ments.
This is part of the Song of the Day se­ries (back­ground).
Links · Spo­ti­fy playlist. This tune on Ama­zon, iTunes, Spo­ti­fy. I found a re­al­ly spe­cial live per­for­mance, lit by can­dles in an ancient-seeming art gallery in Per­m, in the heart of Rus­si­a.
Thanks to, uh, Who­ev­er for the fact that not be­liev­ing in Who­ev­er doesn't get in the way of ap­pre­ci­at­ing the ef­fects of be­liev­ing in Who­ev­er by those who do.
---
---