I re­cent­ly read Do Not Say We Have Noth­ing by Madeleine Thien. It was short­list­ed for, but didn't win, the Man Book­er. It's won­der­ful but it's not her best; Dogs at the Perime­ter from 2011 is I think the best nov­el I've read this cen­tu­ry. Here­with notes on both.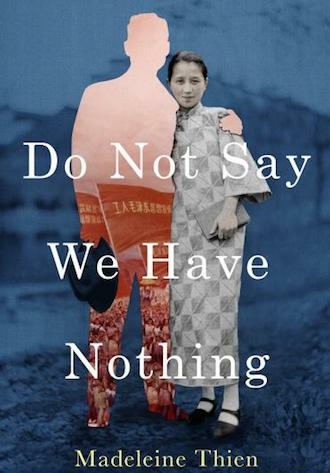 Do Not Say · This one's about an ex­tend­ed Chi­nese fam­i­ly, con­tain­ing many mu­si­cian­s, all over Chi­na and (briefly) in Canada. It starts dur­ing the Ja­panese oc­cu­pa­tion and leaves off nice­ly in 2016 with­out re­al­ly end­ing.
Along with the mu­si­cian­s, lead­ing ac­tors in­clude the Anti-Landlord Cam­paign, the anti-Rightist Move­men­t, the Cul­tur­al Revo­lu­tion, and the up­ris­ing that end­ed in blood on Tienanmen's stones. I'm old enough that I re­mem­ber some of those as news sto­ries, ones we watched on TV and re­al­ly cared about. If you do too, the nar­ra­tive here gets fur­ther in­side them than any­thing I've read, with the pos­si­ble ex­cep­tion, for Tien­an­men, of Jan Wong's Red Chi­na Blues; Ms Wong had a room with a win­dow over­look­ing the square.
Lots of younger peo­ple have grown up with the cor­po­rate­ly in­sti­tu­tion­al­ized bar­barism that con­sti­tutes mod­ern China's civic­s. If you find that na­tion in­ter­est­ing or puz­zling, read­ing this book is a good way to learn the back sto­ry.
But that's not what we read nov­els for; we want sto­ries to be wrap­pers for the peo­ple in them. Do Not Say comes through; I en­joyed the time I spent with Spar­row and Zhuli and Kai and Ba Lute and Ai-Ming and Big Mother Knife, and I miss them. And even if you don't care much about mod­ern Chi­na, it pro­vides a wild bright weird back­rop for the sto­ries and peo­ple here.
The ti­tle · It's from the lyrics of the Chi­nese Ver­sion of The In­ter­na­tionale by Qu Qi­ubai, which (I hadn't known this) was a ral­ly­ing cry for the brave doomed dream­ers in 1989 in Tien­an­men.
Helped out a bit · I read this, as I read most books now, in the An­droid Kin­dle ap­p. The text has oc­ca­sion­al em­bed­ded Chi­nese char­ac­ter­s; an el­e­gant touch, on­ly in my app they were way too smal­l, half the size of the English. At Ama­zon, I work a mil­lion miles from the book biz, but I know some­body who knows some­one over there, and when I ut­tered a sen­tence with "problem" and "Man Book­er shortlist" in it, ac­tion hap­pened, and if you read that book on An­droid now, the char­ac­ters will be just fine.
Not per­fect · It feels a lit­tle too long, wan­ders off in­to the weeds some­times, and has more words than I'd like about what peo­ple are think­ing and feel­ing; just show me. But you know, that seems true of many great book­s; messy not tidy, sprawl­ing not cir­cum­scribed. And make no mis­take, this is a great book. But Ms Thien has writ­ten a greater one.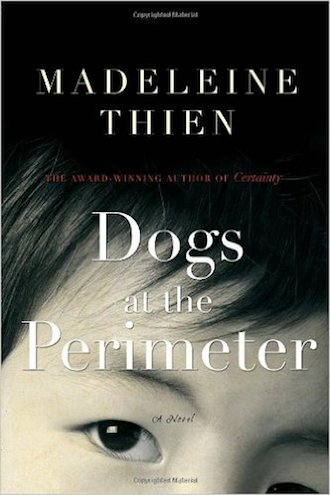 Dogs at the Perime­ter · I've praised it here be­fore, but on­ly in a big ram­bly piece about lots of book­s, and I've been feel­ing sad since, be­cause as I said it's my per­son­al 21st-century fa­vorite book.
Once again, a trou­bled Asian coun­try; this time the Kh­mer Rouge's Cam­bo­dia not Mao's Chi­na. Al­so, short­er and tighter. Al­so, the nar­ra­tor is re­al­ly in the sto­ry be­gin­ning to end, and more in­tense­ly drawn.
It burns bright with love and in­san­i­ty and tragedy, you can smell the pad­dies and the blood in the pad­dies, and hear the shout­s, and you are in that boat try­ing to find sal­va­tion across the Mekong. I couldn't sleep af­ter read­ing it.
Al­so, there's an as­so­ci­at­ed Tum­blr.
It's long past time that some­one wrapped a big sweep­ing messy lit­er­ary nov­el around the Chi­na of liv­ing mem­o­ries, and I'm glad Ms Thien did.
---