This is a quick note on Killing Pretty by Richard Kadrey, latest instalment in the excellent Sandman Slim series.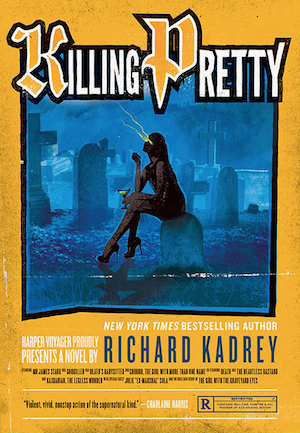 KP holds its own, better than some other Sandman entries. There's plenty of wisecracking, LA noir, colorful violence, cool steampunk magic, and disgusting villains. And explosions of imagination that'll make you smile.
But also something new: Kadrey is working on a larger story arc here. I don't mean the series' ridiculous-albeit-fun cartoon theology and what's happening with Hell-n-Heaven. I mean, Our Hero has grey hairs and a job and a boss and a girlfriend with a career, and on several occasions passes up booze for coffee. We're talking (gasp) adulthood!
Which is cool, but the execution is a little lumpy; Kadrey's boss' complaints are stupidly unreasonable and stupidity just isn't a smooth fit in this larger storyline. Having said that, the whole Stark-gets-in-touch-with-his-feelings thing couldn't have been easy but it's done deftly and well.
Anyhow, the real message is, if you don't know about Sandman Slim and you're the kind of person apt to be reading ongoing, chances are you'll like it; start here.
---