Our family gathering is small this year; only five. Even at that size, when everyone likes the same book, that's remarkable.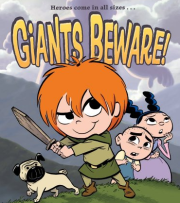 I'm talking about Giants Beware!, a graphic novel by Jorge Aguirre (who doesn't have a Wikipedia entry, someone get on it). All five of us read it, cover to cover, on Christmas day. Granted, my 6-year-old daughter is an unusually good reader, and my 82-year-old mother is unusually bookish and open-minded, but still. The book is funny, deft, well-drawn, and a total page-turner.
Its a little tougher than what the six-year-old gets from her first-grade library, and she groused out loud, demanding that everyone stop talking so she could concentrate. When that predictably didn't work, she put it under her arm and stomped off down the hall to a bedroom, letting us know that she thought life unfair. Another sign of a good book.
---
---