I've been carrying cameras around for a while in a bag that I hated; awkward to open, awkward to get into, ugly, big outside and small inside. So the other day I picked up this little canvas National-Geographic-branded bag made by Bogen Imaging, model NG-2343.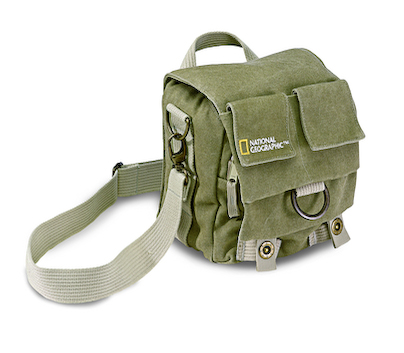 It's really compact, smaller than the picture makes it look, with good use of internal space. I can get the K20D in with any combination of two other lenses unless they're the hulking Sigma f1.4 and the big old Tamron telephoto; and still unobtrusive. This is another advantage of shooting with prime lenses. If you've got a D3 or want to carry a couple of honkin' zooms around, forget it.
The main lid is fastened with a couple of those old-fashioned metal snaps and you can have it open in a flash. Under that is the weatherproof shell that you zip closed if there's weather, otherwise you roll and velcro out of the way. So you can get at the camera PDQ.
Plus, there are lots of little extra pockets and pouches. Recommended. Now, I just need to get it smudged and beat-up for that authentic photojournalist look. I'm thinking bloodstains.
---
---