This is a 1977 album by Pete Townshend of the Who and the late Ronnie Lane of the Faces. It's a rarity in that most of it, while unquestionably rock music, is also gentle. Of its eleven songs, eight or nine are extremely beautiful, the singing is tuneful and heartfelt, the playing (lots of stars sitting in) is great, even the lyrics will grab you. ("5✭♫" series introduction here; with an explanation of why the title may look broken.)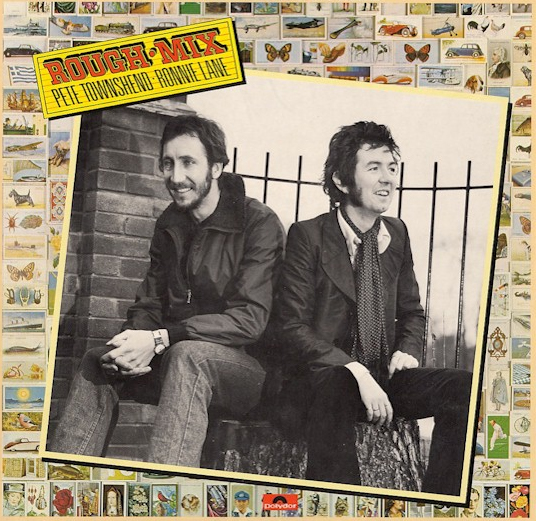 The Context · Pete Townshend doesn't need any further introduction; obviously he's one of the giants of twentieth-century music (and this would be a piece of evidence I'd use to support that claim). Ronnie Lane, though, was not seen one of the big Faces forces; his artful songwriting and appealing singing on this were a surprise to me when I first ran across it. Lane was diagnosed with MS during the making of this recording; he lived for another twenty years.
The Package · It looked great in the LP format and doesn't work on CD. Pete and Ronnie have faces like two comfy old shoes, which is truth in advertising because that's how their voices sound too. The back of the LP was covered with pictures of a zillion little tiny cards, the kind that must have come in packages of cereal or smokes or gum or whatever.
The Music · The arrangements are mostly acoustic, with a sprinkling of electric guitar here and there; the band is mixed well back, leaving lots of space for the voices. Those voices: middle-aged tarnished tenors, neither conventionally beautiful, but with so much heart, and Ronnie exhibits some surprising flexibility and verve. Of the eleven songs, five are by Townshend, two by Lane, two more by Lane-and-friends, one by Townshend and Lane, and then there's the traditional Till the Rivers All Run Dry.
They mix up the vocals, singing their own songs, harmonizing, and on Townshend's luminous Heart To Hang Onto, trading off on verse and chorus.
The liner notes say "Ron and Pete play various Acoustic & Electric guitars, mandolins & bass guitars, banjos, ukeleles & very involved mind games." The band includes Eric Clapton, Rabbit Bundrick, and Henry Spinetti, with guest spots from Charlie Watts, Mel Collins, Boz Burrell, Gallagher & Lyle, Ian Stewart, and John Entwistle.
The Songs I Like, in Detail ·
My Baby Gives it Away A light-hearted, tuneful, amusing song about low-rent prostitution.

When you're alone in some city hotel,
You can get company by ringing a bell.
...
My baby's brother never break a your arm.
My baby ha, ha, I love her.

Nowhere To Run Beautiful harmonica from Peter Hope-Evans. Lyric sample:

Make no sail for a gift of the wind
Drives you slow for this dream never ends...

Rough Mix The band lays down a fast, gentle groove (yes, it's possible) and Eric Clapton plays fierce but relaxed lead (yes, it's possible) over it. Pete throws in a few licks that are mostly the spaces between the notes. You could dance to it. What's not to like?

Annie, by Lane/Lambert/Clapton. This song is so sweet and sad, even one drink and you might find a tear falling. An unironic violin shadows the melody, a good one. Ronnie sings:

All those colors have faded
When ol' Jack comes to call
Don't tell him no, tell him maybe
Ohhhhh now, Annie, may God bless us all

Keep Me Turning Now this would be your vintage Townshend. Lovely tune, the spiritual anguish in the words is overdone but that's OK because the guitar chords are are excellent.

Catmelody is a straightforward honky-tonk barrelhouse party song, with Ronnie Lane gleefully slinking around and over the surging piano and Charlie Watts backbeat:

This story's old, this heart is cold
This old street corner has heard it all before
But if I can bum just one more one
I'll say so long, I'm going home

Misunderstood It's crucial that Townshend sings this in a gentle, ruminative, almost bashful voice over an acoustic backdrop. It starts like this and there are lots more verses, all about the same and all fun to hear, over a really really eccentric rhythm, with tasty harmonica.

Just wanna be misunderstood
Wanna be feared in my neighborhood
Just wanna be a moody man
Say things that nobody can understand

April Fool A sad, beautiful Ronnie Lane song, maybe the most beautiful on the record. Lots of acoustic guitars behind it with heartbreaking Dobro from Clapton, then the singing stops and the guitars go on and on, soft and deep, I'm astounded that nobody's used this sequence in the climax of a movie romance, it'd make a stone weep. Ronnie sings:

I see the wheels there rusted in the backyard
I know we're not going anywhere
We used to roam so freely. It's been so long
I take my dreams to bed now where they belong

Street in the City Self-indulgent Townshend wanking, with a full string orchestra no less behind it. Having said that, it's kind of fun to listen to, music and words too (The news is written in the eyes of us all). Intelligent wanking, I should have said.

Heart To Hang On To This is one of my top favorite songs, ever, and I've learned to play it on a bunch of different instruments over the years. Ron sings the verses and Pete the chorus which is the title, and is there anyone who doesn't need a heart to hang on to? The arrangement is pure magic; there are guitars and keyboards and all sorts of stuff offering contributions precisely as needed, no more no less.

The last song is Till the Rivers All Run Dry and it's here because it was a big fave with whichever Indian guru was in fashion at the time, Baba Rum Raisin I think. Mostly harmless.
It seems that I've written up all the songs.
Sampling It · What are you, crazy? Go and buy the whole record, in an uncompressed form, vinyl or bits, there have been very few aggregations of this many good songs, in any format, ever. Get the package deal.
---
---