Bodoni the cat, who shared the second half of his life with us, died Thursday June 30th.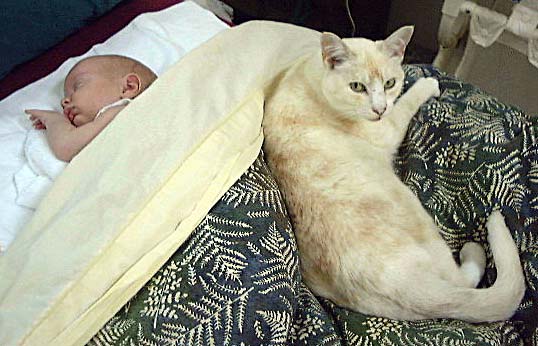 We were shopping for a kitten in early 1997; we didn't find one, but Lauren's eye was caught by a scraggly white beast cowering in the back of his cage, and after we got home, she insisted we go back for him. The shelter advertised him as being "probably three" but the vet, on the first of many trips to nurse him back to health, said he was closer to nine.
He'd been badly abused; arriving at the house, his first few months of life with us consisted mostly of an effort to find a completely indiscoverable cranny to hide in. At one point Lauren exhibited what I thought was insane courage slithering into a 12-inch-high crawlspace under the stairs to pull him out.
Later, he found a deep hidey-hole under the bathroom sink, and there was a farcical series of days when I stacked up more and bigger objects against it each day to keep him getting in, and he somehow managed to wedge them aside each day and get in.
Eventually he relaxed. His greatest pleasure was a sunny porch, and he found a lot of those during his eight pretty good years with us.
---