This gentleman has a Web site, but he is famous for his very beautiful and influential books; three of them as of this writing, visible at the web site. At Antarctica we claim Tufte as a major influence, and we usually (I think) live up to that claim pretty well. Tufte's thinking has influenced mine as much as that of any other living human being.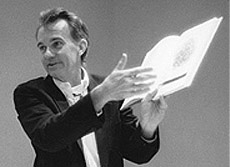 I've pulled the little graphic below off Tufte's site; there are no copyright notices, and if you want a copy, he'll sell you one, so I doubt he'll be upset. Once you realize what this graphic is telling you, you can look closer and closer for a long time indeed.
In the software world, we're pretty darn good at back-end server-side data management and manipulation and transmission; our tools get better every year. We're kind of stuck though, both at the technology and design levels, at the interface between all that back-end excellence and the human brain. We need a combination of new thinking and respect for the traditional bases of graphical excellence, and Tufte does a better job than anyone of laying them out.
---