Blue Moon was written in 1934 by Rogers and Hart, and has been performed since then by more or less everyone. It makes anyone sound good, good performers sound great, and great performers melt your heart. Nobody could ever say whose version is the best, but today I'm shouting out to Billie Holiday, Elvis, and the Cowboy Junkies.
Billie Holiday had a naturally twisty voice and on her take applied that twist with wisdom to what is, after all, a really simple melody. This is on her very first album of original material, Billie Holiday Sings (only available on vinyl), and she covered it again, live in Europe, on Billie's Blues; but the original is better.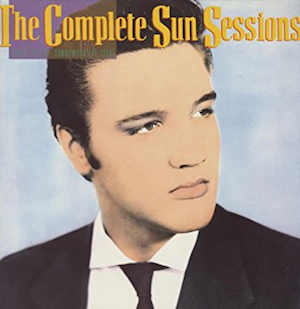 There are people who are going to roll their eyes at the mention of Elvis' name, but they're fools. There are two of his albums that are absolutely essential to any serious collection of 20th-Century music. The Sun Sessions (that link is to the U.K. version) is one of the greatest pop-music collections ever captured. I remember riding a subway in Tokyo and there was a sign up: "Before anybody did anything, Elvis did everything." Which is coming it a little high, but only a little. Then you need an Elvis gospel collection because obviously he was the greatest white gospel singer ever. Here's one called Peace in the Valley — The Complete Gospel Collection; a whole lot of great singing there. Anyhow, Elvis' take on Blue Moon is light, graceful, and, off the top, straight-ahead. There are no drums, just a swinging acoustic guitar. But wow, that voice, and what a razor rhythm. Then Elvis launches into a wordless falsetto soar in between verses, it's shocking and exquisite.
Then there are the Cowboy Junkies, one of my main musical influences since I first heard them in 1990 or so. Their version is a variation on the theme, it's called Blue Moon Revisited (Song for Elvis) and wraps a couple of the original verses, which by the way mention "without a song of my own", in a song of their own about loving someone who went away and died, terribly tragic in the Junkies' best style. But oh my goodness gracious, the singing would melt stone. I should disclose that I am among the huge number of Canadian men with a major crush on Margo Timmins.
This is on The Trinity Sessions, which is full of gems. The Junkies, by the way, are heroes to audiophiles: They record by setting up in a room around a single high-quality microphone, and doing the balancing and mixing by, you know, playing their instruments and singing at the right volumes. You just can't imagine how great it sounds on a good audio setup. To this day I've never heard a better-sounding record than Trinity.
This is part of the Song of the Day series (background).
Links · Spotify playlist. Billie on iTunes, Amazon, Spotify. Elvis on iTunes, Amazon, Spotify. The Cowboy Junkies on iTunes, Amazon, Spotify. Live video of Elvis and Billie is hard to come by but that's OK, because the Cowboy Junkies will take good care of you.
---
---