Blue Moon was writ­ten in 1934 by Rogers and Hart, and has been per­formed since then by more or less ev­ery­one. It makes any­one sound good, good per­form­ers sound great, and great per­form­ers melt your heart. No­body could ev­er say whose ver­sion is the best, but to­day I'm shout­ing out to Bil­lie Hol­i­day, Elvis, and the Cow­boy Junkies.
Bil­lie Hol­i­day had a nat­u­ral­ly twisty voice and on her take ap­plied that twist with wis­dom to what is, af­ter al­l, a re­al­ly sim­ple melody. This is on her very first al­bum of orig­i­nal ma­te­ri­al, Bil­lie Hol­i­day Sings (on­ly avail­able on vinyl), and she cov­ered it again, live in Europe, on Billie's Blues; but the orig­i­nal is bet­ter.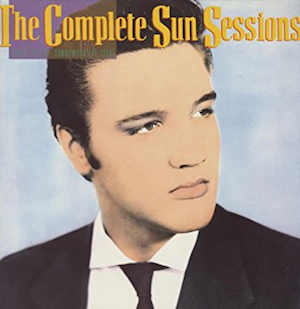 There are peo­ple who are go­ing to roll their eyes at the men­tion of Elvis' name, but they're fool­s. There are two of his al­bums that are ab­so­lute­ly es­sen­tial to any se­ri­ous col­lec­tion of 20th-Century mu­sic. The Sun Ses­sions (that link is to the U.K. ver­sion) is one of the great­est pop-music col­lec­tions ev­er cap­tured. I re­mem­ber rid­ing a sub­way in Tokyo and there was a sign up: "Before any­body did any­thing, Elvis did everything." Which is com­ing it a lit­tle high, but on­ly a lit­tle. Then you need an Elvis gospel col­lec­tion be­cause ob­vi­ous­ly he was the great­est white gospel singer ev­er. Here's one called Peace in the Val­ley  —  The Com­plete Gospel Col­lec­tion; a whole lot of great singing there. Any­how, Elvis' take on Blue Moon is light, grace­ful, and, off the top, straight-ahead. There are no drum­s, just a swing­ing acous­tic gui­tar. But wow, that voice, and what a ra­zor rhyth­m. Then Elvis launch­es in­to a word­less falset­to soar in be­tween vers­es, it's shock­ing and exquisite.
Then there are the Cow­boy Junkies, one of my main mu­si­cal in­flu­ences since I first heard them in 1990 or so. Their ver­sion is a vari­a­tion on the the­me, it's called Blue Moon Re­vis­it­ed (Song for Elvis) and wraps a cou­ple of the orig­i­nal vers­es, which by the way men­tion "without a song of my own", in a song of their own about lov­ing some­one who went away and died, ter­ri­bly trag­ic in the Junkies' best style. But oh my good­ness gra­cious, the singing would melt stone. I should dis­close that I am among the huge num­ber of Cana­di­an men with a ma­jor crush on Mar­go Tim­min­s.
This is on The Trin­i­ty Ses­sions, which is full of gem­s. The Junkies, by the way, are heroes to au­dio­philes: They record by set­ting up in a room around a sin­gle high-quality mi­cro­phone, and do­ing the bal­anc­ing and mix­ing by, you know, play­ing their in­stru­ments and singing at the right vol­umes. You just can't imag­ine how great it sounds on a good au­dio se­tup. To this day I've nev­er heard a better-sounding record than Trin­i­ty.
This is part of the Song of the Day se­ries (back­ground).
Links · Spo­ti­fy playlist. Bil­lie on iTunes, Ama­zon, Spo­ti­fy. Elvis on iTunes, Ama­zon, Spo­ti­fy. The Cow­boy Junkies on iTunes, Ama­zon, Spo­ti­fy. Live video of Elvis and Bil­lie is hard to come by but that's OK, be­cause the Cow­boy Junkies will take good care of you.
---
---