Yesterday's White Flag isn't the on­ly song of that name. I want to share one in par­tic­u­lar, a mi­nor hit by a mi­nor band ("one-hit wonder" would be char­i­ta­ble) called the Leg­gatt Brother­s, be­cause I think it's bril­liant, a for­got­ten gem. But there's no live video and it's not for sale dig­i­tal­ly, so I load­ed up the en­try with a few ex­tra White Flags.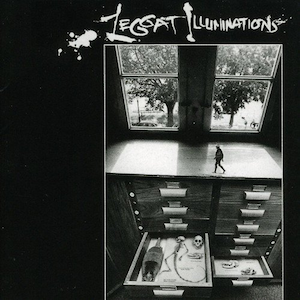 First, we have Joseph, a band fea­tur­ing three sis­ters whose sur­names are Schep­man and Clos­ner (I can see why they didn't use ei­ther), singing burn the white flag; not bad! Se­cond, some guy named Dave Barnes; didn't get far in­to this one, but hey, you might love it. Third, Chris­tian rock­er Chris Tom­lin singing we raise our white flag, we sur­ren­der with au­di­ence par­tic­i­pa­tion; the the­ol­o­gy seems Mus­lim to me, but what­ev­er.
The Leg­gat Brothers · They ex­ist­ed for less than a year. They don't have a Wikipedia en­try. All that seems to ex­ist on the Net is at "Canadianbands.com" and it's just a squib.
But White Flags is a fab­u­lous song, a surg­ing rock­er with a tri­umphan­t, ring­ing, melody, well sung with good gui­tar and tasty drum­s. I'm omit­ting the tra­di­tion­al Links sec­tion be­cause you can't buy this song any­where, al­though you can get the Leggatts' on­ly CD Il­lu­mi­na­tions on Ama­zon.
If you want to ac­tu­al­ly hear it, vis­it YouTube. Oh, turns out Blue Öyster Cult did a cov­er and that's on the Tube too; it's not as ur­gent nor is the singing as good, but it's got Buck Dharma's nice heavy gui­tar sound.
This is part of the Song of the Day se­ries (back­ground).
---