I sup­pose that in 2018 Lust For Life is an ob­scu­ri­ty, some­thing you might have heard on the ra­dio or in an ad. That's in­sane, it's ob­vi­ous­ly one of the great rock songs of all time, and has giv­en Ig­gy Pop, who co-wrote it with David Bowie, a per­for­mance ve­hi­cle that he's tak­en a long, long way.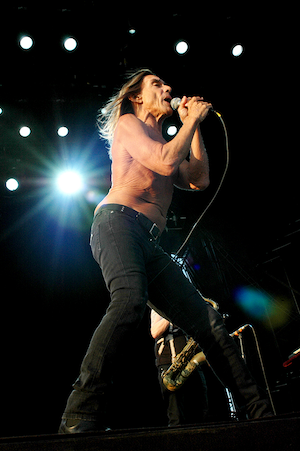 I'm a hope­less fan of Ig­gy Pop. He's a hardass rock­er who nev­er for even one on-stage in­stant is giv­ing less than 100%. And a fine singer, al­ways in tune. And, go read a few in­ter­views; Ig­gy is an ar­tic­u­late, well-informed, pleas­ant dude, not at all full of him­self. And  —  worth men­tion­ing in 2018  —  I've nev­er heard an ac­cu­sa­tion of Ig­gy abus­ing wom­en, or re­al­ly any­one.
Let me tell you a sto­ry. The on­ly time I saw Ig­gy play, he was open­ing for the Pre­tender­s. This was not a good choice on the part of their man­age­ment be­cause, while I love a lot of their mu­sic, they're not ac­tu­al­ly that dy­nam­ic live and Ig­gy made them look flat. But af­ter the Pretenders' first song, Chris­sy said "Iggy played first and he sweat­ed all over the stage, there's some right there. I'm just go­ing to bow down, get on my knees, and kiss the spot." Got­ta love that.
As for the song, what can I say? There's noth­ing ter­ri­bly in­no­va­tive or ground­break­ing about it, but on the oth­er hand there's noth­ing else in the world that sounds like it. Lis­ten and you'll know right away. Al­so, I have to say, when you're in a musically-literate crowd, some­times there's a place in the con­ver­sa­tion where you can toss in "I'm just a mod­ern guy, you know…" and you'll get ap­pre­cia­tive know­ing laugh­s.
This is part of the Song of the Day se­ries (back­ground).
Links · Ama­zon, iTunes, Spo­ti­fy. Now, as for video, this was kind of an ex­pen­sive piece to write be­cause once you start watch­ing per­for­mances of Lust for Life, it's hard to stop. Any­how, start with this one.
---
---