I suppose that in 2018 Lust For Life is an obscurity, something you might have heard on the radio or in an ad. That's insane, it's obviously one of the great rock songs of all time, and has given Iggy Pop, who co-wrote it with David Bowie, a performance vehicle that he's taken a long, long way.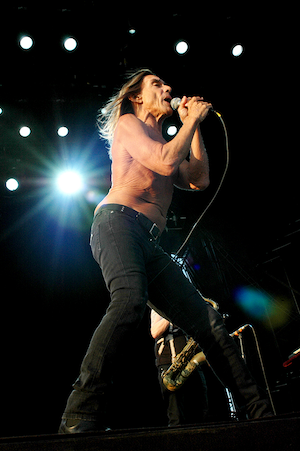 I'm a hopeless fan of Iggy Pop. He's a hardass rocker who never for even one on-stage instant is giving less than 100%. And a fine singer, always in tune. And, go read a few interviews; Iggy is an articulate, well-informed, pleasant dude, not at all full of himself. And — worth mentioning in 2018 — I've never heard an accusation of Iggy abusing women, or really anyone.
Let me tell you a story. The only time I saw Iggy play, he was opening for the Pretenders. This was not a good choice on the part of their management because, while I love a lot of their music, they're not actually that dynamic live and Iggy made them look flat. But after the Pretenders' first song, Chrissy said "Iggy played first and he sweated all over the stage, there's some right there. I'm just going to bow down, get on my knees, and kiss the spot." Gotta love that.
As for the song, what can I say? There's nothing terribly innovative or groundbreaking about it, but on the other hand there's nothing else in the world that sounds like it. Listen and you'll know right away. Also, I have to say, when you're in a musically-literate crowd, sometimes there's a place in the conversation where you can toss in "I'm just a modern guy, you know…" and you'll get appreciative knowing laughs.
This is part of the Song of the Day series (background).
Links · Amazon, iTunes, Spotify. Now, as for video, this was kind of an expensive piece to write because once you start watching performances of Lust for Life, it's hard to stop. Anyhow, start with this one.
---
---