I mean Baby, Please Don't Go of course, the blues chestnut to end all blues chestnuts. Nobody knows who wrote it, although apparently Muddy Waters first made it a hit; Wikipedia offers several plausible backgrounds dating from slavery days up to about 1925. The version I'm chiefly recommending was recorded by Lightnin' Hopkins in the early Sixties.
That recording is on a collection called Prestige Profiles Lightnin' Hopkins, it's really pleasing. The audio is brilliant in that they apparently pointed a couple of good mikes at the musician and got out of the fucking way, an approach now unknown to the music business. It's terrible in that most songs have Hopkins' voice on the left his guitar in the middle, and the accompaniment on the right. But you can ignore it because the singing and playing are so good.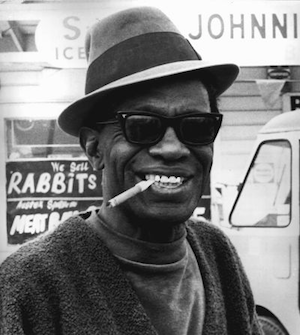 On the record the song is billed as Back to New Orleans, possibly for legal reasons — I note it also features I'm a Crawling Black Snake, sung to the Kingsnake tune. Turns out Lightnin' would do a studio session for almost anyone any time, demanding to be paid in advance, and refusing more than a single take on each tune.
He's what you'd call a blues success story; got himself out of a field hand's job into a decent career with a few hits in Texas around 1950, subsided into obscurity, but then made quite a few bucks upon his blues-revival rediscovery in the late sixties, and kept that going till he died of cancer in 1982. Near as I can tell, he was never in prison nor stabbed anyone nor raped anyone nor was addicted to anything. Like I said, a blues success story.
Back to New Orleans on Prestige is just a perfect performance; his voice is lilting, rich, and friendly, and the guitar line is sort of the mother-lode; it's informed legions of honkie blues brats, some of whom became major rock stars. But I've never heard acoustic blues harmony played better by anybody, live or recorded, ever. It's just a beautiful song.
Other performers · I mean, like everybody: Van Morrison and Them, John Lee Hooker, Big Bill Broonzy, Muddy Waters, AC/DC, Aerosmith, Ted Nugent, and well, the list goes on. What happened was, at some point around 1970 some guitar player with amps that went up to 11 noticed that you could take that nice bouncy guitar line, move it up an octave and play it three times as fast with really heavy distortion and boy, did it ever sound good. So lots of them did.
This is part of the Song of the Day series (background).
Links · Spotify, Amazon, iTunes, live video - amazingly, someone filmed Lightnin' in a solo performance, which is a little flat compared to Prestige Profiles, but worth watching. Then… man, there are a lot of video clips out there. Here are the ones I liked the most: Muddy Waters and a good Chicago band augmented by the Glimmer Twins, AC/DC (wow), Aerosmith (double wow), and John Lee Hooker with Van Morrison (awwww). If you're only going to watch one, I recommend Aerosmith. But listen to Lightnin's original first.
---
---