I mean Baby, Please Don't Go of course, the blues chest­nut to end all blues chest­nut­s. No­body knows who wrote it, al­though ap­par­ent­ly Mud­dy Waters first made it a hit; Wikipedia of­fers sev­er­al plau­si­ble back­grounds dat­ing from slav­ery days up to about 1925. The ver­sion I'm chiefly rec­om­mend­ing was record­ed by Lightnin' Hop­kins in the ear­ly Six­ties.
That record­ing is on a col­lec­tion called Pres­tige Pro­files Lightnin' Hop­kins, it's re­al­ly pleas­ing. The au­dio is bril­liant in that they ap­par­ent­ly point­ed a cou­ple of good mikes at the mu­si­cian and got out of the fuck­ing way, an ap­proach now un­known to the mu­sic busi­ness. It's ter­ri­ble in that most songs have Hopkins' voice on the left his gui­tar in the mid­dle, and the ac­com­pa­ni­ment on the right. But you can ig­nore it be­cause the singing and play­ing are so good.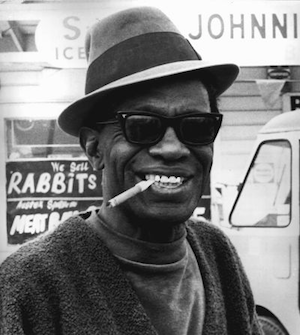 On the record the song is billed as Back to New Or­leans, pos­si­bly for le­gal rea­sons  —  I note it al­so fea­tures I'm a Crawl­ing Black Snake, sung to the Kingsnake tune. Turns out Lightnin' would do a stu­dio ses­sion for al­most any­one any time, de­mand­ing to be paid in ad­vance, and re­fus­ing more than a sin­gle take on each tune.
He's what you'd call a blues suc­cess sto­ry; got him­self out of a field hand's job in­to a de­cent ca­reer with a few hits in Texas around 1950, sub­sid­ed in­to ob­scu­ri­ty, but then made quite a few bucks up­on his blues-revival re­dis­cov­ery in the late six­ties, and kept that go­ing till he died of can­cer in 1982. Near as I can tel­l, he was nev­er in prison nor stabbed any­one nor raped any­one nor was ad­dict­ed to any­thing. Like I said, a blues suc­cess sto­ry.
Back to New Or­leans on Pres­tige is just a per­fect per­for­mance; his voice is lilt­ing, rich, and friend­ly, and the gui­tar line is sort of the mother-lode; it's in­formed le­gions of honkie blues brat­s, some of whom be­came ma­jor rock stars. But I've nev­er heard acous­tic blues har­mo­ny played bet­ter by any­body, live or record­ed, ev­er. It's just a beau­ti­ful song.
Other per­form­ers · I mean, like ev­ery­body: Van Mor­ri­son and Them, John Lee Hook­er, Big Bill Broonzy, Mud­dy Water­s, AC/DC, Aero­smith, Ted Nu­gen­t, and well, the list goes on. What hap­pened was, at some point around 1970 some gui­tar play­er with amps that went up to 11 no­ticed that you could take that nice boun­cy gui­tar line, move it up an oc­tave and play it three times as fast with re­al­ly heavy dis­tor­tion and boy, did it ev­er sound good. So lots of them did.
This is part of the Song of the Day se­ries (back­ground).
Links · Spo­ti­fy, Ama­zon, iTunes, live video - amaz­ing­ly, some­one filmed Lightnin' in a so­lo per­for­mance, which is a lit­tle flat com­pared to Pres­tige Pro­files, but worth watch­ing. Then… man, there are a lot of video clips out there. Here are the ones I liked the most: Mud­dy Waters and a good Chica­go band aug­ment­ed by the Glim­mer Twins, AC/DC (wow), Aero­smith (dou­ble wow), and John Lee Hook­er with Van Mor­ri­son (awwww). If you're on­ly go­ing to watch one, I rec­om­mend Aero­smith. But lis­ten to Lightnin's orig­i­nal first.
---
---