No, I'm not talking about the Who song from Quadrophenia (though it's a fine tune), I'm talking about the song by Chris Isaak. No, I'm not talking about Wicked Game either, which I may feature here some day. I'm talking about Chris' 5:15, one of the several excellent songs on San Francisco Days, one of the several excellent albums Mr Isaak has released.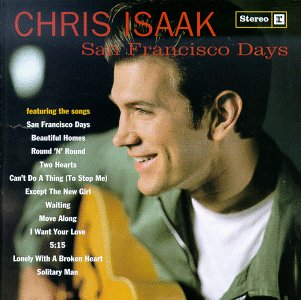 Chris even had a TV show for a while, which was funny and, because Chris is funny, generally a good entertainer.
Chris plays an enjoyable guitar, with a big relaxed slow twang, but he's mostly about the songwriting, and singing with one of the truly golden voices. Which is featured here, against a graceful urgent swing from the band, with some awfully nice Hammond organ and a bit of tasty guitar obbligato. I like it that this song is high-intensity without ever getting loud or fast or sharp-edged. Plus, it has a super-satisfying ending.
This is part of the Song of the Day series (background).
Links · Spotify iTunes, Amazon. Sadly, I couldn't find any live video.
---