This is a min­i­mal­ist gui­tar in­stru­men­tal by Roy Buchanan (1939-1988). Gen­uine­ly ob­scure stuff, but I'm pret­ty sure you'll find it worth sev­en min­utes and sev­en­teen sec­onds of your time.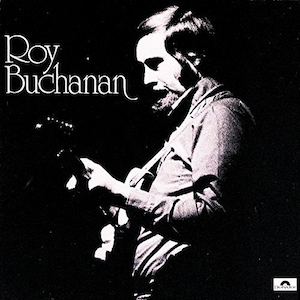 Back in the day, Roy had a re­al fol­low­ing among electric-guitar devo­tees, in­clud­ing the Rolling Stones, who of­fered him a spot when they lost Bri­an Jones; he passed. I wasn't a huge fan, find­ing his play­ing of­ten over­wrought and overdec­o­rat­ed.
But the B side of his de­but al­bum went straight to my heart; Pete's Blue is the high­light. I still put that scratchy 45-year-old vinyl on some­times, and smile ev­ery time. Nice-looking al­bum cov­er, too.
When Roy wasn't show­ing of­f, he had a unique­ly beau­ti­ful tone and made bet­ter use of ex­treme sus­tain than any­one else play­ing at that time, and maybe since. I re­mem­ber read­ing a quote from Jeff Beck, to the ef­fect that Roy taught them all how to use sus­tain.
Any­how, this is the kind of mu­sic that, if pos­si­ble, you want to sit back for; turn down the lights and put away your screens and close your eyes and turn it up. It starts a lit­tle slow, Roy takes a cou­ple of cho­rus­es to re­al­ly get his mo­jo work­ing; worth the wait.
This is part of the Song of the Day se­ries (back­ground).
Links · iTunes, Spo­ti­fy, Ama­zon; un­for­tu­nate­ly, while there's lots of video of Roy on the Net, ei­ther he nev­er per­formed Pete's Blue or no­body ev­er filmed him do­ing it.
---