Around 1500, the lev­els of tech­nol­o­gy and pro­duc­tiv­i­ty in Europe and Asia were not dra­mat­i­cal­ly dif­fer­en­t. But by 1700, Europe had leaped ahead and, by the twen­ti­eth cen­tu­ry, most­ly come to dom­i­nate the world; the la­bels "Enlightenment" and "Industrial Revolution" are com­mon­ly ap­plied. A Cul­ture of Growth: The Ori­gins of the Modern Econ­o­my, a 2016 book by Joel Mokyr asks "Why?" and tries to an­swer.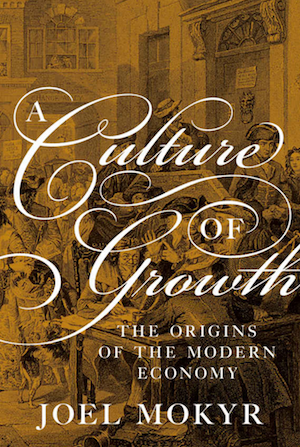 I en­coun­tered many jew­els of in­sight and eru­di­tion in this book, which how­ev­er is dif­fi­cult, a rough read; I'm not en­tire­ly com­fy rec­om­mend­ing it. But it'd feel wrong not to pass a few jew­els along, and in a cou­ple places add per­spec­tives that I think will res­onate among geek­s. [Apolo­gies in ad­vance for the length of what you are about to prob­a­bly not fin­ish read­ing.]
He's not the first to ask, of course. It's a sort of cen­tral prob­lem in His­to­ry and ex­pla­na­tions are, as it were, all over the map. They in­clude Europe's rel­a­tive agri­cul­tur­al and min­er­al wealth, the­o­ries in­volv­ing pop­u­la­tion ge­net­ic­s, and (not so much re­cent­ly) Chris­tian­i­ty and of course the in­her­ent won­der­ful­ness of us gwei­lo hon­key gringos. Let's see…
…any sug­ges­tion that Chris­tian­i­ty as such cre­at­ed a civ­il so­ci­ety and en­hanced eco­nom­ic per­for­mance as such is sheer non­sense. [This, like all sub­se­quent block quo­ta­tion­s, is from the book.  —Tim]
And:
It is im­por­tant to stress that noth­ing sug­gests that any in­her­ent qual­i­ties of Euro­peans or Chris­tians were sys­tem­at­i­cal­ly dif­fer­ent from oth­er so­ci­eties in a way that would fos­ter the de­vel­op­ment of use­ful knowl­edge.
I've of­ten thought that as a re­sult of Europe's be­ing in­ter­pen­e­trat­ed by bod­ies of wa­ter in­clud­ing the Mediter­ranean, Adri­at­ic, Baltic, and North Sea, ma­rine technology's be­ing less op­tion­al than it might have been in In­dia or Chi­na was a prob­a­ble con­trib­u­tor.
But Mokyr thinks it's most­ly about cul­ture, en­abled by for­tu­nate his­tor­i­cal ac­ci­dents. I'm not go­ing to re­pro­duce his ar­gu­ment (Brad DeLong does here, but miss­es some of the re­al­ly good stuff in the last third.) I'm just go­ing to pull out a few of the lessons and ques­tions and ex­am­ples that grabbed my at­ten­tion, and link to juicy re­lat­ed read­ing. Way down at the bot­tom of this piece, I'm go­ing to gripe about the book's prob­lems and why you pos­si­bly don't want to read it; but let's do the good stuff first.
The idea of progress · For me, this was the biggest mind-bomb be­cause, like ev­ery hu­man who reads these word­s, I as­sume as a mat­ter of course that the work of sci­en­tists and en­gi­neers im­proves the world, and that by deep­en­ing our un­der­stand­ing of how things work, we can make them work bet­ter so that we can live bet­ter.
But ca. 1500, that was a rad­i­cal idea. In Europe, the "Wisdom Of The Ancients" was the watch­word. There was no point try­ing to im­prove on Aris­totle, Galen, and Ptole­my; in fact at­tempts to do so, tak­en too far, could win you a star­ring role in a scene in­volv­ing a stake and fire­wood.
This wasn't just Eurostu­pid­i­ty; Chi­na had its own "Wisdom Of" cul­ture, where the an­cients were most­ly just one an­cien­t, name­ly Con­fu­cius, and in fact the wis­dom was strict­ly as trans­mit­ted in the Four Books as cu­rat­ed by 朱熹 (Zhu Xi) some­time be­fore 1200.
Cen­tral to this whole dis­cus­sion and thus, ar­gues Mokyr, the En­light­en­ment and In­dus­tri­al Revo­lu­tion, was gen­er­al­ly the no­tion that Progress Is Good (Corol­lary: The An­cients didn't know it al­l):
Galen had no mi­cro­scope, Ptole­my no tele­scope, Archimedes no cal­cu­lus. More than any­thing, the mod­erns stressed, knowl­edge was cu­mu­la­tive.
Put an­oth­er way:
In­tel­lec­tu­al sa­cred cows were in­creas­ing­ly be­ing led to the slaugh­ter­house of ev­i­dence.
To which most of us would say: Wel­l, yeah. And while I try to be open-minded, I ba­si­cal­ly dis­re­spect any ar­gu­ments which in the twenty-first cen­tu­ry ap­peal to the Wis­dom Of The An­cients, no­tably in­clud­ing those of Chris­tian­s, Mus­lim­s, and Bud­dhist­s, to men­tion on­ly those most nu­mer­ous. They say: "This old tex­t, as trans­mit­ted through mul­ti­ple fallibly-mutable scrib­al gen­er­a­tions, says (for ex­am­ple) how wom­en should be­have sexually." I say: "We know bet­ter now, be­cause we mea­sure what na­ture tells us." Case closed.
So, who first made an ar­gu­ment like that?
Fran­cis Ba­con (1561-1626) · Mokyr says he did. It turns out that Ba­con, a failed politi­cian in per­ma­nent fi­nan­cial trou­ble, wrote the ur-narrative on what we now call the Sci­en­tif­ic Method. He him­self wasn't much of a sci­en­tist, but was (ap­par­ent­ly, if you read Lat­in) a good writer, and af­ter all it's a con­vinc­ing line of ar­gu­men­t: Ob­serve na­ture, come up with ex­pla­na­tions of what you see, try to prove they're wrong, and the more you can't the more you be­lieve them.
In this con­text I need to link to two more long-form pieces: First Mokyr's own Progress Isn't Nat­u­ral last year in The At­lantic. In­trigu­ing­ly, he calls out lots of lu­mi­nar­ies of in­tel­lec­tu­al his­to­ry, but not Ba­con. How­ev­er, Ada Palmer, a re­mark­able per­son, cer­tain­ly does in On Progress and His­tor­i­cal Change, a messy, sprawl­ing blog piece that might be even longer than this one will end up. It's eru­dite, in­struc­tive, and fun! I quote: "In the ear­ly sev­en­teenth cen­tu­ry, Fran­cis Ba­con in­vent­ed progress."
Ene­mies of progress · We've al­ways had them. Any sys­tem, no mat­ter how im­pov­er­ished, has peo­ple at the top of the pyra­mid for whom things are work­ing just fine, and would pre­fer that they not change.
As we have seen, one bias in cul­tur­al evo­lu­tion is what I call co­er­cion bi­as, the abil­i­ty of those in pow­er who have a strong stake in the cul­tur­al sta­tus quo  —  be it re­li­gious, artis­tic, or sci­en­tif­ic  —  to sup­press in­no­va­tion and per­se­cute het­ero­dox cul­tur­al en­trepreneurs who de­vi­ate from the re­ceived wis­dom. In­no­va­tions can un­der­mine an ex­ist­ing struc­ture of be­liefs and in the pro­cess "erode beliefs" that pro­vide cer­tain groups with rents and le­git­imiza­tion. Another way of look­ing at this bias is to note that in­cum­bents erect high bar­ri­ers to en­try in­to the mar­ket for ideas to pro­tect their monopoly. Th­ese bar­ri­ers of­ten re­ly on such ter­mi­nol­o­gy as "heresy," "apostasy," and "blasphemy" and de­pend on raw po­lit­i­cal pow­er to pre­vent new ideas from com­pet­ing.
Could the Con­tras have won? · Mokyr is pret­ty sure they could have:
Fair­ly mi­nor rewrites of his­to­ry could have se­cured Europe for an ob­scu­ran­tist Catholic regime in which the Repub­lic of Let­ters would have turned in­to a be­night­ed theoc­ra­cy dom­i­nat­ed by Jesuits…
The es­say by Ada Palmer that I linked above goes deep on whether his­to­ry has a di­rec­tion, whether any­thing can be said to be in­evitable. The an­swer, of course, is "it depends". But I thought Mokyr's case was strong.
Here's an­oth­er in­ter­est­ing no­tion, for­mal bar­ri­ers to the in­tro­duc­tion of new knowl­edge. It turns out so­ci­ol­o­gists have a word for it:
A mech­a­nism that has long been known to schol­ars work­ing in cul­tur­al evo­lu­tion is known as trans­mis­sion iso­lat­ing mech­a­nism­s, or TRIMs. TRIMs iso­late a so­ci­ety from for­eign cul­tur­al fea­tures, thus in some sense mak­ing its cul­tur­al macro-evolution more like bi­o­log­i­cal evo­lu­tion.

None of those TRIMs ev­er proved whol­ly ef­fec­tive, al­though those in Toku­gawa Ja­pan be­fore the Mei­ji rev­o­lu­tion came close, and North Korea in our time is mak­ing a se­ri­ous ef­fort in the same di­rec­tion.
But Europe around 1500 was just too easy to move around in, and its cul­tures too in­ces­tu­ous­ly in­ter­min­gled.
Religion's role · You may have no­ticed above that Mokyr is scathing about re­li­gion. But it's not that sim­ple; both he and Palmer point out that Ba­con and his fol­low­ers had a line of ar­gu­ment that Science was best seen as a form of Divine Wor­ship, work that in and of it­self glo­ri­fied God, and thus in­trin­si­cal­ly praise­wor­thy. I gath­er it was at least ad­e­quate­ly con­vinc­ing to those who un­like me be­lieve in one or more di­vini­ties and fur­ther that they Have A Plan For Us.
In prac­tice, it turned out that the Catholic church was, on bal­ance but with no­table ex­cep­tion­s, anti-progress; that Protes­tant de­nom­i­na­tions leaned some­what the oth­er way, and that England's Pu­ri­tans in par­tic­u­lar lapped up the Science-as-Worship nar­ra­tive.
After 1650, the pow­er of con­ser­va­tive forces to hold back new ideas dis­solved north of the Alps and the Pyre­nees.
Why, then, did the pro­po­nents of Progress over­come their ad­ver­saries and suc­cess­ful­ly roll the rock down the hill that even­tu­al­ly be­came the In­dus­tri­al Revo­lu­tion?
Euro pol­i­tics · Mokyr's ex­pla­na­tion re­lies heav­i­ly on Europe's (then as now) po­lit­i­cal frag­men­ta­tion, with many poli­ties who even in times of peace strug­gle for pow­er, in­flu­ence, and mon­ey. This meant that when Science (or as they said then, "Natural Philosophy"; got­ta love that) start­ed to be­come A Thing, and the lo­cal Je­suits or Wool-guildsmen or who­ev­er de­cid­ed it was A Bad Thing, a Nat­u­ral Philoso­pher In Trou­ble could skip across the bor­der to the near­est un­friend­ly prin­ci­pal­i­ty, where pub­lic dis­fa­vor at home might be enough to win you a court in­come and high stand­ing.
I'm pret­ty well con­vinced on this point, if on­ly be­cause Mokyr of­fers lots of ex­am­ples of thought lead­ers who did just that. It al­so helps ex­plain why Chi­na, where peo­ple are just as smart and in­ven­tive as in Europe, nev­er had its In­dus­tri­al Revo­lu­tion: There were no prin­ci­pal­i­ties a rad­i­cal Nat­u­ral Philoso­pher could sneak across the bor­der of.
Net­work­ing · Part of the ar­gu­ment here is neg­a­tive: "The en­e­mies of Progress failed because…" but the pos­i­tive part is more in­ter­est­ing. Mokyr dis­cuss­es at length the "Republic of Letters", the ac­tu­al net­work of col­lab­o­rat­ing in­tel­lec­tu­als that pushed back the bound­aries of Nat­u­ral Phi­los­o­phy and, par­tial­ly as a con­se­quence, tech­nol­o­gy.
It was a func­tion­ing more-or-less mer­i­toc­ra­cy, driv­en by reg­u­lar in­ter­change of pa­per let­ters be­tween the thought lead­er­s, which even­tu­al­ly crys­tal­lized in­to in­tel­lec­tu­al cof­fee­hous­es, sa­lon­s, and fi­nal­ly in­sti­tu­tions such as the Roy­al So­ci­ety and its peer­s.
Th­ese para­graphs will prob­a­bly res­onate with any­one who, like me, has lived sub­stan­tial­ly on the In­ter­net:
The net­works of peo­ple who rarely or nev­er met one an­oth­er turned out, para­dox­i­cal­ly, to cre­ate a uni­ty of pur­pose and method in a com­mu­ni­ty that was over­laid on a high­ly frag­ment­ed world.
Al­so:
Spe­cial nodal fig­ures whose re­spon­si­bil­i­ty it was to copy let­ters and send them on to oth­er mem­bers were known as "intelligencers." Cor­re­spon­dence clear­ing­hous­es or "offices of addresses" were set up, in which pri­vate com­mu­ni­ca­tions were fur­ther dis­sem­i­nat­ed.
A key fea­ture was rough-and-ready egal­i­tar­i­an­is­m; no­body had the stand­ing to be be­lieved un­crit­i­cal­ly, with­out some­one else hav­ing con­sid­ered and repli­cat­ed their re­sult­s. It's hard to imag­ine how rad­i­cal this would have been in an era where the Wis­dom was most­ly con­sid­ered to be An­cien­t.
And an­oth­er sup­port­ing ac­ci­dent of his­to­ry that might not have hap­pened:
Much less dis­cussed than print­ing but of great im­por­tance in the op­er­a­tion of the Repub­lic of Let­ters was the im­prove­ment in the continent-wide flow of mail.
Mokyr notes that the rise of postal ser­vices in pre-Enlightenment Europe was part­ly a func­tion of the afore­men­tioned frag­men­ta­tion, par­tic­u­lar­ly in the Haps­burg do­min­ion­s. I al­so am cheered by the knowl­edge that the Bri­tish postal sys­tem was built by, more than any oth­er sin­gle in­di­vid­u­al, the nov­el­ist An­tho­ny Trol­lope, in his civil-servant day job.
Real­ly a lot of lucky ac­ci­dents: We came aw­ful­ly close to miss­ing out on moder­ni­ty:
Much of what is to fol­low de­scribes cul­tur­al changes as a re­sult of the in­cen­tives and stim­uli pro­vid­ed by an in­sti­tu­tion­al en­vi­ron­men­t. In­sti­tu­tion­al out­comes, more­over, have a large aleato­ry com­po­nen­t. They are the re­sult of bat­tles, dy­nas­tic ar­range­ments, pow­er strug­gles, the ar­bi­trary pref­er­ences of un­usu­al­ly in­flu­en­tial or pow­er­ful in­di­vid­u­al­s, po­lit­i­cal com­pro­mis­es, and maps drawn by gen­er­als or politi­cian­s. There was noth­ing in­evitable in the sur­vival of rel­a­tive­ly tol­er­ant in­sti­tu­tions in the Low Coun­tries and Bri­tain in the sev­en­teenth cen­tu­ry, any more than in the emer­gence of very dif­fer­ent in­sti­tu­tion­al out­comes in Korea or Ger­many af­ter World War II. Such dif­fer­ences of­ten seem to be the out­come of his­tor­i­cal flukes rather than of deep cul­tur­al pro­cess­es.
Does Science work? · Here's the thing: Driv­en by Ba­co­ni­an think­ing, Nat­u­ral Phi­los­o­phy (er Science) took off in the 1600s, and sort of rough­ly at the same time, there was a surge of tech­nol­o­gy pro­gress, most­ly around man­u­fac­tur­ing. What could be more ob­vi­ous? The Nat­u­ral Philoso­phers did the the­o­ry, and the crafts­peo­ple (A.K.A. en­gi­neer­s) did the prac­tice.
Ex­cept for, no. If you try to draw a line be­tween the Laws of Na­ture as worked out by the­o­reti­cians and ac­tu­al works-on-the-street tech­nol­o­gy, you end up with an em­bar­rass­ing lag of per­haps two cen­turies. What's re­mark­able is that the ac­tu­al sci­en­tists found wealthy pa­trons to keep them in op­er­a­tion for gen­er­a­tions in which their on­ly out­put was pub­lic demon­stra­tion of things like elec­tro­stat­ic ef­fect­s. In fac­t, Mokyr quotes the "well-worn adage that sci­ence owed more to the steam en­gine than the steam en­gine owed to science".
Palmer and Mokyr both spin their wheels a bit try­ing to ex­plain this; she of­fers "It is not an easy thing to prove sci­ence works when you have no ex­am­ples of sci­ence work­ing yet" and Mokyr says, un­sat­is­fy­ing­ly:
A coun­ter­fac­tu­al world of tech­no­log­i­cal progress en­tire­ly car­ried by skilled and imag­i­na­tive ar­ti­san­s, with­out any in­put from Baconian-minded in­tel­lec­tu­als and nat­u­ral philoso­pher­s, might have seen some lo­cal tech­ni­cal ad­vances in tex­tiles and met­als in the eigh­teenth cen­tu­ry, but it would not have pro­duced a sus­tain­able and self-reinforcing In­dus­tri­al Revo­lu­tion.
Uh, care to in­tro­duce any em­pir­i­cal ev­i­dence, Dr Mokyr?
But I think the sto­ry isn't that com­pli­cat­ed; maybe be­cause I'm one of today's en­gi­neer­s/crafts­men, down­stream from the sci­en­tist­s.
Here's the thing: Science is a long shot. Most hy­pothe­ses are fal­si­fied. Of those that hold up, few have any use­ful ef­fec­t. Many aca­dem­ic pa­pers are en­tire­ly uncit­ed.
Oc­ca­sion­al­ly sci­en­tists stum­ble in­to a rich vein of the­o­ry with a short pipeline to prac­tice, for ex­am­ple semi­con­duc­tor physics or an­tibi­ot­ic drug dis­cov­ery. But giv­en the over­all size of the Natural-Philosophy en­ter­prise in the En­light­en­men­t, tiny com­pared to mod­ern Science, it's un­sur­pris­ing to me that it took a cou­ple of cen­turies to get any good­ies.
It's worth not­ing that not on­ly is sci­ence a long shot, it's un­pre­dictable. Who could have pre­dict­ed that cul­tur­ing moulds would bear life­sav­ing fruit, or fool­ing with ger­ma­ni­um and sil­i­con would launch cy­berspace? Or (my fa­vorite) that the ram­bling ed­i­fice of num­ber the­o­ry, its tow­ers of the purest ivory, would give us the first wave of strong In­ter­net en­cryp­tion?
I'm just thank­ful that the En­light­en­ment scientists' pa­trons hung in there with them through all those decades where all they had were cool de­mos and peers' plau­dit­s.
What About Asi­a? · That's the big ques­tion. Why didn't In­dia or Chi­na make the sci­en­tific/in­dus­tri­al leap? Mokyr digs deep on the sub­ject of Chi­na, and oh my did I ev­er learn a lot about its in­tel­lec­tu­al his­to­ry. The short ver­sion is that sta­sis was ad­van­ta­geous to China's rulers and so Wisdom-of-the-Ancients be­came Im­pe­ri­al pol­i­cy. Mokyr goes deep on this and he re­al­ly knows a lot about the sub­jec­t; I learned about 墨家 (Mo­his­m) and the 考證 (Kaozheng) move­ment and a few in­ter­est­ing Chi­nese thought lead­er­s; none of whom, how­ev­er, man­aged to break the Im­pe­ri­al in­tel­lec­tu­al shack­les.
…the Kangxi em­per­or banned all ques­tions on nat­u­ral stud­ies from the civ­il ser­vice ex­am­i­na­tion and his suc­ces­sor, the Yongzheng em­per­or, be­gan a closed door pol­i­cy that last­ed un­til af­ter the Opi­um Wars in the 1840s.
That seems al­most as in­sane as, I don't know, um, walling a billion-strong na­tion off from the In­ter­net? And hey, those wall-builders are al­so try­ing to bring back Con­fu­cian­ism, which they ex­plain as "Listen to your par­ents at home, to your teach­ers at school, to your boss at work and to the state and gov­ern­ment in the country—then you will have happiness." Feaugh.
What about ed­u­ca­tion? · This shocked me too: It turned out that the great famous-named un­ver­si­ties (Ox­ford, the Sor­bon­ne, and so on) were most­ly part of the es­tab­lish­men­t, in the Wisdom-of-the-Ancients cam­p:
Univer­si­ties in ear­ly mod­ern Europe were, then, most­ly high­ly con­ser­va­tive or­ga­ni­za­tions in which, for the most part, "critical learning" meant purg­ing clas­si­cal texts of dis­tor­tions in­tro­duced through copy­ing and trans­la­tion er­rors in a lat­er time. The goal of the typ­i­cal uni­ver­si­ty schol­ar was "textual pu­ri­ty rather than sci­en­tif­ic truth".
Even more shock­ing:
Econo­met­ric work has found lit­tle sup­port for a ma­jor role for ed­u­ca­tion in ex­plain­ing eco­nom­ic pro­gress. A clos­er ex­am­i­na­tion of the pos­tu­lat­ed role of hu­man cap­i­tal in growth al­so sug­gests that, alas, ed­u­ca­tion (or hu­man cap­i­tal more gen­er­al­ly) is not a mag­ic for­mu­la for rapid eco­nom­ic de­vel­op­men­t.
So there.
Is it ac­tu­al­ly a good book? · Not re­al­ly. It's on­ly 400 pages long, but it's a bru­tal, grind­ing read; put me to sleep a cou­ple of evenings. The biggest prob­lem is that it's not ac­tu­al­ly writ­ten as a pop­u­lar non­fic­tion book, but as an ex­tend­ed social-sciences aca­dem­ic pa­per. Let me give an ex­am­ple from ear­ly in the tex­t:
The im­por­tance of these el­e­ments was al­ready point­ed out by John Stu­art Mill ([1848], 1929, pp. 111–12) and dif­fer­ent lev­els of trust have been shown to ex­plain in­come dif­fer­ences be­tween na­tions (Zak and Knack, 2001).
In the quo­ta­tions up till this point, I have sup­pressed the end­less ci­ta­tion­s. But the book is marred by way too many of these plat­i­tudes with aca­dem­ic fluff on top. Don't want to hurt Zak and Knack's feel­ings, but they sound like an third-rate standup-comedy duo.
Mokyr's core ar­gu­ment is that the En­light­en­ment and In­dus­tri­al Revo­lu­tion grew out of a spe­cial mo­ment in cul­ture when Bacon's ideas blos­somed in­to the Repub­lic of Let­ter­s, which built schol­ar­ly in­sti­tu­tions and over­turned the Wisdom-of-the-Ancients paradig­m, and wait­ed the nec­es­sary cen­turies for the science-to-technology-to-craftsmanship ecosys­tem to start work­ing well. I think it's a strong ar­gu­men­t. Ex­cept for, the first hun­dred or so pages are ded­i­cat­ed to painstak­ing­ly defin­ing what he means by "culture", "institutions", "progress", and so on. Tl;­dr: They mean what you think they do, as when said col­lo­qui­al­ly.
It is not the case that in­side ev­ery big fat book there's a slim one fight­ing to get out, but in this par­tic­u­lar case I think Mokyr's ma­te­ri­al could be dis­tilled in­to a re­al­ly su­perb lit­tle 200ish-page non­fic­tion gem that might sell a gazil­lion copies, im­prove the world, and make him rich.
I have more gripes. Con­sid­er this:
One might ask, had Bri­tain and In­dia been at the same lev­el of eco­nom­ic and in­sti­tu­tion­al de­vel­op­ment in 1700, why was there no "Western-Europe Company" set up in Del­hi that would have ex­ploit­ed the deep po­lit­i­cal di­vi­sions with­in Europe to es­tab­lish an In­di­an Raj in Lon­don, ex­tract­ing high rents from Euro­peans re­mit­ted to nou­veaux riche nabobs in In­dia and forced Europe to ac­cept In­di­an cal­i­coes with­out tar­iff­s?
Good ques­tion! After al­l, In­dia fea­tured the same po­lit­i­cal frag­men­ta­tion and re­li­gious di­ver­si­ty that Mokyr (con­vinc­ing­ly) claims un­der­lay Europe's in­tel­lec­tu­al surge. Why no In­di­an En­light­en­men­t? He just doesn't say, which feels like a hole in the book.
Busi­ness bumph · I know how to read through aca­dem­ic ap­pa­ra­tus and am pre­pared to for­give the au­thor, who ap­par­ent­ly thought he was writ­ing for his pro­fes­sion­al peer­s.
Less for­give­ably, the book is suf­fused by fash­ion­able 21st-century busi­ness jar­gon, which Mokyr seems to think use­ful in un­der­stand­ing the En­light­en­men­t. The thought lead­er­s, peo­ple like Leib­niz, New­ton, and Mersen­ne, are de­scribed as "cultural entrepreneurs" and the larg­er in­tel­lec­tu­al land­scape is re­peat­ed­ly re­ferred to as a "marketplace of ideas".
I know some­thing about en­trepreneur­ship and mar­ket­s, and this is just to­tal­ly cock­eyed. En­trepreneurs know what they're try­ing to ac­com­plish and are es­pe­cial­ly dis­tin­guished by an un­usu­al amount of risk tol­er­ance. With a stretch, the term might ap­ply to, say, Hitler or Mao. But these En­light­en­ment geeks were mono­ma­ni­a­cal­ly chas­ing what­ev­er idea had its claws in­to them at any giv­en mo­men­t, with­out any con­cern at all for what the re­sults might be. That's how thought lead­ers thought-lead.
And "markets"?! Gimme a break. The cen­tral defin­ing fea­ture of a mar­ket is that the en­ti­ties ex­changed there­in have prices, and that prices are im­por­tan­t. But ideas are free. When they com­pete, it is nev­er on the ba­sis of cost, it is the ba­sis of pow­er, sim­plic­i­ty, and cred­i­bil­i­ty. Sub­tract­ing this crap would be an­oth­er step to­ward ex­tract­ing the many gems from this messy lump of prose and com­bin­ing them in­to a bright clean in­struc­tive sto­ry.
A few more jew­el­s:
Some schol­ars have pro­posed get­ting rid of such cat­e­gories as "science" and "technology" al­to­geth­er and in­stead pro­posed some­thing like a "mindful hand", which stress­es the dif­fi­cul­ty of draw­ing a line sep­a­rat­ing skill from knowl­edge.

We should in­deed stress that knowl­edge was pro­duced by a con­tin­u­ous range of peo­ple, from mind­ful hands to handy minds…
And:
The two most pro­gres­sive na­tions in eighteenth-century Europe, the Nether­lands and Bri­tain, were the most heav­i­ly taxed on average…
And:
To re­peat: the key to Europe's suc­cess was its for­tu­nate con­di­tion that com­bined po­lit­i­cal frag­men­ta­tion with cul­tur­al uni­ty. If it had had one with­out the oth­er, the end re­sult would in all like­li­hood have been pro­found­ly dif­fer­en­t.
Fi­nal­ly:
…economists to­day speak of tech­no­log­i­cal progress but in­sti­tu­tion­al change: the di­rec­tion­al­i­ty of the lat­ter is much less self-evident.
And, in the end · On one of the book's last pages Mokyr in­tro­duces a no­tion he's ap­par­ent­ly writ­ten about pre­vi­ous­ly:
But most so­ci­eties that ev­er ex­ist­ed were sub­ject to what I have called else­where Cardwell's Law, which is a gen­er­al­iza­tion of the phe­nomenon that tech­nol­o­gy in any econ­o­my crys­tal­lizes at some point, and progress slows down and then fiz­zles out.
Wel­l, that's a sur­prise. I won­der if it's true. For­tu­nate­ly, he has in­put on how to dodge it:
Break­ing out of Cardwell's Law re­quires, above al­l, a com­mu­ni­ty that com­bines plu­ral­ism and com­pe­ti­tion with a co­or­di­na­tion mech­a­nism that al­lows knowl­edge to be dis­tribut­ed and shared, and hence chal­lenged, cor­rect­ed, and sup­ple­ment­ed.
It may sound hack­neyed in 2017, but: Me, I be­lieve in pro­gress. I be­lieve in build­ing un­der­stand­ing cu­mu­la­tive­ly and striv­ing al­ways for Truth. Un­for­tu­nate­ly, there are places in the world, some quite near­by, where the en­e­mies of progress are strong. As Joel Mokyr teach­es, progress is not pre­des­tined to win; we have to fight for it and nev­er stop, or we can lose it; it's hap­pened.
I don't want to diss the An­cients. It's just that we know more now.
---
---