This is a love letter to an automotive review, which turns out to be one of the best applications of blogging I've ever seen. Specifically, the "Long-Term Road Test" format over at Edmunds.com.
What's happening is, the 2003 Audi A4 — my write-up on it was one of this blog's launch features — is, well, as old as this blog. It's still a pretty nice car but has to visit the Audi doctor too often. So, we're idly thinking of new wheels.
Specifically, a run-about-town thingie: Smaller is better, and large fossil-fuel engines are inappropriate.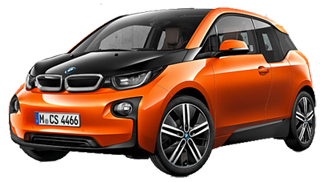 Teslas are overpriced, which sort of leaves the Nissan Leaf and the BMW i3. And, while nobody would call the i3 a beauty, it looks like a pretty compelling package.
So I was poking around looking for useful reviews, and found the 2014 BMW i3 Long-Term Road Test. It's a months-long mini-blog with (as of now) 81 entries, covering everything from child-seat stowage to climate controls to parking issues.
I now think that all other big-ticket-item review formats are obsolete. I am really quite 100% confident that I know pretty exactly what the trade-offs in owning this car are; what will please and what will aggravate.
Last time I was car-shopping, if you wanted an unbiased write-up in any detail, Consumer Reports was about all there was. Some things do get better.
Also, it's axiomatic that automotive writing should be amusing, and the Edmunds-ites are. Even more so in their fairly-brutal long-term Viper review. And for serious fun, they're also long-terming a 1989 Yugo.
As for the i3? So far, the family is dubious; my daughter, who remembers no other car, is tearful at the thought of retiring the Audi. And we'd have to run a power line out to where we park. So we might not get one, but it's a pretty cool piece of work.
---
---