What happened was, I glanced at my browser and saw a random turn of phrase, The freedom to be who you want to be…, and thought "That reminds me of something". It turns out that it reminds me of With You There To Help Me, a lovely song on the album Benefit, a 1970 offering by Jethro Tull. So I pulled out the vinyl and have listened to it three times in the last two weeks; it's really just unreasonably good. ("5★♫" series introduction here; with an explanation of why the title may look broken.)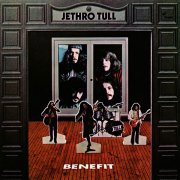 The Context · Although Jethro Tull remains a living and actively performing ensemble, they haven't had a hit in some decades now and thus quite a few readers here may never have stumbled across them; so here are the bullet points.
The band membership has shifted over the years but they are best considered as a platform for Ian Anderson, who provides vocals, flute, songs, occasional guitar, erudition, and charisma, backed by Martin Barre on intense but tasteful electric guitar.

The songs are never without some acoustic sounds, but are sufficiently electric to have once taken a heavy-metal award away from Metallica, to which Ian Anderson responded by saying "Sometimes we play our mandolins extremely loud".

If you want to get a feeling for it, you might want to check out this 1978 performance of part of a piece called Thick as a Brick.

And once you've strayed into YouTube, if you're specifically interested in Tull or generally interested in really intelligent musical commentary, with some surprising remarks on the limitations of genres, you might want to take in this series of eleven short interviews with Ian Anderson, recorded in 2007.
The Music · Any discussion of Jethro Tull has to touch on Anderson's unusual vocal register, the mixture of acoustic and electric, the essential Sixties-ness of it all, and include the phrase "Art Rock".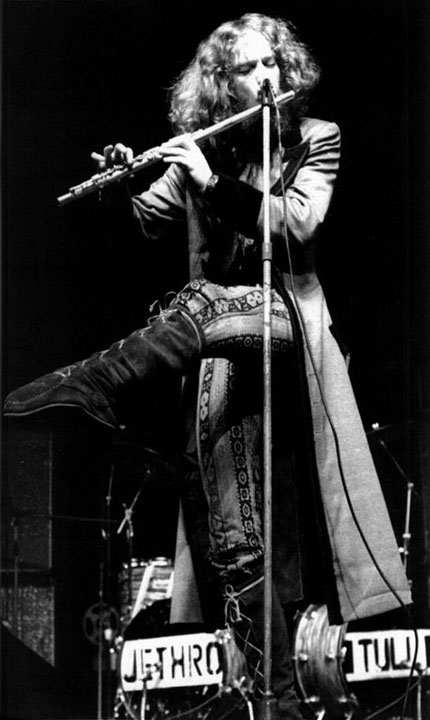 Which is to miss the point. The point is that these are some seriously excellent songs, with (this being Rock after all) damn fine riffs, which also have lyrics that you might want to listen to. In 1970 it meant something to sing "Can you cook? Can you sew?/Well, I don't want to know/That is not what you need on the inside." Maybe it still does. And little drops of gold like "Thought I saw angels/but I could have been wrong" keep jumping out at you.
I could go through and talk up the individual songs, but that's not how I think about it; I've never done anything but put the LP on and listen to all of both sides. They share a sound and feeling and I'm pretty sure that's the right way to do it.
I'm not even sure this is the one Jethro Tull record you really want to have; I've heard passionate arguments that Thick as a Brick or Aqualung are definitive. And I'm personally really fond of the somewhat later Too Old to Rock & Roll, Too Young to Die. Whatever; Benefit is a really outstandingly fine collection of songs.
Sampling It · If I keep on doing five-★♫ pieces, maybe I should drop this section. What matters to me is increasingly vintage vinyl, Internet radio, and intelligent rock in my car; my home-town has two stations offering that. Maybe I'll start listening to my digital music again when I find a replacement for iTunes.
All I can tell you, first-hand, is that I have a LP of Benefit which as I write is thirty or more years old and sounds beyond excellent given a very few easy-to-ignore clicks and pops. How you get it is your business, but since Mr. Anderson and his posse are still alive, you ought to find a way to pay. I think you'll probably enjoy the music.
---
---