Just like the title says, this was recorded by a campfire in Texas in 1986 (on a pre-digital Sony Walkman). Voice and guitar and brilliant music bursting out in all directions by Michelle Shocked, one of my personal musical heroes. But there's some controversy about which version to get. ("5✭♫" series introduction here; with an explanation of why the title may look broken.)
The Context · I've seen Ms Shocked live twice (born Karen something somewhere in Texas sometime, you want biographical details they're on the Net) and I've never figured out why she didn't become a kazillion-selling mega-star. Her songs are as good as anyone's, she's got tons of charisma, and you can't leave one of her concerts without a smile on your face. I guess she's kind of political and uncompromising and that's not fashionable.
I remember seeing her at some big festival in California in the Nineties, she came out on stage and was just tearing it up, stopped to talk to the audience and told about how she'd visited the doctor: "The doctor said 'Honey, you got a problem, you got hemorrhoids because your ass it's just way too tight, you gotta loosen up and shake it.' So let's go!"
I've got a bunch of her disks on the shelf and like 'em all, but this one's always stood out in my mind.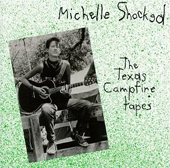 The Music · Like most inhabitants of this planet, I have a love/hate relationship with the United States of America. On the "hate" side, see politics. On the "love" side, see music. The Texas Campfire Tapes is all over the musical map, but it's still easy to sum up: American music. I wrote this about it once many years ago in The Absolute Sound: Michelle Shocked is so far into the bedrock of American music that it seems superfluous to point out a blue note here, an Ozark mountain seasoning there, or a swing tempo somewhere else.
The songs here are just ridiculously good, they'll stick to your brain, guaranteed. The guitar accompaniment is sharp and tight and yeah, her voice is kinda thin and bony, but it's graceful and sinuous and the tuning and timing are totally right, I've heard international opera superstars whose intonation is shaky, relatively speaking.
Two of the songs aren't actually sung, they're spoken and they're still totally music, The Incomplete Image and Ghost Town back-to-back on the record, the rhythm and the words are really all you need:
Did I tell you the story of the poor man's daughter
Or the poor man's lover
Or the poor man's ward?
Did I tell you the story of the poor man's hired hand?
She keeps his house for her room and board.
I suppose if you were a formalist you might call these Talking Blues or some such, they're just great songs that aren't actually sung. And when she slides into Uh-uh/Keep some secrets, never tell/And those secrets will keep you very well on Ghost Town you gotta shiver.
If what you want is a truly great tune with a good singer digging way deep into the words and music, there are lots here, my faves are The Hep Cat ("Boom, chicka-boom, chicka-boom") or (especially) Fogtown, a sad story of a sad hooker coming to a sad end in San Francisco: There was one less siren when the sirens reached the scene. But what a tune, if you're not boppin' you're paralyzed.
As to the sound... well, it's not good. Kind of thin and reedy and there are those eighteen-wheelers on the highway providing unwelcome background rumble (but listen to Ms Shocked sing around them). I'm the worst kind of sicko audiophile, but at the end of the day most audiophiles value truth above all, and this crappy analogue tape captured a lot of it.
Sampling It · Well, there's an issue here. I have the CD and it says "Mercury 834 581-2" and I've listened to it a million times and I never get tired of it. But when I was researching this little piece I wandered to the official Web site of Michelle Shocked and ran across The Texas Campfire Takes which suggests the provenance of the original that I so love is not entirely honorable.
I dunno; now I kind of feel morally obligated to buy the official re-take; but damn, I love the original. I suspect that whichever you buy, you'll be happy you did.
---
---