You know, if I didn't care so much about The Economist, I wouldn't be giving it grief here. If the word "journalism" means anything, it should mean quality; I expect that my (expensive) subscription buys me a magazine that I often expect to disagree with but which is thoughtful, well-researched, well-written, and well-edited. I don't want to abandon journalism, but these guys are dropping their end of the bargain.
A recent Survey on Executive Pay (that's a subscriber-only link), dives at length, and with details, into the perceived abuse of shareholders by executives, points out the keenest abuses and (this being The Economist) offers some arguments as to why this might not be as bad as it looks.
Some of them are sort of coherent, but then you get this: "The role of pay is not to get executives to work harder (most are workaholics already, toiling towards an appointment with the heart surgeon), but to recruit good managers and get them to take difficult decisions. Shutting a subsidiary, sacrificing a pet project or forgoing a tempting acquisition is not much fun. Without the spur of high pay, managers tend to avoid such things." Uh, evidence, please? Even anecdotal evidence? This is kind of the center of the whole argument, and there's no there there.
Next, for your amusement, is the following advertisement taken from the current issue's right-up-front "Executive Focus" section, which is mostly recruiting for high-level jobs (it shares a page with ads from the UN and Save the Children).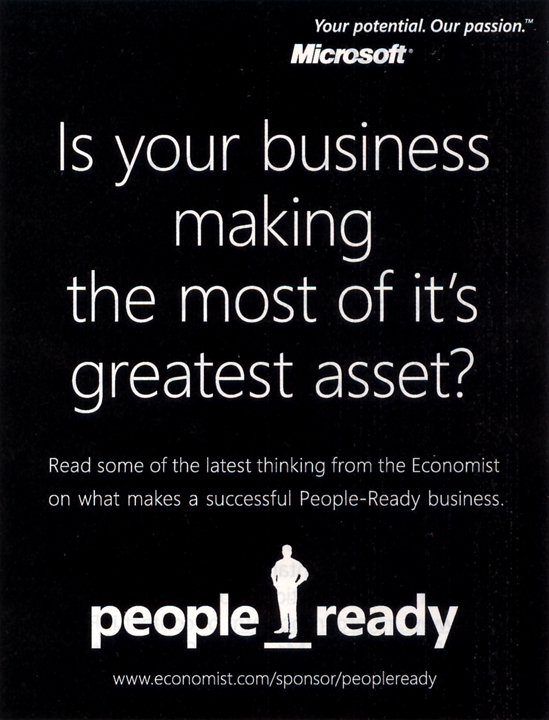 To start with, it's in the wrong place in the magazine. And this Microsoft "People Ready" campaign is pathetically awful, into brain-damage territory. Ah, but editorial and advertising are different parts of the shop, right? That might be true, except for the ad clearly suggests that The Economist has bought into this "people-ready" vapidity and is writing articles about it. Not so, fortunately; if you follow the link, the page you end up at is regurgitated Economist articles from the last few years, not particularly interesting, in a dense frame of Microsoft ads. And finally, they can't spell "its".
Really, really, offensive.
Dear Economist: I don't buy your beautifully-typeset dead trees and steal whatever time it takes to read most of each issue, and put up with your knee-jerk right-wing thought filters, to be presented with this kind of crap. If I want unsupported assertions, lame-ass Microsoft marketing, and lousy spelling, I have the whole Internet to choose from. You need to be better.
---
---