I'd never owned an iPod, but recently picked up one of the new shuffles (the lower-case version of the name seems to be official). It's an awfully appealing little product.
Why? · When I want to listen to music, either I'm at home, where I have lots of good technology, or I'm on the road, where I have my laptop. So I never felt the need for an iPod.
The shuffle pushed me over the edge; it's cheap enough that the cost seems minor compared to the irritation factor of wrestling the PowerBook into play in airport lounges and economy-class seat configurations. And I almost always listen in shuffle mode anyhow.
Shopping · Apple's got the online buying experience down cold; you can get in, order your shuffle, specify the no-extra-cost inscription you want on it, and get out in just a couple of minutes, and mine showed up inside of a week, during the Christmas rush at that.
Experience · I listen to it through my Shure 3C's and while the sound won't make the audiophile heart swell with love, it won't turn the audiophile stomach either. Compared to other portable devices I've tried, the volume range seems just right; I don't know how loud it goes but I've played it louder than is perhaps 100% safe on a couple of Iggy Pop tunes, and I think it had more to give.
The "clip" form factor works really well, no matter what you're wearing there's a convenient place to hang a shuffle.
The capacity is 1G which at 128K is like 16 hours of music, which means that for almost any conceivable business trip, you could just load it up once. The iTunes fill-it-with-a-shuffle interface works fine, although the USB interface is no speed demon.
One irritant: I've got an aftermarket USB charger, and I haven't figured out whether it works with this yet. When I plug it in, the shuffle shows, not the solid orange "I'm charging" light, but the flashing version which means "Please plug me into a box with iTunes so I can check for updates and make sure you're not doing anything illegal, you naughty man." I really must leave it plugged in for a few hours sometime to see if it's actually charging.
Improving the Controls · On one side of the shuffle there are tiny switches for on/off and shuffle/sequential. The front has the famous iPod circular control. The middle is stop/start, then the four quadrants are volume up/down and skip forward/back. Nothing simpler could be imagined.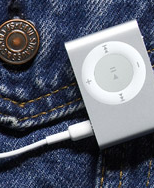 But there's one obvious problem. Depending on what you're wearing, there's a lot of different orientations it could end up at. Look at the little picture I just now snipped out of the Apple.com shuffle page; for this person, louder is left, quieter is right, skip forward is up and skip backward is down. Particularly if you're wearing your shuffle under your coat (like everyone in Canada at the moment), it's not obvious how you get your finger on the right button. This can be a problem when the dying strains of the Schubert quartet give way to the White Stripes, and you need to crank it down PDQ before you get brain damage.
The solution is also obvious; one of the quadrants of the circle needs a little bump on it like keyboards have on "F" and "J" to help touch-typists. If you had a bump, for example on the "+", your fingers would quickly learn how to get oriented, whatever weird angle the shuffle is at.
I'm open to negotiating with Apple for the rights to deploy this bold innovation; they're all about respect for intellectual property, aren't they?
Not a Pod Person · I don't want to walk around the city with wires hanging from my ears; I don't need or want a cushion of music between me and urban reality. But when I was figuring out how the shuffle worked, I plugged it in one time before I left the office for my 12-minute walking commute home. The shuffle ramped up Solvejg's Song by Grieg just as I stepped into the dim afternoon onto the wet grey sidewalk, a crew with machines breaking concrete unheard, and suddenly reality felt like a Tarkovsky set-piece.
I can see why people do this, sometimes. But I don't think I will much.
---
---