Three tracks from this 1993 album by the Cowboy Junkies earned five stars, pretty good for pop music. Plus there's one from The Trinity Sessions, but let's leave that for later. There are a lot of Cowboy Junkies albums, and they're all good as far as I know; I find myself ashamed that I haven't bought any for a decade or so, so I'll fix that Real Soon Now. Read on for an appreciation of good songs, good singing, good playing, and good words. ("5✭♫" series introduction here; with an explanation of why the title may look broken.)
The Context · Some lyrics:
I heard a man in a crisis falls back on what he knows best
a murderer to murder, a thief to theft
and I don't want you to think that this is some kind of deathbed confession
but running's what I do, when put to the test.
That's from First Recollection, one of those five-star tracks, and establishes that the CJs' music tends to be kind of sad and has lyrics that are worth listening to.
I remember like yesterday when they suddenly got noticed in 1988, with The Trinity Sessions, a record that all of a sudden had a bunch of blues lovers, romantics, and audiophiles pointing in the same direction.
I listened to that CD more than anybody ought to listen to anything, but how could you not? The songs had wonderful tunes and naked heart-to-heart lyrics sung beautifully with a ton of feeling. And masterful playing, especially that moaning, snarling guitar. Plus incredibly clear, honest, detailed, caressing audiophile sound.
Here's an excerpt from a piece I wrote in 1990 or so for The Absolute Sound, the ultimate obsessive high-end audio magazine. I had a short-lived gig with them around then, writing about live music, the ideal which all that high-priced hardware usually miserably fails to capture. The piece was about a concert (in 1991 I think) at the Ontario Place forum, which Wikipedia tells me no longer exists.
The Cowboy Junkies are an odd case. Their approach, in the beginning, was risky in the extreme—minimal miking, sad songs played slow. But so many people liked it that it's become a straitjacket for the band, one they've struggled with only limited success to escape from. Aside from the lovely Trinity Sessions, their only other really memorable record is the first, Whites Off Earth Now.

I hadn't seen the CJs before, and I found it pretty safe, nothing to write home about. This may seem picky—the songs were beautiful, Margo Timmins' voice could melt stone, the band is really tight, the whole evening was very pleasant. And only pleasant, until they played Sweet Jane. I've always had a soft spot for that tune, and on that night, for that song, somehow it all got serious. The band made space between the notes for deep wells of silence. Margo sounded like her heart would break. Unusually for her, she reached back for more, and then for more again, on the wordless vocal bridge—she and the audience seemed at one, deeply moved.
"Margo" is Margo Timmins, who sings and has two brothers in the band. Of course, they proved me wrong by making lots of great records after that.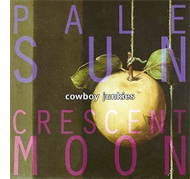 The Music · All the songs on this record are good. I've written about Cold Tea Blues, one of the earliest pieces here at ongoing. First Recollection has those scary lyrics, and behind Margo's heavenly melodies, some orchestral guitar rumble that any hair-band axeman would be proud of if he could play them, which most couldn't. Ring on the Sill has some melodic turns that would be a Top Forty hit in the hands of any number of manufactured-for-the-season idoru, but then goes on to rip up your heartstrings in some other directions. Pale Sun is a lament about the Deep Southwest and its rusting cars and crumbling, betrayed, aboriginal people; but there's a note of hope in the lovely melody and the words too.
Then there's Floorboard Blues, which probably deserves five stars for evoking a fear I've heard in the conversation of a hundred different women, but has a happy ending, and along the way says:
He'll be slicing tiny crescents from your heart
without laying that sweaty palm on your cheek.
And did I mention that the electric guitar playing is outstanding? And the sound quality is about as good as there is? If you listen to this record (or any of the band's really) on a high-end system, it will put you in danger of developing a really expensive habit.
Sampling It · It's everywhere. In this case, I feel that it would be morally OK for me to recommend that you go pirate a few of the tracks, because if you have any musical taste or ethics, you're going to end up buying a few discs. So why not save time and just go pick up Pale Sun, Crescent Moon? You'll like it.
---