I think I should start with J.S. Bach, since we have a special relationship. BWV 131 is one of his cantatas, based on Aus der Tiefen rufe ich, Herr, zu dir (from Psalm 130), composed in 1707, and if you buy it you'll like it. ("5✭♫" series introduction here; with an explanation of why the title may look broken.)
That "special relationship" is, first of all, just because I really like a lot of Bach's music, and second, because I was a student of the cello for some years, and all cellists perforce get a lot of hands-on time with old Sebastian.
BWV · Some of Bach's works have been lost but over a thousand remain, and the BWV numbers are used to keep track of them. They are assigned thematically not chronologically; it so happens that the cantatas come first in the sequence, BWV 1-224.
Context · For much of his adult life, Bach's employment required him to provide music for each week's divine worship, some proportion of it being new on any given Sunday. This usually took the form of a cantata, with a handful of movements lasting less than a half-hour. We citizens of earth owe the eighteenth-century Lutheran church our thanks for these onerous terms of employment, because many of the 200 or so cantatas written for this purpose are extremely good.
BWV 131 is among the earliest—maybe the earliest—of the known cantatas, written while Bach was in his early twenties.
The Music · The melody is passed back and forth among the woodwinds, bass and tenor soloists, and the choir. I gave five stars to the middle three of the five movements; each of which features a well-sung solo part with the choir's lines behind either rising slowly like an upwelling of joy, or drifting down like ten thousand silver feathers through twilit air.
How to Sample It · It turns out that there's an excellent Bach Cantatas Website, which I only discovered in researching this piece; it seems remarkably complete. The coverage of BWV 131 includes downloadable music; the m4u didn't work for me and the RealAudio is only 32k/sec, hardly high fidelity, but you can get the idea.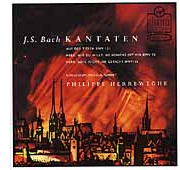 Getting It · The Cantata site also lists a huge number of recordings; the one I have is from 1992, by Philippe Herreweghe and the Collegium Vocale of Ghent, Virgin Classics 0 7777 59237 2 8; just now Amazon says it's out of print (while offering samples), but I totally recommend it if you can find it; among other things, it includes BWV 105, whose third movement also got five stars. Hmm, if they're declining to sell the music, why shouldn't I be able to post it? But I digress. An Amazon search for "Herreweghe 131" yields a few other options.
Here's the great thing about Bach: his music is really hard to screw up. Most of his works are available in a bunch of different recordings, all selling well because they're good. So if you visit your favourite shiny-disc emporium and buy something that's advertised as having BWV 131 on it, you'll probably be happy with what you take home.
---