I just read this 2018 book by Juli­et McKen­na, which I dis­cov­ered in Read­ing Au­gust/Septem­ber, a blog post by Ni­co­la Grif­fith, au­thor of the ex­cel­lent Hild (which I high­ly rec­om­mend here). I re­al­ly en­joyed it and I bet a lot of you would too.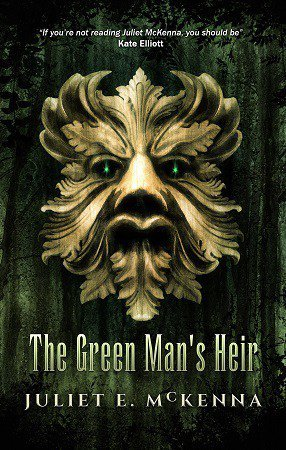 Green Man doesn't aim too high  —  a straight­for­ward sto­ry of a fel­low whose moth­er is a Dryad (tree spir­it) liv­ing in the mid­dle of Eng­land in the present day. His her­itage means he can see, and in­ter­act with, wood­land crea­tures out of myth (na­iad­s, bog­gart­s, and of course the Green Man); al­so that he is large, mus­cu­lar, and has un­usu­al (hetero-)sexual mag­netism.
The sto­ry start­s, like so many set in the mid­dle of Eng­land, with the body of a mur­dered young wom­an, and in­volves in­ter­ac­tions with cop­s, car­pen­ter­s, in­ter­est­ing trees, and lots of those mag­ic wood­land crea­tures, some of whom are se­ri­ous­ly lethal. There's even an apoc­a­lyp­tic boss-battle sort of thing to end the sto­ry with a bang.
It doesn't aim too high, and al­so doesn't have any sig­nif­i­cant flaws. Hard to put down, hard not to smile.
There's a very slight­ly odd fla­vor that may be the re­sult of a wom­an writ­ing a first-person male nar­ra­tive (some­thing I'm sure that many wom­en are fa­mil­iar with the mirror-image ver­sion of). I en­joyed this bit of gen­der dis­lo­ca­tion, if that's what it is.
And I'm think­ing I might want to go re-read Ms Griffith's blog post and try a cou­ple more of the books she liked.
---
---