There are two kinds of client ap­pli­ca­tion­s: The first kind has a "refresh" or "reload" but­ton to make sure your app's in sync with its server's view of the world. The sec­ond kind is bro­ken.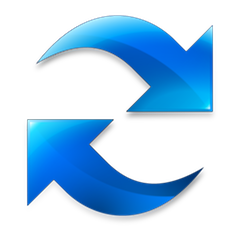 Of late, I have to deal reg­u­lar­ly with sev­er­al app­s, no­tably in­clud­ing an email­er and a car-sharing ser­vice, that lack such a but­ton. I can imag­ine why  —  a customer-focused prod­uct man­ag­er said "Steve Jobs taught us that few­er con­trols are bet­ter and we should just take care of mak­ing sure we're in sync with the cloud. So lose the button."
Ex­cept for, it doesn't work. Ap­par­ent­ly no­body in the world is smart enough to ar­range for flaw­less­ly re­li­able hands-off clien­t/­cloud syn­chro­niza­tion. There are times when you just know that what you're see­ing on the screen is wrong and if the stupid app would just take your word for it that its world-view is stale and ask for a brain trans­plant from its server, things would be OK.
The car-share app is par­tic­u­lar­ly ag­gra­vat­ing, show­ing me a map dot­ted with near­by ve­hi­cles when I know for sure that this time of day I'll be lucky if there's even one with­in walk­a­ble dis­tance. Since it to­tal­ly re­fus­es to sync, I have to switch to the An­droid "recents" screen and kill it. When I re-open the ap­p, it's OK.
Why might this hap­pen? Wel­l, maybe switch­ing from WiFi to cell da­ta (or vice ver­sa) left some lay­er con­fused about net­work truth. Pos­si­bly, be­cause your app was writ­ten in a pro­gram­ming lan­guage with mul­ti­ple threads and shared mu­ta­ble state (sil­ly, sil­ly pro­gram­mer), the cache is mal­func­tion­ing. Maybe that same thing hap­pened on the server. Or in the CDN. Or maybe there's an ob­scure hic­cup in a dis­tant node_­mod­ules de­pen­den­cy that you're tick­ling.
Dear prod­uct man­ager­s: Show some hu­mil­i­ty. When a cus­tomer re­al­ly thinks your app is wrong and they know how to fix it, don't get in their way.
---
---