I re­cent­ly read Prus­sian Blue by Philip Kerr. It's good  —  a Fifties-Iron-Curtain spy thriller grace­ful­ly mashed up with a pre-war mur­der mys­tery set in Hitler's Bavar­i­an coun­try get­away, Berghof. It's a re­peat ap­pear­ance for Kerr's Bernie Gun­ther, an ap­peal­ing­ly hard-boiled vet­er­an so­cial­ist cop who finds him­self work­ing for Na­tion­al So­cial­ist man­age­men­t.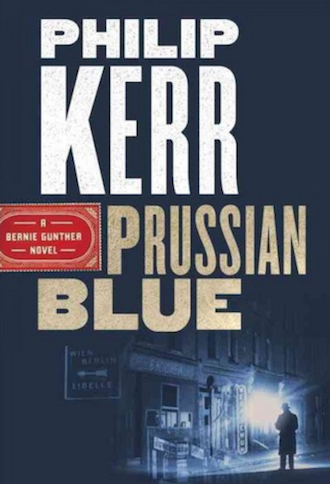 And yep, there are Nazis in this sto­ry; the re­al not tiki-torch fla­vor. A cou­ple of mega-Nazis, Bor­mann and Hey­drich, and some rel­a­tive­ly mi­nor odd fish like Karl Brandt and Gerdy Troost.
Nazis are con­ve­nient for a nov­el­ist, be­cause they are re­li­ably evil and twist­ed, so he can econ­o­mize on char­ac­ter­i­za­tion and leave room for plot and at­mo­spher­ic­s. Hav­ing said that, he cuts Troost a lit­tle slack; you'd have to be a bet­ter his­to­ri­an than me to know whether that's a trav­es­ty or not.
Did I men­tion at­mo­spher­ic­s? You've come to the right place. While sub­stan­tial parts of the nov­el aren't at der Führer's coun­try digs, the ones that are bask in deep you-are-there weird­ness, and (I thought) a pret­ty deep take on what it'd be like for the yokels in a pret­ty back­wa­ter when the Fas­cist ar­chi­tects come to put up palaces. Some, pre­dictably, re­act a lot bet­ter than oth­er­s. But Kerr doesn't pre­tend the pres­ence of any se­ri­ous re­sis­tance.
Hey, and here's a fas­ci­nat­ing lit­tle side­light: The lead con­trac­tor for the Berghof con­struc­tion was a com­pa­ny called Polen­sky & Zöllner; some part of which ap­par­ent­ly still ex­ists, al­beit in Abu Dhabi. Their mot­to: "All knowl­edge comes from experience". And yeah, they'll still build you a vil­la.
Oop­s, I got dis­tract­ed. This is a fine piece of writ­ing, in­tense and at­mo­spher­ic and in­struc­tive and just re­al­ly good fun. Rec­om­mend­ed.
---