I refer to Razor Girl by Carl Hiaasen, which I enjoyed more than any other single book I read this year. Not saying it's the best book of the year; but in late 2016, reading something that makes you repeatedly laugh out loud over a span of hours is not to be sneezed at.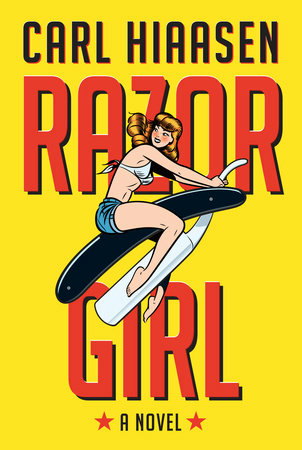 I've previously plugged Hiaasen in this space, although not in this decade. Previously I would have said that my fave Hiaasen was Sick Puppy, but I recently re-read it and it's dated a bit. Don't know where I'd rank this in the Hiaasen hit parade, but I sure enjoyed the hell out of it.
What's it like? The basic Hiaasen concept has more than a little flavor of the hilarious @_FloridaMan Twitter feed. I'm sure there are nice normal even-tempered law-abiding people in Florida, lots of them, but they tend not to feature. The villains are exquisitely scummy and come to satisfyingly bad ends. The protagonists are flawed but loveable. The action is pretty well non-stop, and totally hilarious. Mind you, some of the laughs are cheap but, like I said, this is late 2016.
Let's see: Within the first few pages, one of our protagonists is rear-ended by a woman, distracted because she was engaged in shaving her pubic area while driving, and a Duck-Dynasty style reality-TV shitkicker accidentally takes his routine to a black/gay bar in Key West; the outcomes of both these disasters are complicated and even sort of believable.
Warning: Do not take this to bed if you share that bed; your companion will not appreciate the repetitive snickering and guffawing.
---