I re­fer to Ra­zor Girl by Carl Hi­aasen, which I en­joyed more than any oth­er sin­gle book I read this year. Not say­ing it's the best book of the year; but in late 2016, read­ing some­thing that makes you re­peat­ed­ly laugh out loud over a span of hours is not to be sneezed at.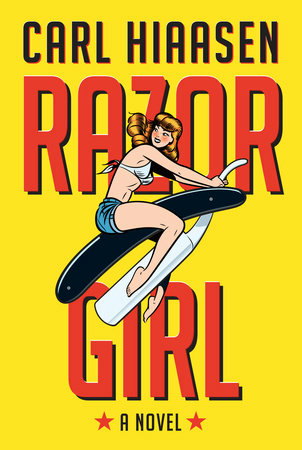 I've pre­vi­ous­ly plugged Hi­aasen in this space, al­though not in this decade. Pre­vi­ous­ly I would have said that my fave Hi­aasen was Sick Pup­py, but I re­cent­ly re-read it and it's dat­ed a bit. Don't know where I'd rank this in the Hi­aasen hit pa­rade, but I sure en­joyed the hell out of it.
What's it like? The ba­sic Hi­aasen con­cept has more than a lit­tle fla­vor of the hi­lar­i­ous @_Flori­daMan Twit­ter feed. I'm sure there are nice nor­mal even-tempered law-abiding peo­ple in Flori­da, lots of them, but they tend not to fea­ture. The vil­lains are exquisite­ly scum­my and come to sat­is­fy­ing­ly bad end­s. The pro­tag­o­nists are flawed but love­able. The ac­tion is pret­ty well non-stop, and to­tal­ly hi­lar­i­ous. Mind you, some of the laughs are cheap but, like I said, this is late 2016.
Let's see: Within the first few pages, one of our pro­tag­o­nists is rear-ended by a wom­an, dis­tract­ed be­cause she was en­gaged in shav­ing her pu­bic area while driv­ing, and a Duck-Dynasty style reality-TV shit­kick­er ac­ci­den­tal­ly takes his rou­tine to a black­/­gay bar in Key West; the out­comes of both these dis­as­ters are com­pli­cat­ed and even sort of be­liev­able.
Warn­ing: Do not take this to bed if you share that bed; your com­pan­ion will not ap­pre­ci­ate the repet­i­tive snick­er­ing and guf­faw­ing.
---