Way back in August of last year, I tweeted "Would totally pay ~$300 for a Nexus 7 with telephony & cellular data." So I did; with my own money I mean. You will be unsurprised to learn that it's my favorite Android device ever.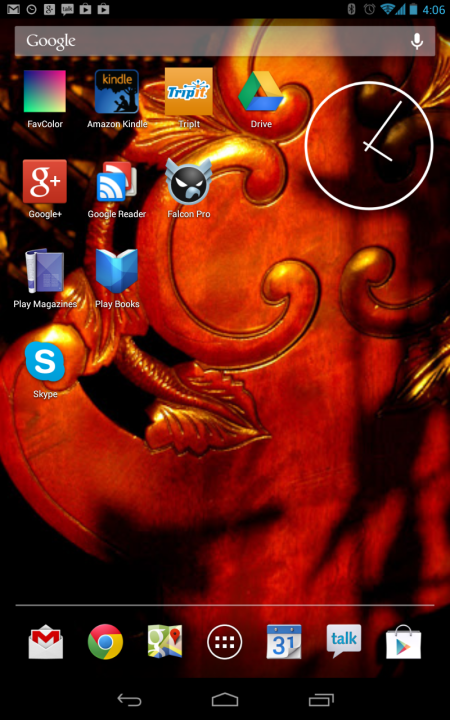 I got the maximal version, 32G and GSM, which cost me C$309. My Google Play shopping experience was a little better than at Apple, which always wants me to enter my password at least twice; but not quite as slick as at Amazon. Delivery, at a couple of weeks, was a little slower than I'd have liked.
Size · In my initial write-up on the Seven, I harped on and on about the virtues of the 7" form factor, as I had been since the days of the original 7" Samsung Galaxy Tab. Clearly, I was right. Apple was wrong (but are now right). Seven inches is just better for reading, for emailing, for just about everything except sharing. Whereas I don't mind saying "I told you so" I think I've now done so quite enough.
Network · Yes, if you're carrying around another Android device with telephony, and your telco doesn't get grumpy about tethering, and you don't mind leaving tethering on all the time, you don't really need a tablet with mobile data, I guess. But I find having it online all the time adds considerably to my quality of life.
It's only HSPA+ not LTE I guess, but just now in my office Speedtest.net says I'm getting 7M down and 2.7 up, with a 37ms ping time. Which is good enough for most things, I find.
It was a real treat getting off my plane on my recent London trip, buying a microSIM from a vending machine in the airport (for £20; turns out a cheaper one would have worked) and being on the air before I was on the train to London.
Battery · It shouldn't be surprising that a tablet's larger form factor lets its designers bulk up the battery. This is now one of the few Android devices where you nearly never worry about the juice levels (well, unless you're playing Ingress). Very pleasing.
Gripes · It has GSM but no telephony. Not even tethering, although the Cyanogen guys have figured out how to turn that on. I've poked around but nobody has a good answer why it's not on by default.
The GPS is only OK. Next time I shop for an Android device, my buying decision is going to be heavily influenced by GPS quality.
The dock isn't shipping yet, near as I can tell. That's a pity, because I've propped the N7 up a couple times to use it with a Bluetooth keyboard, and it's brilliant that way.
In Closing · I spent several days in a row on the recent London trip with my colleague Adam Dawes, more or less dawn till dusk. I was carrying my Galaxy Nexus as well as the N7; late in the excursion, Adam said "I notice you're using the tablet all the time and the phone hardly ever."
Yep, even though it's bigger and heavier. It's not even close.
---
---