"Compact Discs", remember them? I got one for Christmas, and you know, they're not a terrible idea.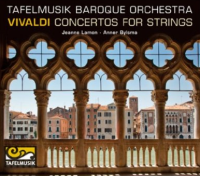 First off, I have to plug the music: Vivaldi string concertos by Tafelmusik feat. Lamon & Bylsma, from 1992. Great music well played, and a beautiful-sounding recording; totally recommended. BTW, there seem to be lots of versions of this one for sale online here and there, some for less than the one I linked to (which I picked because it's got the same cover art as mine).
For the last couple of years, I've bought music like this:
(My favorite) By download direct from the artist, but only if they offer CD quality.

By mail-order from the artist, but only once, when I got Jack White's Blunderbuss from his Web site; terrific vinyl with a coupon for a 320K MP3 download.

From audio-weenie site HDtracks, where you can buy CD-quality (or higher) downloads of quite a lot of good music; although I'm personally unconvinced of the musical value of greater-than-CD bitrates.
Gosh, is there any surprise that record stores are going out of business?
But this CD thing... it's a package that doesn't bulk up your luggage much, rips into your online collection in just a few minutes, serves as a compact easy-to-store backup medium, and comes with a nice little paper booklet with an attractive cover and lots of info about the recording. I guess by most measures they're obsolete;but they're really not terrible.
And as I've said before... Dear musicians: Sell your own damn music off your own damn website, and offer a version without lossy compression; it's OK to charge a little more for that.
---
---