I've bought two new cameras in the last month and they're giving me trouble. If you're thinking about one of the new Pentaxes, or one of those nifty little Ricohs, maybe you ought to read this.
[Update: The software caught up.]
Pentax Sigh · I've been very happy with my 4-year-old *ist D, the original Pentax DSLR. Except for, low-light shooting is a challenge. The K20D, along with this snazzy new Samsung-sourced sensor that looks pretty darn smooth at ISO 1600, has shake reduction. Plus lots of other goodies like weatherproofing and sensor-cleaning and lens-correction memory and so on. So I got one.
[Update: The problem described in the next few paragraphs is now resolved; Adobe just posted ACR 4.4 and Lightroom 1.3, which handle the RAW files beautifully. I took some ISO-1600 shots of my daughter in the bathtub, and the smooth creaminess of the skin in the images is hardly to be believed.]
The problem is, the hardware is ahead of the software. It can write RAW in Pentax's own .PEF format, or in Adobe's candidate standard .DNG. But Adobe Camera Raw and Lightroom refuse to even try to read the .PEFs, and they'll read the .DNGs, but can't adjust the white balance without damaging the picture.

Following on this discovery, a little poking around the Web revealed that that sure enough, it's not surprising to have to wait a little while. So if I want to use this thing, I can either shoot JPEGs, or I can use Pentax's klunky "PhotoLab" software to do colour correction, write out an 85-MB TIFF, and import that into Lightroom to tidy up.

So I think the K20D is going on the shelf for a while and I'll probably take the reliable old *ist D to Hawai'i on vacation later this month.
[The fix showed up the evening before the plane to Hawai'i.]
Ricoh Bah · I'm adapting to the Ricoh pretty effortlessly, though, and the software has no trouble with its DNGs. You really gotta watch the dynamic range, it's dead easy to blow out highlights; but I'm getting the hang of working around that.
The only problem is that it's defective. The CRT on the back usually doesn't come on when you turn the camera on. I've learned that if you thump it on the back just right, it'll come on for a while.
The trouble is that the only way to buy a Ricoh in North America is via "Adorama", a big camera store headquartered in New York. So I called them to say "The Ricoh's defective" and they said "Sorry, you've had it more than two weeks so that's between you and Ricoh". Which probably means my nice little camera will be taking a round-trip to Japan.
Which means that my Hawai'i pocket camera is going to be the little Canon that I'd been meaning to give to the boy.
So to express my feelings, I'm going to include this picture from Geneva that I took with my cellphone. Who needs fine cameras anyhow?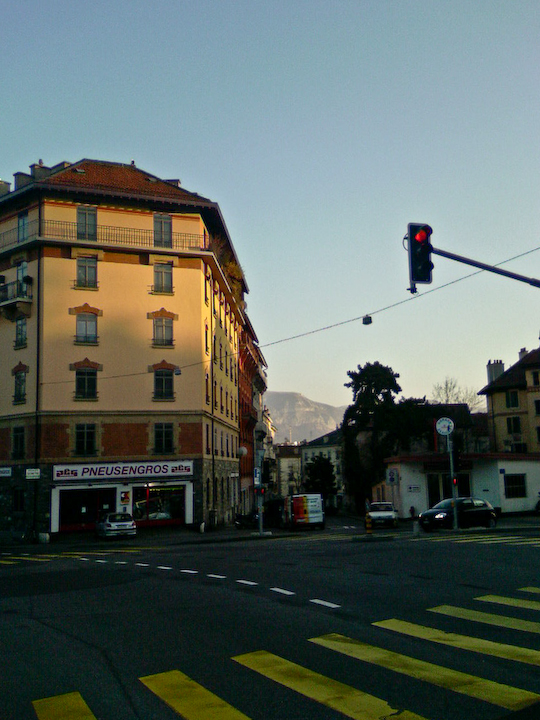 Lessons · I guess I should find a mountaintop somewhere and contemplate the wisdom, famously introduced by Siddhārtha Gautama and lately reinforced by pomo-guru Eckhart Tolle, about attachment to things of this world being the upstream source of human pain. Like for example good cameras.
---
---