Dennis Hopper directed The Hot Spot in 1990, and I've never seen it. He hired Jack Nitzsche to write the music, and they got Miles Davis, John Lee Hooker, Taj Mahal, and some other really good musicians to play on it. It's the only record I know of in which Miles Davis plays straight blues solos in front of a straight electric blues band, and while there's some other good stuff too, that would be enough for me. ("5✭♫" series introduction here; with an explanation of why the title may look broken.)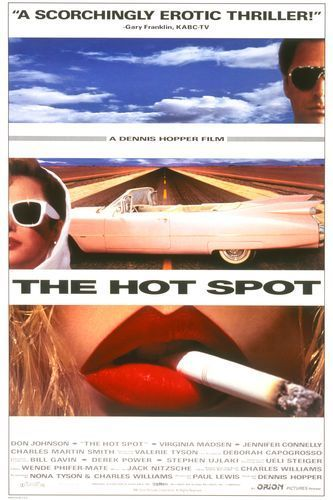 The Context · I could keep a weekly "5✭♫" series running for a few months just writing up Miles Davis' music. I am sure I have readers who are too young or jazz-oblivious or just unlucky to have heard much Miles. I envy you the happy discoveries you have before you.
For those who know a little Miles, say Kind of Blue and Porgy and Bess, you should go listen to some more, there's a remarkable amount of remarkably good music out there. I'll definitely do a 5✭ write-up someday for some of the lesser-known gems: Agharta, Ascenseur Pour L'Echafaud, maybe Bitches Brew even.
Those who like Davis' music and haven't already should consider reading Miles, the Autobiography, ghosted by Quincy Troupe. You'll learn a whole lot about jazz and the people who made it and how it all happened, over the years. It won't make you like Davis because he wasn't a nice man; but weirdly, when it came down to the music, and to hiring and firing musicians, he had an almost saintly streak; among other things, the categories of "white" and "black" and "young" and "old" seemed simply not to exist for him, when it came to the music.
The Music · This is not a perfect record. Too much of it is John Lee Hooker moanin'-and-groanin' atmospherically in a way that I'm sure worked just fine as the soundtrack for something in Hopper's movie. There's also some pretty clichéd slide-guitar work, I think also mostly from John Lee, who was regularly guilty of veering into hambone territory. (On the other hand, he's made a few 5✭ contributions to the canon, too.)
On the other hand, there are a half-dozen tracks here where you have that electric pumpin' and Miles laying down tracks that are just blues, that's all, but put down your computer or book or whatever and listen to them, and in a quiet way, they're cosmic.
Probably the two standout tracks are Bank Robbery and Closing Credits, which are uptempo and thus push all the players a little harder.
Sampling It · I would have thought this fairly obscure but I see it's for sale at Amazon so it shouldn't be that hard to track down. On the other hand, Miles and John Lee are both dead and furthermore I'm pretty sure that given the reptilian ethics of the movie and music businesses, the surviving artists aren't going to see a penny of any money you might spend on this disc.
---
---