This song is by Joni Mitchell and Charles Mingus (recently discussed in this space). It first appeared on Mitchell's Mingus in 1979 but I no longer have that version; this is about the version on the 1980 Shadows and Light, a live set featuring Jaco Pastorius, Pat Metheny, Lyle Mays, Michael Brecker, Don Alias, and The Persuasions. The whole record is worthwhile, great in spots. Dry Cleaner is pure genius-level musical fun. ("5✭♫" series introduction here; with an explanation of why the title may look broken.)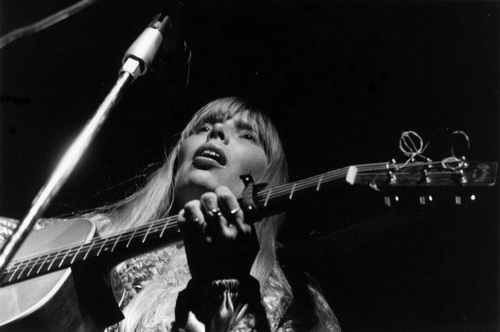 The Context · How could anyone dislike Joni? She's written some of the most beautiful songs ever, she plays and sings wonderfully, and brilliant musicians stick to her like glue (as on this record). Well, I have a problem with her approach to slow songs; too much styling and punctuation, not enough getting behind the flow of the music (Dry Cleaner is not a slow song). Still, I'd find it hard to live without my copies of Blue or Court and Spark; and really hard without Shadows and Light.
I'm assuming that most people don't need any education as to who Ms Mitchell is, and if you do there's nothing I have to add on what's out there.
But I have to say I remember a weekend afternoon in the late Eighties, sitting in the Grad Club at the University of Waterloo drinking beer and playing Go with Dave (uh, I forget Dave's other name); they were playing Court and Spark on the audio and eventually both of us were just staring across the board and I said "Damn, that's some great music" or something equally vapid, but still.
For my money her greatest song is Both Sides Now but lots of people have sung it better than her; I'm almost certain I remember an endless Seventies night's work with an incandescent live version by Don "American Pie" McLean playing over and over on a short loop of a few songs, but I can't find any evidence for its existence.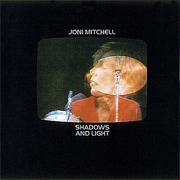 The Music · Obviously, with Metheny and Pastorius and the rest, this is the best band Joni ever had. When the songs are slow, Pat and Jaco are more interesting; when the tempo picks up, her vocals start to feel like a peer with the rest of the instruments. And the Persuasions have never been anything but brilliant, that I've heard.
Dry Cleaner is my favorite cut, because it's a great tune, it's funny, Joni has fun singing it and doesn't try to over-interpret; she couldn't if she wanted to because it's happening really really fast. There aren't many bands in the world that could play this music at this speed but they make it sound easy, and the song ends with a Pastorius-led rave-up that will make your jaw drop if you listen carefully.
Amelia (as in Earheart) is the next song; it tucks all the Dry Cleaner madness in under a nice clean white sheet with a goodnight kiss; I can't imagine to listening either of the two songs without the other.
There are other songs that touch me. Coyote, if only for the lyric
And we're dancing close and slow
Now he's got a woman at home
He's got another woman down the hall
He seems to want me anyway

and my memory of her wonderfully-sluttish shudder doing it at The Last Waltz.
Several of the band members have solos, but you can only hear Metheny's unless you get the double-LP version. I think this may be a good choice.
Dreamland is in the Neville Brothers spirit, Joni taking it solo with just her then-lover Don Alias on percussion, fast and smooth, and with the supremely Canadian lyric "On the plane headed back to winter/shoes full of tropic sand".
There's a pure-fun romp through Why Do Fools Fall in Love?, with some hard-sax magic by Michael Brecker.
The title track is over-written, but if you sing anything in front of the Persuasions, well, it's going to sound good.
Finally... well, I kind of blush. Is it possible, in A.D. 2007, to take the song Woodstock seriously? If (hypothetically) it were, this is obviously the best version ever recorded by anyone. And after all, we are billion-year-old carbon.
Sampling It · I suppose this is probably hard to buy these days. Given that, sampling its fruits via network piracy may be forgivable. But if you can find a way to buy either the LP, the CD, or the DVD (used-music shops may be your best bet), go for it, the sound quality is way above average, and even the weak songs have Joni Mitchell singing them with an outstanding band behind her.
My first choice would be the LP, because it has both the not-bad-at-all Black Crow and a very decent Free Man in Paris, another song that's too fast for "vocal stylings", and the band is lots better than one on the top-40 hit original. Also the LP sound's a little truer. But vinyl's a specialized taste these days.
---
---