This is a recent release by Yusuf, born Steven Demetre Georgiou, known in a previous life as Cat Stevens, and whose legal name is Yusuf Islam. It has very beautiful sound and some fine singing, but only a few of the tunes are keepers. There are religious issues. (I've been running a "5✭♫" series, introduction here, with an explanation of why the title may look broken; I'm borrowing the format for this piece.)
[Disclosure: I didn't buy this; the PR agency emailed me out of the blue and I wrote back "OK, send me the disc."]
The single name "Yusuf" is appealing, and also not having "Islam" on the cover of the disc means any of your fans with one in their luggage are less apt to get hauled into the back room by Homeland Security.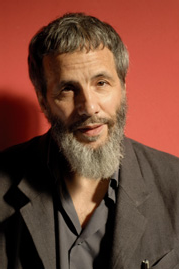 Voice · So, the first question is "Can he still sing?" and the answer is "At least half the time." There are two distinct voices here. The first is Cat Stevens' and appears on the songs that are up-tempo and when he uses his upper registers; it sounds pretty damn wonderful, like that voice used to in the Seventies.
A few of the songs are in another voice entirely; lower, slower, close-miked, and much less pleasing to my ears; but tastes vary.
Let's do the good stuff first.
Sound · "Produced by Rick Nowels and Yusuf" say the liner notes, and I don't know much about Rick, but I have to say it sounds excellent, end to end. The instruments are assertive in some places and mellow in others, as appropriate, and get out of the way of Yusuf's voice, which after all is the featured instrument.
A couple of the tracks are audiophile-demo grade.
God · Well, the deity kind of gets in the way. If you listen to the words, his faith is quietly in your face the whole time. And a substantial part of it is that ole time religion, as in Muhammad is the messenger of God, good people win and then go to heaven and the rest to hell, so there.
I have nothing in particular against Muslim theology, at least it's purely monotheist without any rococo Trinity or Mother-of-God ornamentation. But I don't believe in their God any more than anyone else's, so I wish he'd find things to sing about that actually touched my heart. On the other hand, if I gave up enjoying music by believers, that would cost me Bach, Coltrane, and U2, so I won't.
Music · There are eleven songs here, two of which are short flowery poems (one by Rumi) with tinkly-sweet instrumentals behind Yusuf's velvety Received Pronunciation.
Of the remaining nine, a handful are really quite good. I already said the sound is excellent; the arrangements are too, sometimes, with a tendency to veer into anodyne string arrangements.
Heaven/Where True Love Goes is is the one you might hear on the radio; the "Heaven must've programmed you" half is kind of turgid, but the "I go where true love goes" chorus is awfully pretty, featuring that voice you might remember if you're old enough.
I mentioned the new un-Cat voice; it's featured on One Day At a Time; almost weirdly slow, Yusuf's low, close-miked voice occasionally has trouble holding pitch. Some will like it I suppose, but I don't.
In The End has some swing and fun to it, and is well-sung. I've decided that I won't let it bother me that it says I'm going to hell because I'm "deceived", and I don't believe that the good guys necessarily win, either. But you have to like that lyric "You can't bargain with the truth..."; and the arrangement and playing are really fine.
I think I See the Light is another decent song; fast, sung in that nice higher register, with an interesting honky-tonk feel, and some real drama in the arrangement.
One of the songs is not written by Yusuf.
Don't Let Me Be Misunderstood · Yep, that song, first sung by Nina Simone in 1964, subsequently by The Animals, and while I'm one of the eleven people that never saw Kill Bill, I bought the Santa Esmeralda Seventies disco version in the Seventies, because it was good.
I can't make up my mind about this one. First of all, it's an audio showpiece. The arrangement, playing, and production are outstanding; if you have a good subwoofer, it'll come in handy. I think he takes it way too slow, and while I still think Yusuf sings better high and fast rather than slow and low, this is the one that comes closest to selling me on the deep close-miked stuff.
And you really can't avoid the question of why this song is on this record. Could it, just maybe, be about that nasty Salman Rushdie and the fatwa affair? Sorry, Yusuf, I have an attitude problem here. On that issue, you either told the Khomeini-ites to fuck off or you're part of the problem, and you were part of the problem. Gosh, says here that the fatwa still stands.
On the other hand, if I gave up enjoying music by sinners, that would cost me even more than discarding the believers; and at least this apologia sounds very good.
Rushdie Sidebar · Did anyone actually read The Satanic Verses? I did, but I'm pretty sure the Velayat Faqih dimwits behind the fatwa didn't; nor did most of the journalists who nonetheless managed to write authoritative-sounding stories. That's because it's thick and difficult and complex. Also, in my opinion, not that good. And I'm a fan; I think Rushdie's Midnight's Children is a masterpiece.
Whatever; in the Verses, the episodes that feature (disrespectfully) a Muhammad-like figure appear as part of the fantasies of a deranged protagonist, subsequently a murderer. Which you'd think would kind of be a mitigating circumstance; but I guess the ayatollah's fanboys were about form not content.
Bad Stuff · There are a couple of really disposable songs on here; the opening Midday (Avoid City After Dark) which takes four boring minutes or so to say nothing more than the title, and Greenfields, Golden Sands, appalling schmaltz with gooey string arrangements to match.
What To Do? · I probably wouldn't buy the CD with my own money. If there were a way to buy DRM-free uncompressed copies of In The End, I Think I See the Light, and I guess Misunderstood, I might go for those, though. Yusuf needs to find a way to get hungry and energized and focus on the music, not God.
---
---